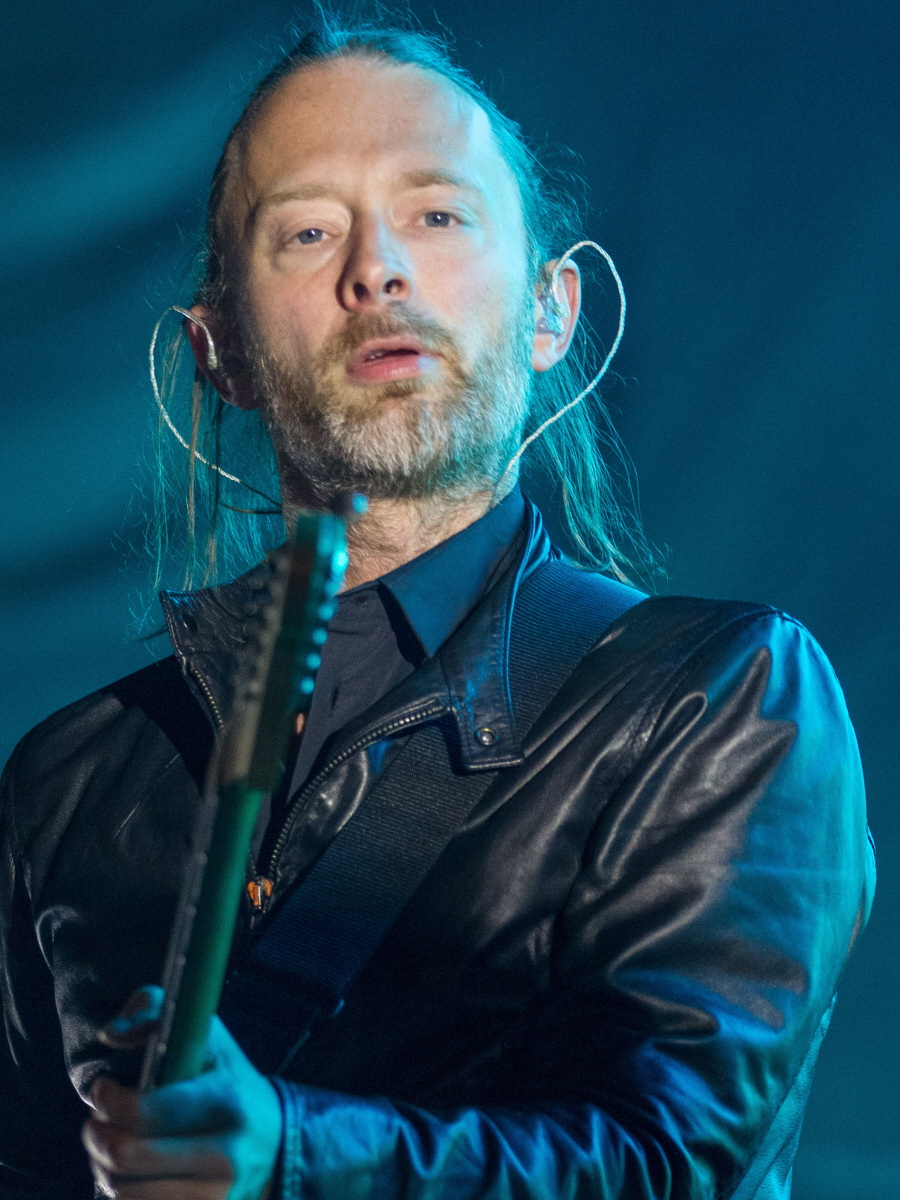 I've always thought: "Yeah, Thom Yorke, there's a guy who doesn't give a crap about anything." In a good way, obviously. Meaning that Thom Yorke – the lead singer of Radiohead – simply seemed concerned about making his music and beyond that, he couldn't care less about the hoopla/celebrity/fame game. But in reality, Thom does care about stuff beyond music. He's got a lot of political and socioeconomic theories, thoughts and opinions. He seems like a very politically liberal guy, actually. So isn't it interesting that Thom Yorke has something in common with… Taylor Swift? Taylor became the poster girl for "musical artists standing up for their right to get paid" when she took on Spotify (she pulled all of her music from Spotify last year) and Apple (she sent Apple Music an open letter demanding they pay artists for Apple's streaming service). Now Thom Yorke is going further than Swifty ever dreamed: Yorke is comparing Google & YouTube to the Nazis. Paging Godwin's Law!
Thom Yorke recently conducted an interview with the Italian newspaper La Repubblica. During the chat, the Guardian reports, the Radiohead frontman said YouTube and parent company Google had "seized control" of art, then compared their commercial paradigms to Nazi Germany's history of plundering art. (Yorke's slung some harsh words against fellow tech giant Spotify in the past, as well.) Asked how musicians can profit from their music, Yorke responded:

"I don't have the solution to these problems. I only know that they're making money with the work of loads of artists who don't get any benefit from it. People continue to say that this is an era where music is free, cinema is free. It's not true. The creators of services make money – Google, YouTube. A huge amount of money, by trawling, like in the sea – they take everything there is. 'Oh, sorry, was that yours? Now it's ours. No, no, we're joking – it's still yours'. They've seized control of it – it's like what the Nazis did during the second world war. Actually, it's like what everyone was doing during the war, even the English – stealing the art of other countries. What difference is there?"

Yorke added that he uses Boomkat to discover music, and has installed an app to block YouTube ads. "The funny thing is that YouTube has said 'that's not fair' [to AdBlocker]," he said. "You know? They say it's not fair – the people who put adverts in front of any piece of content, making a load of money, while artists don't get paid or are paid laughable amounts – and that seems fine to them. But if [YouTube] don't get a profit out of it, it's not fair."
If you read Italian, you can read Thom's full interview here. Thom's not wrong, although I think he threw down the Nazi analogy a little too quickly. I should also point out that I don't think it's about the money for Thom or any of the Radiohead guys. For Thom in particular, is seems about the principle of the matter, and how he wants to use his platform to speak for the truly struggling artists who need the small amount of money that they get from streaming or YouTube. Which is not unlike Taylor Swift's position too – she's always defended the principle of paying artists for music because she wants to stand up for the smaller artists as well. Thom and Swifty are both the kind of artists who make the bulk of their income from touring and merchandise anyway, not from streaming, album sales, etc. So… does Thom have a point? Or were you blinded by the Nazi analogy?
PS… God help me, I would hit it. I would hit it so hard. I have a very animal attraction to Thom Yorke. I can't really explain it.
Photos courtesy of WENN, Getty.