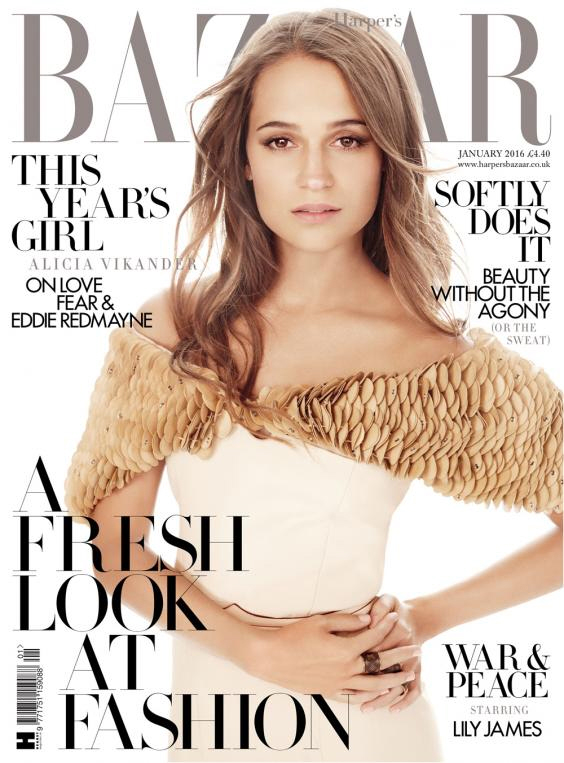 Alicia Vikander covers the new issue of Harper's Bazaar UK. I actually like this photoshoot a lot – it's one of the best editorials I've seen with Alicia all year. I think she's a very pretty woman, but in editorials… I don't know, usually there's something lacking? But this cover is really pretty. Vikander is getting tons of buzz for The Danish Girl, and she's pretty much guaranteed an Oscar nomination, although it will be interesting to see if she's deemed a lead actress or supporting. She chatted about still feeling like a "newbie" in Hollywood and much more (note: I'm including some quotes from an interview she did with Gold Derby too).
She studied at the Royal Swedish Ballet School until she was 18: "I think I knew deep down that I wouldn't be able to dance until [I was] thirtysomething. I still have a really bad back … but it wasn't just that. First of all, I don't think I wanted to live my life as a dancer. It's hard, and I realised I really loved to dance and be on stage, but it's also three, four hours of training every day to do that, to be on that level. I could sometimes be a bit sad, and I was quite hard on myself and jealous emotionally of some of the girls who I saw just loved it. Even though we danced seven hours a day, six days a week, they were like, 'Oh, we can come at 4.30am to school just to do a little extra stretching on my foot.' And I was like, 'I don't know if I…' I don't have it."

Joining the ranks of Hollywood: She says she still feels "very much like a newbie."

She lives in London now: "I think I was really scared the first year of losing friends and contacts and life, mixed with being extremely excited to go away. And then it was quite lonely sometimes … but it's great now."

Thinking about gender: "I don't think I've ever put so much thought into gender before. It's been extremely educational. The spectrum of male and female, and what's what, feels much more fluid nowadays. I have a hard time picking where on that line I'm at."

The awards season: "It's awards season. Me coming from Sweden, I really didn't know that it was a season just two years ago, so it's been quite a whirlwind. I'm trying to focus on my work and be extremely happy about everything."
[From the Evening Standard & Gold Derby]
I actually didn't know she had trained so much as a ballerina. I can see that – she has that slight, athletic ballerina-physique. But yes, just thinking about how much those girls/women have to train just to get a small chance at being a professional ballerina… it's exhausting. I couldn't do it. Not that anyone is asking to see my sweet ballet moves. *falls out of chair*
As for gender fluidity… Alicia also chatted with the BBC and she talked about her current view of gender fluidity, saying: "It is not two different things being male and female – it is a big spectrum."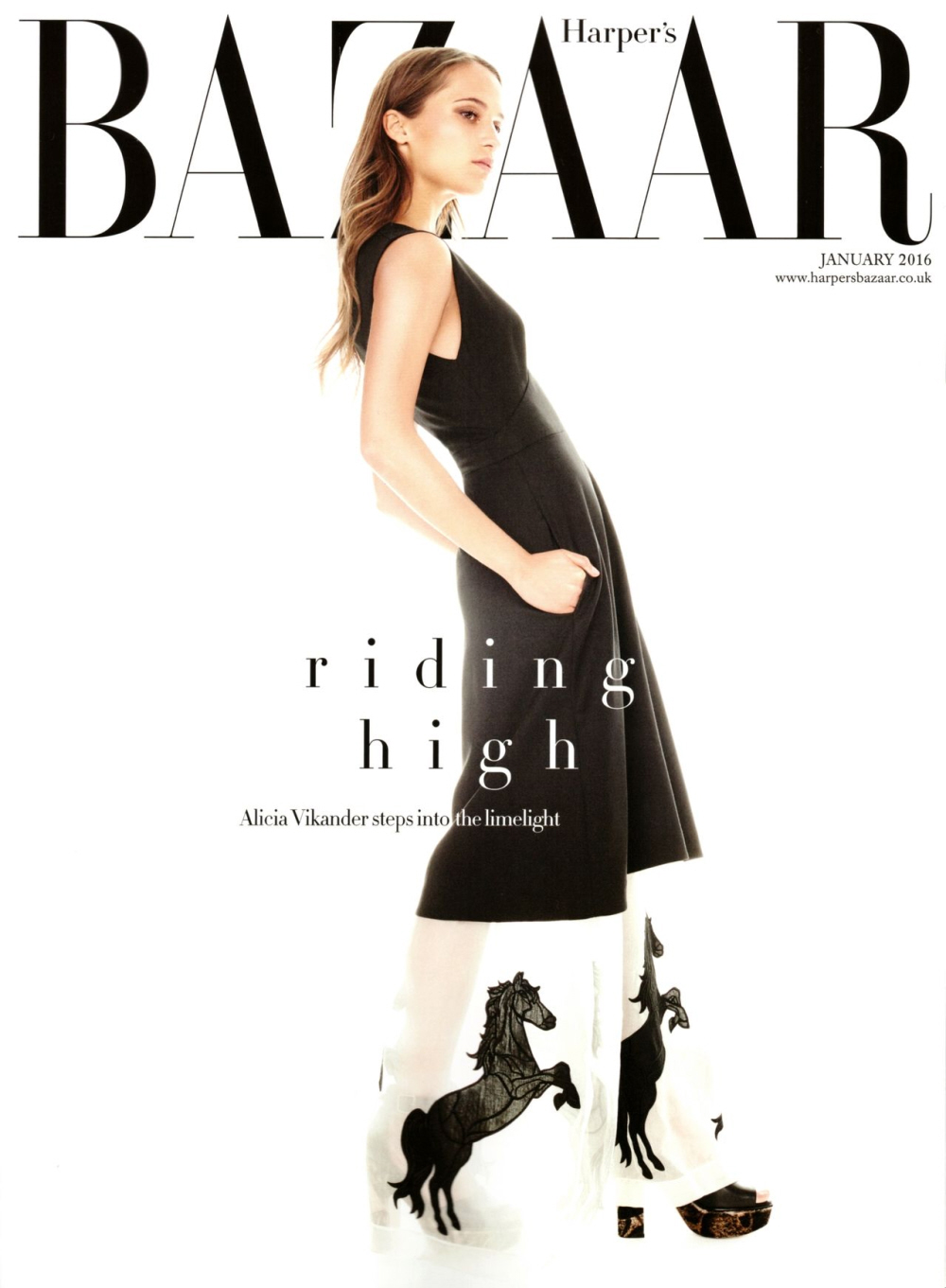 Photos courtesy of Harper's Bazaar UK.