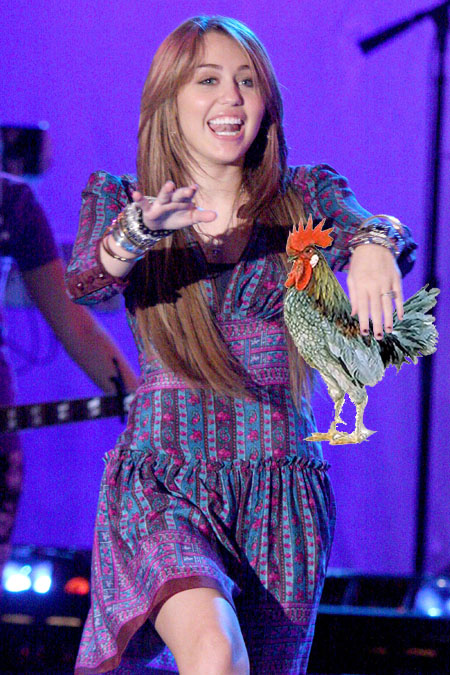 This is one of those rare Miley Cyrus stories that doesn't have me muttering obscenities at the teenage star. While filming Hannah Montana: The Movie, Miley "fell in love" with some of chickens on the set. Miley's co-star Jason Earles told Fox News that Miley felt like she had to "save" a chicken, and so she hijacked the chicken in a cardboard box and talked her mother into taking the chicken home.
Were these union chickens? Was there a chicken wrangler on set? Probably "yes" to both of those questions. I don't believe that Miley "stole" a union chicken, somebody probably gave it to the young star. Fox News has more:
Tennessee-native Miley Cyrus has a strong passion for animals and felt so sorry for one of the wrangler's live chickens on the set of her new flick Hannah Montana: The Movie that she actually stole it to take home as a pet.

"Miley picked it up thought it was real cute and decided she needed to save this chicken. So she put it in a cardboard box with some pine straw and got her mom to take it home," co-star Jason Earles told Tarts. "She is funny with animals — she was like 'I have to have that chicken'. She falls in love like you wouldn't believe."

The sweet 16-year-old admitted she actually stole "a few" chickens but it was because "they were sad to be working."

Huh?

So seeing as how the Disney darling is turning 18 next year, she may very well be on PETA's hot list as the next celeb to "Go Naked"… Stay tuned.

But with the highly-anticipated release of "Hannah Montana," is Miss Cyrus in any way afraid that it could kinda be a flop like what happened to the recent Jonas Brothers' 3D film?

"I think there are reasons everything happens and there is no reason to blame it purely on the economy," she said. "If it's a good movie, if it's a great movie then people will find a way to see it and find a way to relate to it and get you out there. But there is nothing to worry about, that's why as an actor you get into it and all you have to worry about is that role. You let other people take care of that and think about that kind of stuff."
From Fox News
I doubt Miley will become a PETA spokesperson, but it's a cute story, especially for this Easter holiday. Lots of kids are probably getting little chicks this Easter, which PETA has tried unsuccessfully to stop. Too many parents still buy those little chicks, often dyed, and then act like the chick isn't a longer-term responsibility after Easter. My parents never did that, thank God, but when I was little I did get a duckling. And I totally raised it, too! That duck was awesome. Her favorite thing to do was to clean my dog, who was a surprisingly good sport.
Miley Cyrus is shown performing on Good Morning America on 4/8/09. Credit: WENN.com