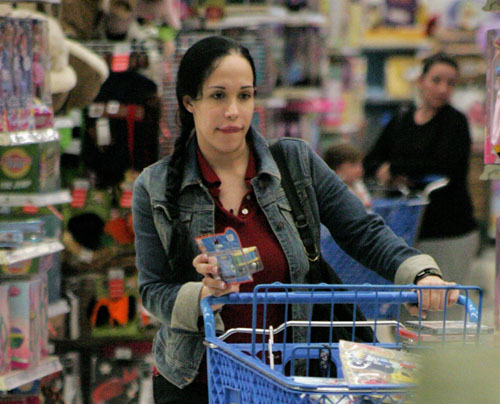 Despite telling Life & Style in an interview that just came out that she is "absolutely not" doing a reality show, has "no interest in being famous" and would "love to vanish from the public eye," octuplet mom Nadya Suleman is moving ahead with plans for a reality show, according to her lawyer. Octomom's legal representative spoke to People Magazine and said it's just a way to keep his client off of welfare.
She's already made tens of thousands from photo licensing, interviews and video diaries and has been seen out shopping for thousands worth of new clothes and makeup. Her new home is worth 1/2 a million dollars and she had a jacuzzi tub installed in her bedroom, but she still said yesterday that she was considering applying for WIC in order to help pay for the $2,000 a month it would cost for baby formula for her octuplets. Obviously she thinks she can waste her own money on whatever she wants and let the taxpayers figure out how to provide formula, food and healthcare for her children. In the mean time she's going to cash in with a reality show. We'll soon get to see Suleman try to come across as a competent mother and fail miserably:
Those close to Suleman say she and her attorney, Jeffery Czech, met over the past week with four production companies and are due to meet in the next few days with executives at an undisclosed network.

Czech confirms that he and Suleman have conferred with producers to hear their ideas – and that although Suleman is tired of TV cameras and protective of her children's privacy, she also wants to ensure she has enough money to care for them without public assistance.

Suleman has admittedly been on food stamps in the past, and told the Whittier Daily News this week that she was considering applying for federal WIC aid. Czech says Suleman doesn't have health insurance and that all medical costs associated with delivering the octuplets on Jan. 26 were funded by taxpayers through state Medi-Cal.

"There's some decisions for her to make over the next few days. I think she's heard enough," Czech tells PEOPLE. "Like anyone else, she wants to be portrayed in a positive light and she feels she needs to do something to get her side out."

He says the ideas they've heard are similar – producers want to follow the same pattern of other reality shows, with episodes chronicling such themes as Suleman learning to drive a 14-passenger van, going on a date or having a big family Thanksgiving or Christmas.

He says that although a deal could be signed within the next couple of weeks, production would not start until the babies are a little older. So far, seven of the eight octuplets have come home, and Suleman goes to the hospital every day to visit Jonah, who at 4 lbs., 6 oz., is still too small to be released.

"For the most part, the idea is generally to follow her and her family around when the babies get a little older," Czech says, adding that the amount of money Suleman would earn, and how long the show runs for, would depend upon the ratings.
[From People]
Yesterday JayBird covered a story in which Suleman claimed that the Angels in Waiting agency was trying to set her up and never intended to help with her babies. She said they already had foster families set up for the children and were hoping to snatch the newborns from her all along. She may have been telling the truth, but with the amount of baldfaced lies this woman tells it's not like many people feel they can trust her.
People say they will boycott this woman, and a lot will, but tons of people will watch this show of morbid curiosity, even if they can't stand her. I know I would watch this just to see what a trainwreck she is. She's going to try to keep it together for the cameras but her true colors will show. She can't even lie convincingly and she's had plenty of practice.
Here's Suleman shopping at Toys 'R Us on 3/16/09. She told Radar she had to buy all new toys for her kids because the old ones were dirty and unsafe for the newborns. Yeah, right