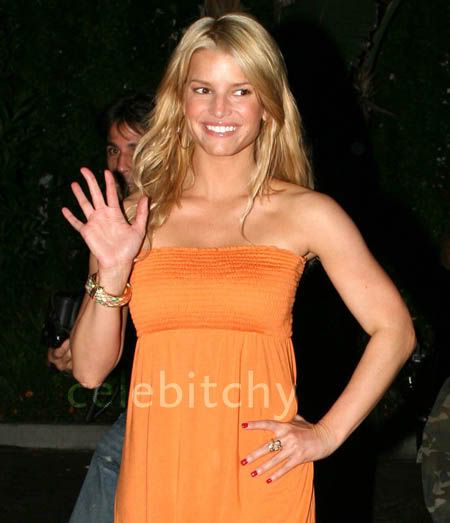 Could there be another reason why Jessica Simpson has been hitting the personal training sessions with such gusto lately? Of course she looks great, not that she looked bad before, she just looked…gasp… normal! But the National Enquirer is suggesting that Jessica is really seeing John Mayer's trainer Harley Pasternak in an attempt to win Mayer back.
"Jessica and John, who dated for 10 months before calling it quits in May, are both clients of hot Hollywood trainer Harley Pasternak. And Jess, 26, has been spilling her secrets about her love life to Harley in the hopes he passes the information on to John.

"It's a strange tactic – but Jess hopes it will make John jealous and win him back," said the insider. "She's been filling their workouts with talks of her 'busy love life,' even going as far as showing Harley photos of guys she's been dating.""
[Linked from the National Ledger]
These two are another example of a couple that just did not make sense. I'm not going to try and argue that John Mayer is the deepest singer out there, but he's the bottom of the ocean compared to Jessica Simpson. I lost a lot of respect for him when he dated her. The whole on-again-off-again thing got really annoying. I never understood why she dated him in the first place, considering he publicly made fun of her for thinking they were going out when he was just fooling around with her.
Either way, hiring your ex-boyfriend's trainer to gossip to him is just pathetic. And diabolically genius if it works. John's response to Harley was that he broke up with Jessica due to her childish, immature behavior. It is pretty lame if she's hoping to make John jealous by talking about her exciting dating life to her trainer. It's kind of like playing the telephone game, for adults. But there's nothing wrong with getting your life in order, as it appears Jessica has done, and if that happens to make John jealous, so be it. But she should be doing healthy things to feel better about herself. Right? Right. I think so. Relationship games are so confusing.
Header image is of Jessica on the 4th of July. Thanks to SplashNews.