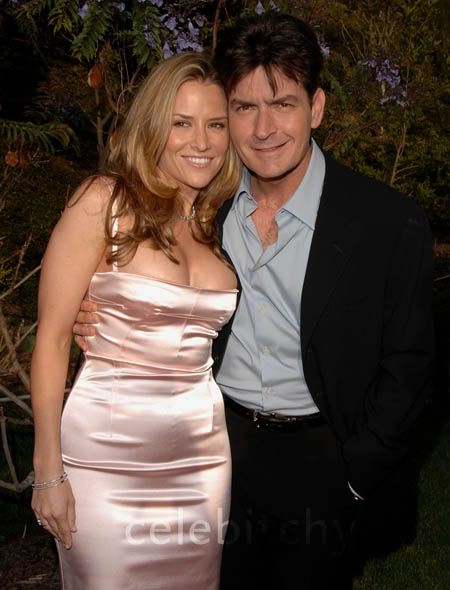 The 'Just Divorced' sign is barely out of his car window, and Charlie Sheen is engaged to…er, some chick I've never heard of actually. Her name's Brooke Mueller ands he's a real estate investor. In New Zealand that's code for unemployed but has a lot of cash, particularly when it's someone else's cash. Now she also has a $500,000 engagement ring.
Denise Richards has allegedly welcomed the idea, being nice to the future stepmother to her children.
I have my reservations about this marriage lasting. Here are ten reasons not to marry Charlie Sheen.
1. Shot his former girlfriend Kelly Preston. Sure, this was an accident and she only suffered minor injuries, but not unreasonably the relationship didn't last very long after this.
2. His name is on Heidi Fleiss' client list. Even if it was many years ago, antibiotics don't cure everything!! He was with 27 of her girls, he admitted in court.
3. Marriage to Donna Peele only lasted a year, and this will be his third marriage coming.
4. Used to date adult film stars Heather Hunter and Ginger Lynn Allen. Admittedly not at the same time, but remember what I said about antibiotics? It applies to penicillin too.
5. In his last divorce Denise Richards stated that she feared for her safety, that Charlie was abusive, had a gambling addiction and visited prostitutes. He denies this, and is Denise Richards a reliable source of information?
6. He is Maxim's no. 2 on their living legends of sex list. He has allegedly slept with 5,000 women, but came in second to an Italian hotel porter named Umberto Billo. The hotel porter had slept with 8,000 women, and was fired for being too tired to perform his hotel duties.
7. Charlie is a drug user and alcoholic, but clean and sober since 1998. Unless you believe Denise Richards, who claims that he's addicted to prescription painkillers he bought on the internet. He did go to mega-trendy Promises rehab though.
9. You would need to watch Two And A Half Men during the marriage.
10. Daughter, Sam, was born during the production of Scary Movie 3. Since the movie's initials are "SM," he and wife Denise Richards wanted a name with those two letters in it. Strange?
I'm sure you could find more dirt on poor Charlie, but I'm actually starting to feel a little sorry for him. In a stay-the-hell-away-from-my-daughter kind of way. Anyway, he's getting married. Congratulations Charlie and Brooke.
Update by Celebitchy I was initially confused by this, because I thought this chick's last name was Wolofsky. It turns out she goes by three names, Mueller, Wolofsky and Allen, at least according to iVillage's Daily Blabber.
Picture of Charlie and Brooke is from June 3rd, thanks to SplashNews. Do you think she's pregnant or just voluptuous?