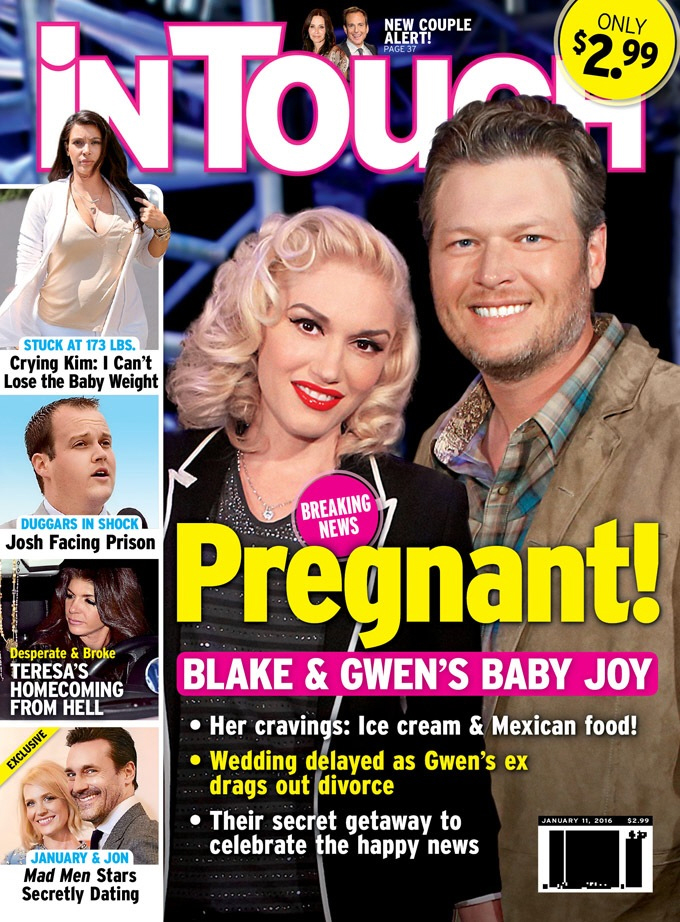 I've lost track of just how many Blake Shelton-Gwen Stefani stories came out over the past week, but this one might be the icing on the PR-driven cake. Did this come to an NBC publicist in a fever dream? Perhaps. Gwen Stefani is 46 years old and Blake Shelton is 39. Would she get pregnant again? Is it even possible? Well, Gwen did give birth in January 2014, so you could make the argument that she's one of those women who is still fertile in her mid-40s. Still, this announcement comes from In Touch Weekly by way of an unnamed source. The source tells In Touch: "Gwen is pregnant. She and Blake are overjoyed. He's always wanted to have kids and now his dream is coming true." I actually think she would be fine with having another baby, but… yeah, I just doubt this.
Now, on to all of the Gwake news that they wanted you to hear. This is just a brief summary of the endless amount of gossip about them in the past week:
*About a week before Christmas, Gwen went to Oklahoma and she met Blake's mom, Dorothy. "Sources" confirmed the meeting to People Magazine. After Gwen met Blake's mom, Blake and Gwen came back to LA and she introduced Blake to her dad, Dennis. Apparently, Dennis got along really well with Blake.
*Gwen actually did spend the whole Christmas holiday in Oklahoma with Blake and his peeps. They were seen and photographed all over Tishomingo, going shopping and going out to eat. No word on whether Gwen's kids were with her?
*After Christmas, Blake and Gwen ended up in Phoenix, Arizona which is where they were all over each other and all over social media. They went to the Arizona Cardinals vs Green Bay Packers game.
*Then, this week, Blake took Gwen to Mosby Winery in Buellton, California. They took a tour and presumably stayed in a little bed and breakfast, which is where they drank wine, made love and fed eat other strawberries. That's just a guess on my part.
So, are you feeling any of this? All of this? My take is that Blake is in the mindset of "just having fun." But any day now, Gwen is going to start thinking of him as her future husband. And… I can't help but worry.
Merry Christmas 🌲🙏🏻gx pic.twitter.com/n8ePUyLHpK

— Gwen Stefani (@gwenstefani) December 22, 2015
Photos courtesy of Instagram, Twitter, cover courtesy of In Touch.