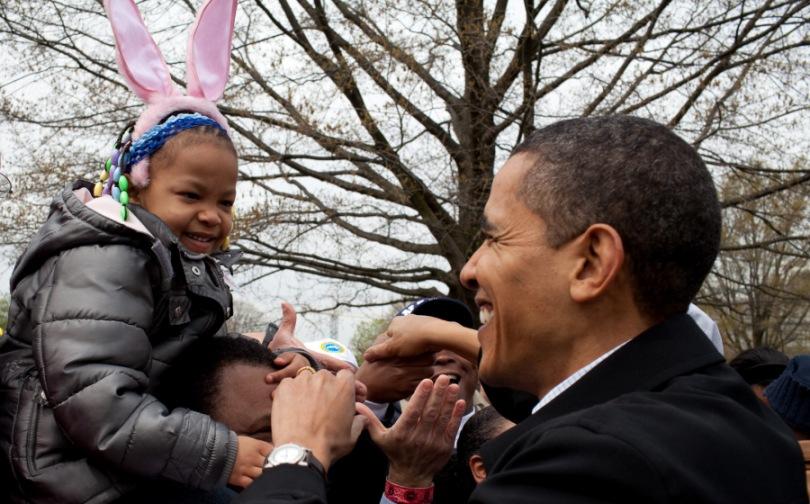 As the Obamas welcome their new puppy Bo into the White House, it's completely normal for utter strangers to chime in about dogs in general, and Bo in particular. One of these strangers is Cesar Millan, better known as The Dog Whisperer.
In the past few years, Cesar's popularity has grown, as well as criticism over Cesar's methods. Many animal advocates and animal trainers don't care for Cesar's refrain of "Be the pack leader!" Being the pack leader, for Cesar, tends to involve showing the dog who is boss by any means necessary, even if it means holding an aggressive dog down or using a muzzle. Cesar always makes it work on the dogs, and another one of his popular sayings is "I'm retraining the owner, not the dog."
Cesar is concerned about Barack and Michelle's "pack leader" abilities, but not too concerned. Cesar tells People Magazine that President Obama has a natural "calm, assertive energy", but mean and women who are "pack leaders" at work don't always "apply this 'pack leader' frame of mind with their dogs". People has more:
President Obama may be the leader of the political pack, but it will take work to make sure he holds that title inside the White House with the new First Puppy, Bo.

So says dog behavior expert Cesar Millan (a.k.a. The Dog Whisperer), who has some words of advice for Obama, 47, his wife Michelle, 45, and daughters Sasha, 7, and Malia, 10, who unofficially announced their adoption of the Portuguese Water Dog puppy on Sunday.

"When I watch President Obama speak, it's clear that calm, assertive energy is something that comes naturally to him," Millan, whose National Geographic Channel series enters its fifth season this fall, tells PEOPLE Pets. "But often men and women who are leaders in the workplace don't apply this 'pack leader' frame of mind with their dogs. That's how problems develop.

"It isn't just the President who has to set rules, boundaries and limitations for the dog," adds Cesar, who with wife Ilusion has two sons, Calvin, 10, and Andre, 14. "Michelle and the kids have to be pack leaders, too!"
From People Magazine
Considering it's the girls' first animal, I wouldn't expect Sasha and Malia to be very calm and assertive with their new puppy. Most likely the first few months of Bo's time in the White House, he will be something of a doll for them. But they'll learn how to be better dog owners, given some time. My worry is that the girls will start to fight over Bo – who Bo gets to sleep with, who gets to brush him out, all of that. Perhaps another dog is in their future… then they could have a real "pack".
Cesar Millan is shown with his wife on 8/21/08. Credit: PRPhotos President Obama is shown at the annual Easter Egg Roll at the White House on 4/13/09. Photo courtesy of White House. Credit: Chuck Kennedy