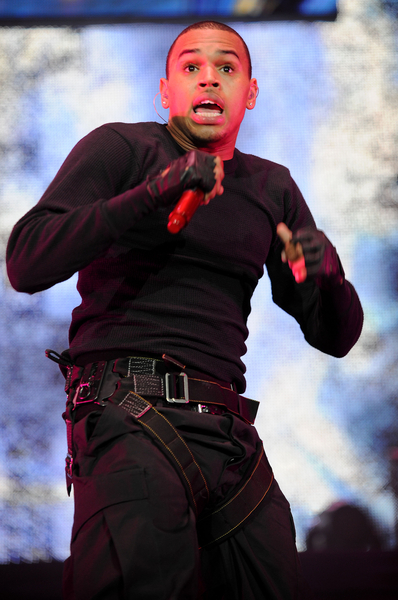 Just yesterday we heard that Chris Brown was back with an ex girlfriend from his home state of Virginia, a college student named Erica Jackson. Either that didn't last long or Chris is playing the field, because he was photographed out with a singer from the CW reality show girl band Girlicious, Natalie Mejia. Brown and Mejia were seen outside a tattoo parlor together, but Mejia wouldn't say what they had done. She did confirm that she's dating Brown and that he hasn't hit her yet, though:
The stunning new girl on Chris Brown's arm, Natalie Mejia, tells RadarOnline.com exclusively that Brown has been a total "gentlemen."

Mejia, of The CW's Girlicious, was spotted with the embattled R&B singer this past Saturday in Los Angeles, visiting a Sunset Blvd tattoo parlor.

Meija tells us "it's true we did visit a tattoo parlor together but I can't say if we got anything done because that is personal."

While reports that the pair visited the shop for just ten minutes, Mejia says "things are going well between us but I really do not want to comment much more than that right now."

The sexy singer maintains that Brown "has treated me like a [sic] gentleman at all times actually and there are no complaints."

She would not elaborate on she and Brown's initial meeting or courtship thus far.

She does wax philosophical on her MySpace page, however:

"Life is too short to wake-up in the morning with regrets. So love the people who treat you right, forget about the ones who don't and believe everything happens for a reason."
[From Radar Online]
Radar has the photo. Brown and Mejia are both wearing sunglasses. Brown looks surprised while Mejia looks demurely down. This girl is probably grateful for the publicity, as sad as that is, at hooking up with a known abuser. She may regret it soon, although you hope for her sake that Brown is a changed man. It's not like we've heard that he's done any work for charity, attended courses on anger management or abuse, or made any effort to make it seem as if he's trying to change even for the sake of good publicity. It's like the guy just doesn't care. He may not be able to say much due to his pending court case, but it's not like he can't go visit some sick kids in the hospital.
Chris Brown is shown in concert on 1/3/09. Credit: PRPhotos