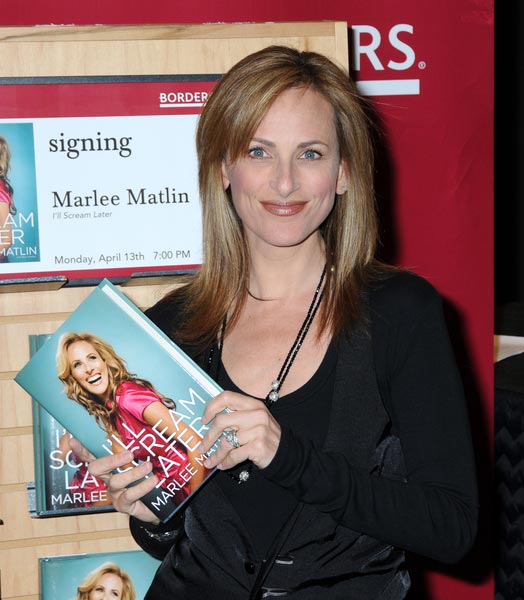 Oscar-winning deaf actress Marlee Matlin dated her co-star in Children of a Lesser God, William Hurt, over 20 years ago. In her new biography, the 43 year-old mother of four details the abuse she suffered at the hands of aptly named Hurt during their relationship. Matlin told Access Hollywood that she was just 19 when she dated then 35 year-old Hurt and that she was addicted to cocaine and pot at the time. She said she "always afraid of him" and "had fresh bruises everyday" due to his unrelenting abuse:
At age 21, she became the first deaf actress to win an Oscar, for her role in "Children of a Lesser God."

On her arm that night was her co-star, William Hurt. And in her new book, "I'll Scream Later," Matlin chronicles what she claims happened with Hurt that night and the alleged abuse she suffered at the hands of the actor.

"I was afraid. I was always afraid… of him," Matlin told Access Hollywood's Nancy O'Dell. "But I loved him. I did. Or maybe I thought I did. But look, I was 19, he was 35."

The stars first met while filming "Children of a Lesser God" and their chemistry was electric – onscreen and off.

"We had an affair that night, the last day of the audition," Matlin continued. "We were together for two years. We lived together and it was one of the most… He's one of the most complex persons that I've ever dealt with. But, at the time, living with him was different than anything I've ever experienced."

The two shared a passionate relationship. However, at times, Matlin claims it turned dangerous.

"How bad was the abuse?" Nancy asked.

"I always had fresh bruises everyday," the actress revealed. "And if I had a split lip, or if… I mean, there were a lot of things that happened that were not pleasant."

In her new book, Matlin recounts one of the couple's fights, where she claims Hurt threw her on the bed and ripped off her clothes while she sobbed, "No, no, no. Please Bill, no."

"Did you ever thing about filing charges against him?" Nancy asked.

"No, not at the time. I was so wrapped up in his world and my drugs. The drugs took over my life, took over my brain. I was 19 and I was alone in New York City. I had no friends there except my drug dealer," Matlin explained.

At the time, Matlin admits she was addicted to cocaine and pot, while Hurt was an alcoholic, but later sought treatment through Alcoholics Anonymous.

"I could say that I understand how women are afraid to leave an abusive relationship," she continued. "They should, but at the same time, I understand how they don't know how."
[From Access Hollywood, site has automatic video]
Hurt is off the wagon again. He reportedly assaulted a guy in a NY bar in September, grabbing his privates. When the bartender tried to cut him off, he became verbally and physically abusive with him and refused to leave.
It's heartbreaking to hear that Matlin suffered such abuse as a teen from this creep. Over 20 years later, she is finally is able to tell her story and hopefully help other women who feel trapped in abusive relationships. Some commenters on the Huffington Post have expressed skepticism at Matlin's revelation after all this time, saying that it's timed to increase book sales. It baffles me that people would take that stance, but there are still those who defend Chris Brown so I guess I shouldn't be surprised. It's understandable that it would take her this long to come out with what must have been a painful secret. This is her story and after all she went through she's more than entitled to tell it when she's comfortable.
Matlin is now married to a police officer and lives in LA with her family. They have four children, Sarah, 13, Brandon, 8, Tyler, 6, and Isabelle, 5. She was a contestant on "Dancing With The Stars" last year and stars on Showtime series "The L Word." Hurt, 59, is divorced from his only wife and has four children by three different women. He currently stars on the FX series "Damages" with Glenn Close. Maybe his waning career will take a much-deserved hit after this news is out. It was 20 years ago, but I'm still interested to see if he issues a statement.
Marlee Matlin is shown promoting her book at Borders Columbus Circle in New York on 4/13/09. Credit: PRPhotos. She is also shown with her husband, Kevin Grandalski on 9/18/04. William Hurt is shown on 7/14/08. Credit: WENN.