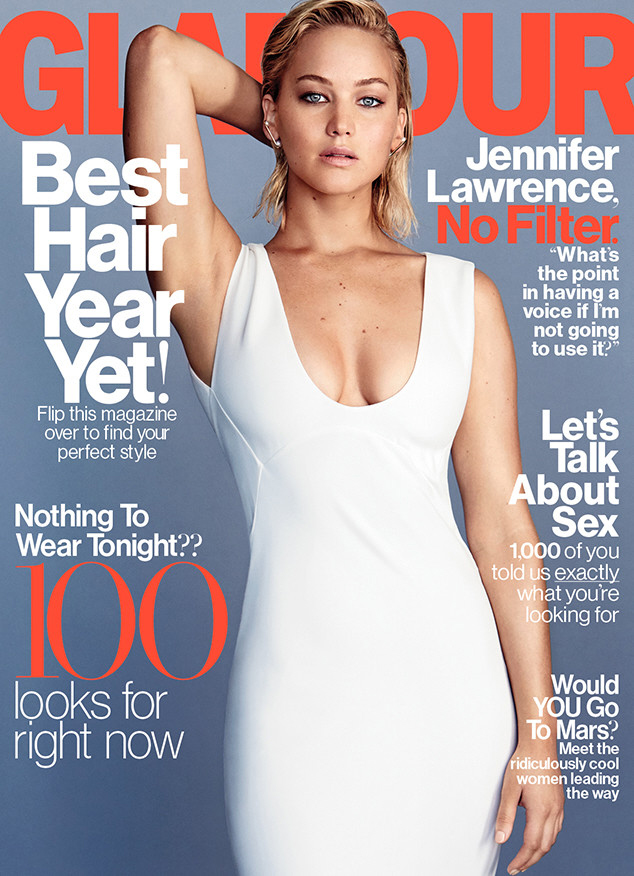 For a few years, I've gone back and forth on Jennifer Lawrence. If you just read the headlines, she can come across as try-hard, perhaps even annoying. But over the past few months, I've read so many interviews with her and I just have to admit: she's a national treasure. Even at her worst, she's a treasure. Jennifer covers the new issue of Glamour and the interview is SO funny. You have to get into her self-deprecating rhythm, but once you do, you'll find yourself giggling in spite of yourself. I actually think J.Law is a throwback to another era, like she's Carole Lombard or Mae West, and she has a sassy one-liner for nearly every situation. Some highlights from the Glamour interview:
Her Kentucky roots: "My cousin and I were talking last night about what we wanted to do with our dead bodies. And I'm like, "I want my ashes scattered on Lake Cumberland." And when I said it out loud, I was like, "Wow. You really are still rooted in your redneck [ways]. But basically it's a certain grit. Everything's very family oriented. Nobody knows or cares about designers. I care! But I didn't used to."

Her style: "Slutty power lesbian. That is literally what I say to a stylist. [Laughs.] I don't know if that's offensive— first of all, Dior is its own house that's very feminine and beautiful; this past press tour every dress was just phenomenal. So you don't see me as a slutty power lesbian on the red carpet a lot, because I'm embodying the Dior woman, which is an honor.… But [also] I've got t-ts and an ass. And there are things that are made for skinny people—like a lot of embroidery, or it covers a lot—and those make me look fat. I have to show the lumps. If you have boobs, you have to show, like, "These are boobs. This isn't cellulite." Not that there's anything wrong with that."

Her wage gap essay: "The women's pay gap is a real thing that a lot of people don't know about. It hasn't been in our consciousness; it wasn't in mine. I don't think it was Sony's fault. I don't think it was anybody's fault. I wanted to open up about how my mentality got in my way… Sony's a business. You're not gonna give somebody more money if they don't ask for it. They've got to fit a million movie stars into one movie. They're trying to realistically make this happen. You know, [after the Lenny essay came out] my agent was like, "God, I feel like I look like a terrible agent." Well, no, because you have to do everything I say. And I said, "Settle." 'Cause I just wanted to do the movie; it wasn't about money to me at the time. But all the actors were doing that. None of us were getting our [usual] quotes. But the difference in who was getting a little less, and a lot less, than their quote was very vast. And I wanted to write about how I got in my own way. 'Cause I assume that in negotiating, the men were tough as balls."

Speaking up about her hacked photos: "If I was quiet, it would have seemed like I was ashamed. And I wasn't ashamed; I was enraged. Not once have I felt like I "learned a lesson." I didn't do anything wrong! Even I've defended myself by saying I was in a relationship with a wonderful man for five years. But even if I wasn't, even if I [just] went on a date with a guy—it doesn't matter what the situation is. It's your body. And you can do whatever you want."

The shooting at Planned Parenthood: "It's so awful…. It isn't an attack on abortions; it's an attack on women. Because Planned Parenthood is so much more [than abortion]. My mom was really religious with me when I was young. She's not so much anymore. And I wouldn't have been able to get birth control if it weren't for Planned P. I wouldn't have been able to get condoms and birth control and all these things I needed as a normal teenager who was growing up in a Jesus house. And now [gestures widely] I am a successful woman who has not had a pregnancy…But seriously. What harm comes from supplying people with birth control, condoms, Pap smears, and cancer screenings?"

She's not misunderstood: "I don't feel like I'm misunderstood. I feel like I'm over-paid-attention-to. I'm not trying to be a GIF. I'm not trying to be a picked-up-on-Twitter quote. All I'm trying to do is act. And I have to promote these movies. And I am, at the end of the day, I guess, a f–king lunatic. So if you record what I'm saying, it's gonna be goofy. What do I do? What do I do? I'm just a girl, sitting in front of the world and asking them to forgive her for speaking.
There are about a million other interesting/funny quotes. She talks about how it's okay for women to not feel fulfilled by motherhood, she says that Larry David turns her on, she says that she would love nothing more than to be able to go without being photographed for three months, and she would love to be able to stop falling down. I love what she says about the hacked photos, what she says about wage inequality, what she says about Planned Parenthood, all of it. National treasure.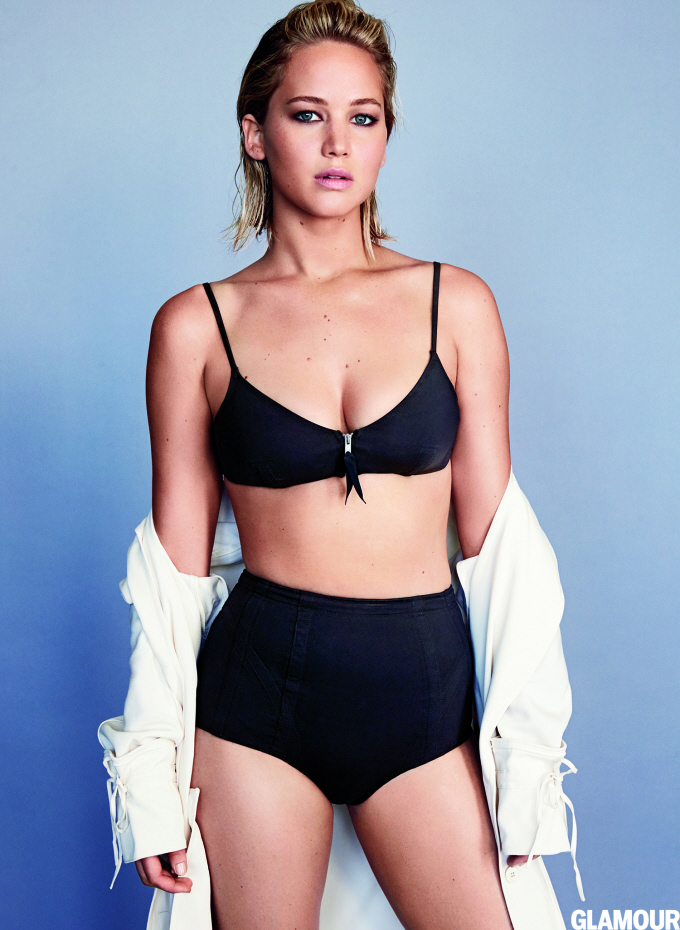 Photos courtesy of Glamour.