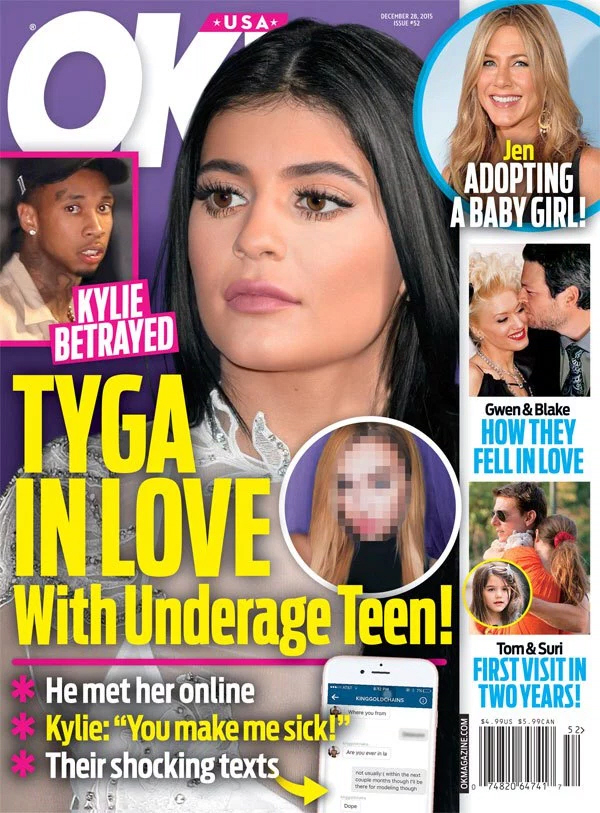 Back in December, OK! Magazine ran a cover story about Kylie Jenner and her on-and-off boyfriend Tyga. At least, that's how the cover story was framed: like it was bad news for Kylie, and Kylie and Tyga were the ones on the cover. The gist of the OK! Mag story was that Kylie didn't know that Tyga was secretly cheating on her with a 14-year-old girl. OK claimed that Tyga and the 14-year-old had met on social media and that Tyga was obsessed with her and kept sending her messages. Basically, it sounded like a 26-year-old man was grooming a young girl. But… since it was OK! Magazine, I really didn't pay any attention to it.
Yesterday, Gloria Allred called a press conference. And the story just got so much worse. The 14-year-old girl and her mother contacted Allred, and now Allred is going after… OK! Magazine? Wait, what?
Gloria Allred says her 14-year-old client has been forced to reveal her identity after Tyga repeatedly contacted her, and then OK! ran a story about it, claiming Kylie Jenner busted him. Allred held a news conference in NYC with the teenager, a model named Molly O'Malia … who claims Tyga initiated the convo with her, and not the other way around.

Allred launched an attack against OK! because she says the magazine poorly pixelated Molly's image. She says people figured out it was Molly, and have been hounding her about allegedly coming between Kylie and Tyga. Molly, who's also an aspiring singer, claims Tyga reached out to her … first through Instagram … and she only responded because she thought it was about her music. She says she got skeeved out though when he allegedly asked to FaceTime.

Allred says the magazine's claim the two were "hooking up" is not true and what's more, portrays Molly "in a completely false light" — and exploited a minor. Despite that … there was no talk of a lawsuit. Tyga's reps didn't have a comment.
I completely believe Molly's story. I think she's a model and a wannabe singer with open social media profiles and Tyga started creeping on her. I don't believe they ever met, but I'll totally believe Tyga initiated everything and that he was trying to groom her for a face-to-face meeting. And it's disgusting. It's widely believed – and basically confirmed at this point – that Tyga started up with Kylie was she was about 16 years old, possibly younger. It wouldn't surprise me at all if that was Tyga's consistent "type." And it's criminal.
Photos courtesy of Getty, WENN, cover courtesy of OK.