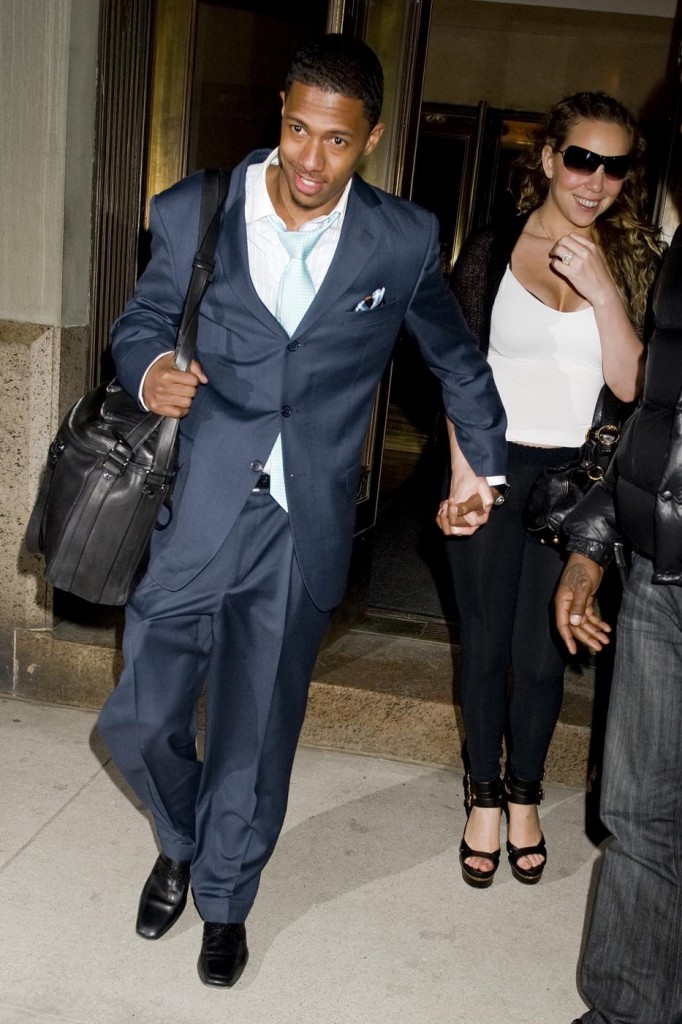 Mariah Carey is not pregnant – but she knows how the rumors got started. In her mind, it was just one bad dress. Not really, Mariah, but we'll humor you. Mariah thinks that the tight-fitting pick-peach dress she wore on Easter Sunday somehow just started the pregnancy rumors. Considering the pregnancy rumors started last year, that must be one seriously bad dress.
What's funny is that Mariah is rarely photographed in anything other than tightly-fitting, age-inappropriate cocktail dresses. This pick-peach dress was no different. Mariah looks the same as always – like she's a voluptuous girl who poured herself into a dress that's a few sizes too small. She didn't look bad or overweight, she looked the same as always. But Mariah just felt she had to address "the rumors":
Mariah Carey insists she is not pregnant: She was just wearing a bad outfit. On Easter Sunday, Carey was photographed in a tight, peach dress with husband Nick Cannon.

Blogs soon began speculating that she was pregnant.

"I don't know what was worse, the bleak angles and bright peach dress … or the b.s. commentary/blogs," she says (via Twitter).

Although "Nick looked cute" in the photos, she says she "could've definitely lived without" seeing the pictures. (She also admits that her "dress and hair" were not suitable for the "red carpet.")

She added, "And if I gained a few pounds.. my trainers back living with me again."

Her rep also shot down pregnancy rumors when contacted by Usmagazine.com. Asked about media reports that she and Cannon spent Easter Sunday at a fertility clinic, her rep tells Us: "No, not true. Nick and Mariah spent Easter Sunday with family in southern California."

Carey and Cannon secretly wed nearly a year ago in Eleuthera in the Bahamas.

They're already prepping for parenthood. Cannon recently told Us that he bought Carey a dog for their anniversary.

"I got her a short-haired Jack Russell terrier — a girl, named Cha-Cha," he said last month. "She's eight weeks."
[From US Magazine]
Oh, Mariah. This is-she or isn't-she pregnant thing has got to stop. It really seems like Mariah is the one pushing the rumors now, whereas it was the tabloids and gossip sites a few months ago. Now Mariah just seems to be looking for attention. If she wants to get pregnant, good for her. I'd be happy for her. But blaming the "rumors" on the same dress she's been wearing for decades is a little cheap.
Here's Mariah Carey and Nick Cannon exiting their Manhattan apartment building and heading to the airport on April 7th. Images thanks to Pacific Coast News.