Lady Gaga was one of several ladies wearing Versace at the Golden Globes last night, and the label was surprisingly versatile. I can't say the same of Gaga, who has been going for this kind of staid old Hollywood look for some time. It works when she's singing with Tony Bennett and I get that she wanted to switch up her look so she would be taken more seriously, but I want to see her bring some of her signature craziness to the red carpet.
Gaga was in this black velvet off the shoulder gown and when she bent over to accept her award, for best actress in a miniseries for AHS: Hotel, I swear she was wearing one of those pointy bras from the 50s. The look is decent and you can see what she was going for, but her poor styling ruins it. I think it's her haircolor, which is just too yellow, mixed with her overdone makeup. She looks like a drunk cocktail waitress from the 60s. You could see the thick white lines under her eyes when she was on stage. When Gaga was accepting her award she seemed overwrought but I couldn't tell if it was a put-on. She said it was the greatest moment of her life and added that "I wanted to be an actress before I wanted to be a singer but music worked out first." The camera panned to fellow nominee Queen Latifah after that line and she was looking away at that point, like she was making a joke. Plus everyone was talking about the face Leo DiCaprio made when Gaga walked past him.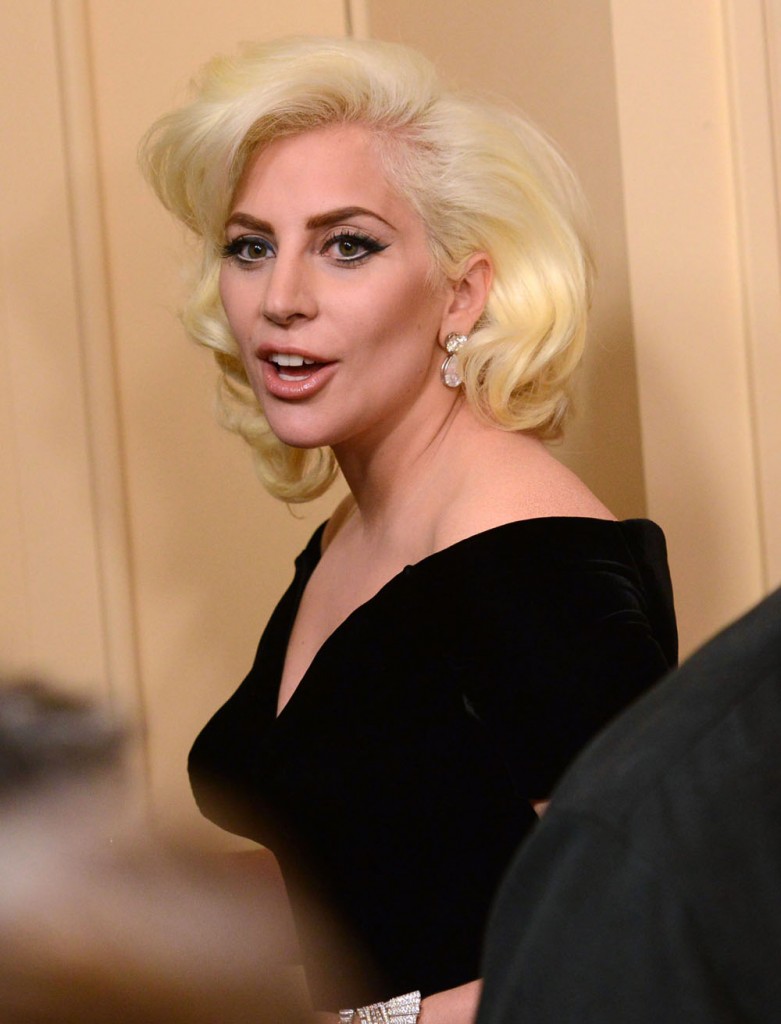 Also in Versace we have Amy Adams, who had one of the best looks of the night. Amy is so good at picking classic, gorgeous dresses with just the right amount of details. I love the fit and color of this gown paired with the lines of sequins along the waist and down the side. Her hair and makeup are gorgeous too.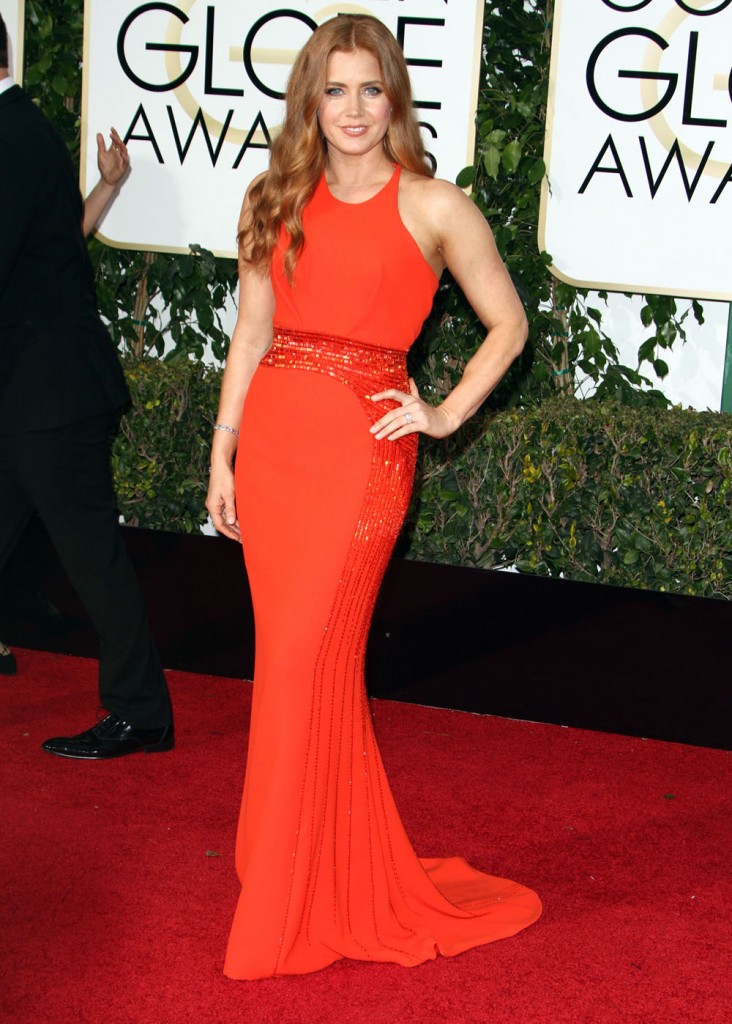 Rosie Huntington-Whiteley was in a pale yellow Versace sequin gown that was great from the waist up. (To quote Kaiser.) The bottom half of the dress was somewhat bizarre with a fitted area around the waist which led to a chiffon flared bottom. It's not bad and it flatters her incredible figure but she was so close to knocking it out of the park. GossipCop confirms that these two are engaged finally! We've heard rumors about their engagement for years and this makes me so happy. Check out her ring.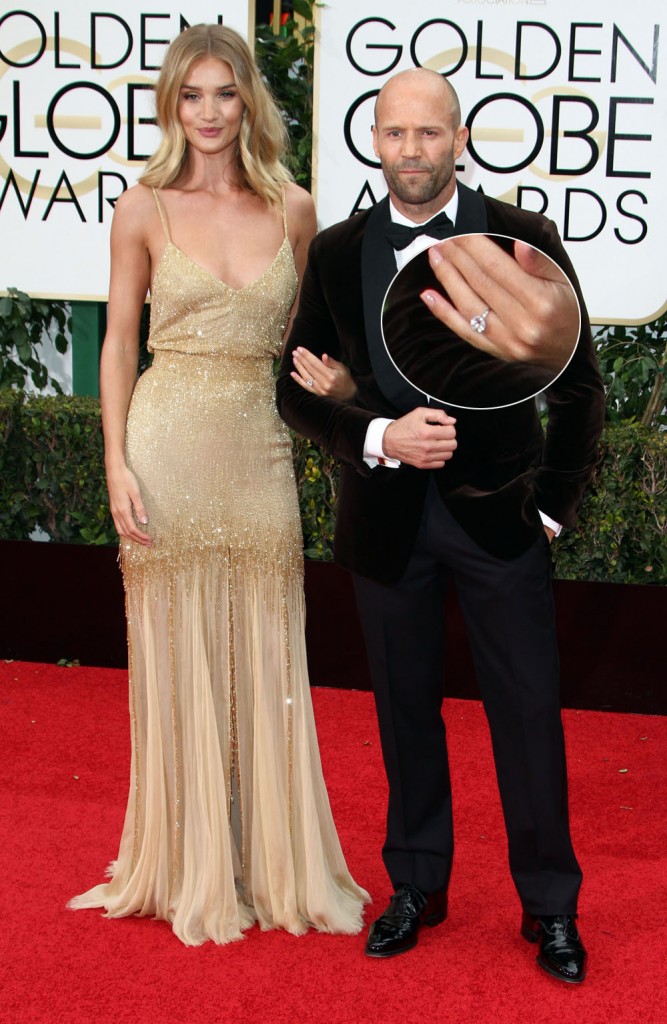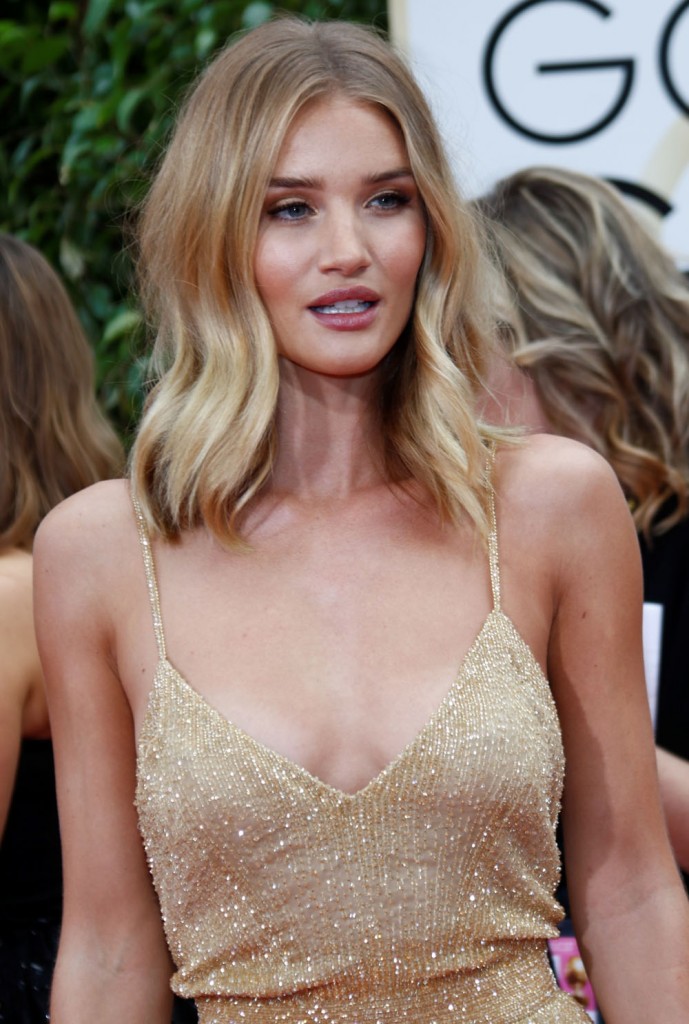 Jada Pinkett Smith was also in Versace, in a jade green gown with chiffon trailing off the sides of the arms which gave it a kind of cape effect. Considering all the "look at me" fashion she's been wearing lately, this was quite understated. This dress is so elegant and pretty although she could have picked less matchy shoes.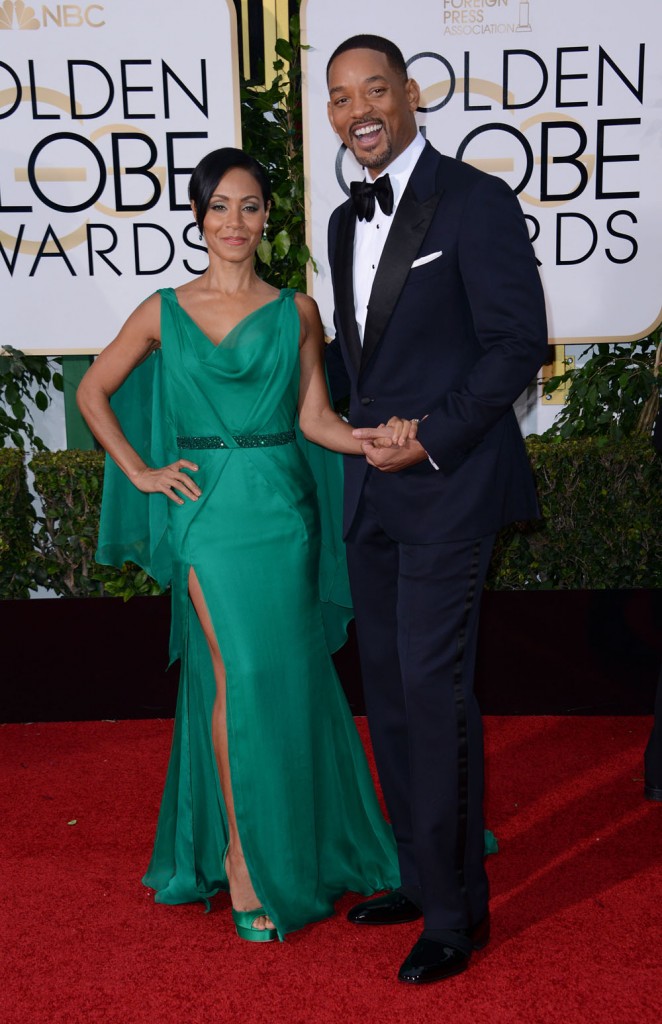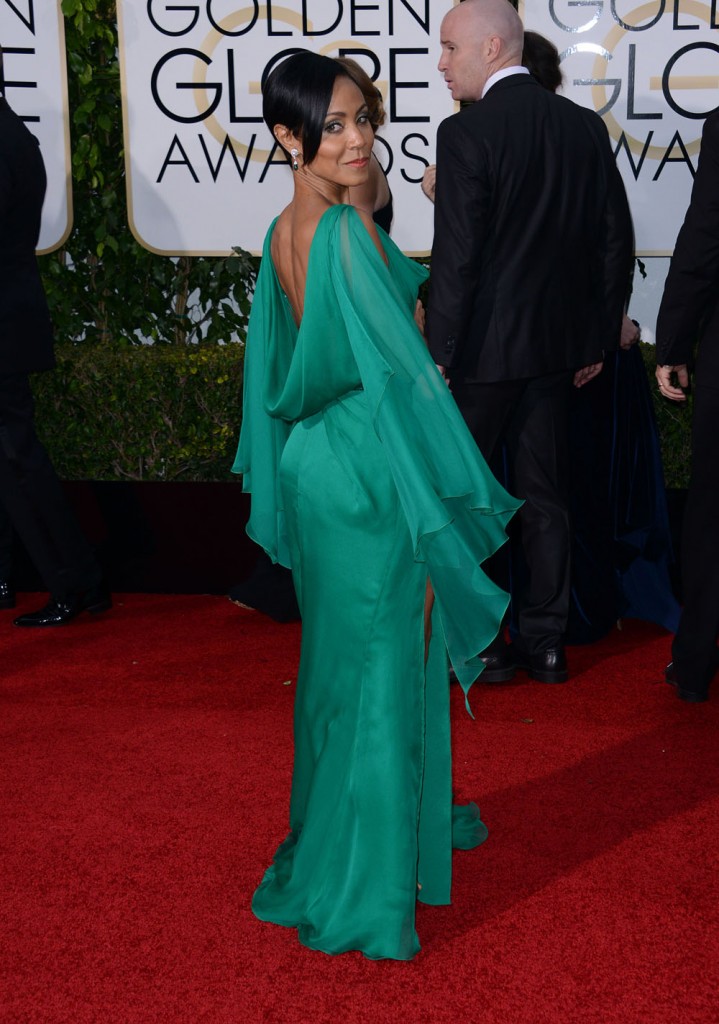 I'm including Golden Globe winner Rachel Bloom at the end, although she's in Christian Siriano not Versace like the rest of the ladies in this post. Rachel was one of the only other women I noticed in solid green. She seemed truly surprised to win for best TV comedy actress, for Crazy Ex-Girlfriend, and explained how a bunch of networks had rejected the show before it landed at The CW. I love the fit of this gown. This is like the perfect ratio of boob hoisting to cleavage. Her win was one of my favorite moments of the night.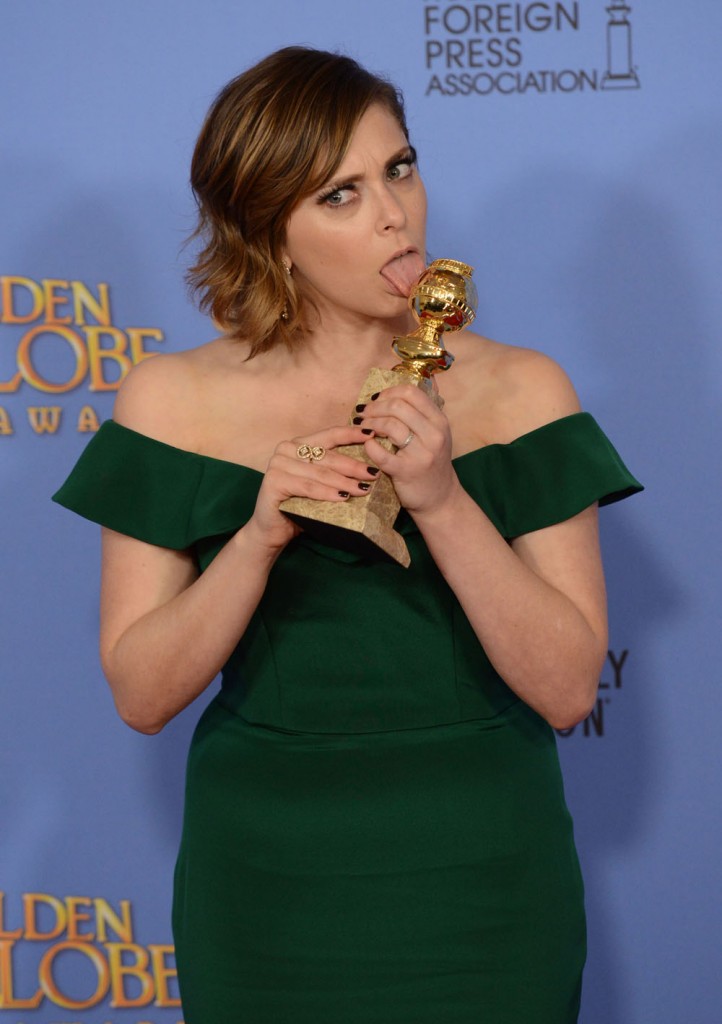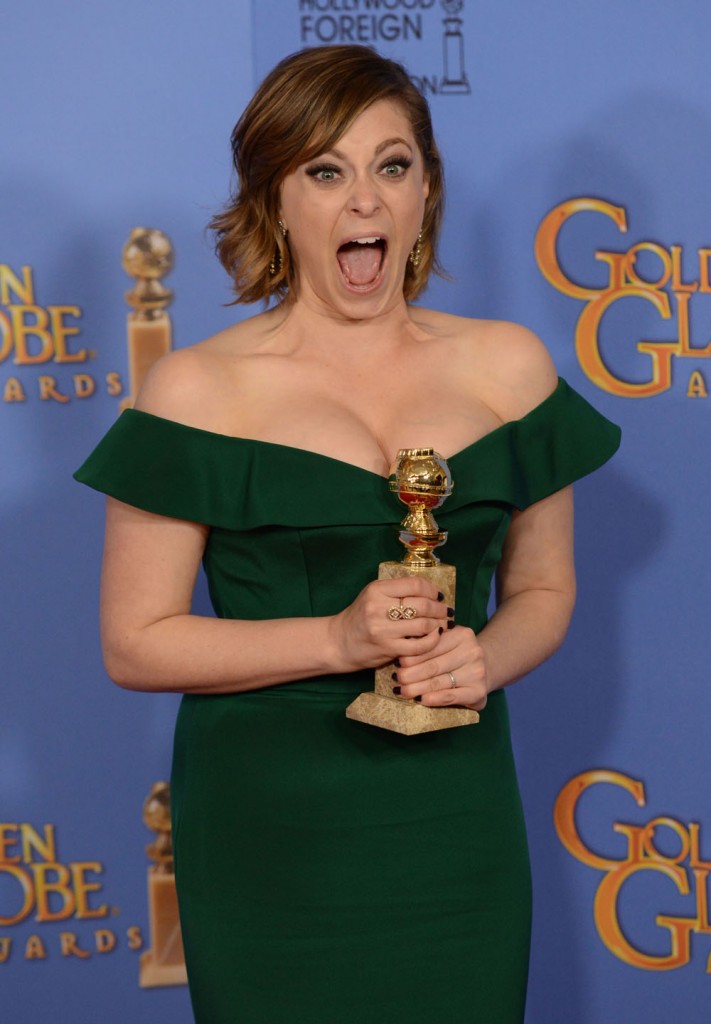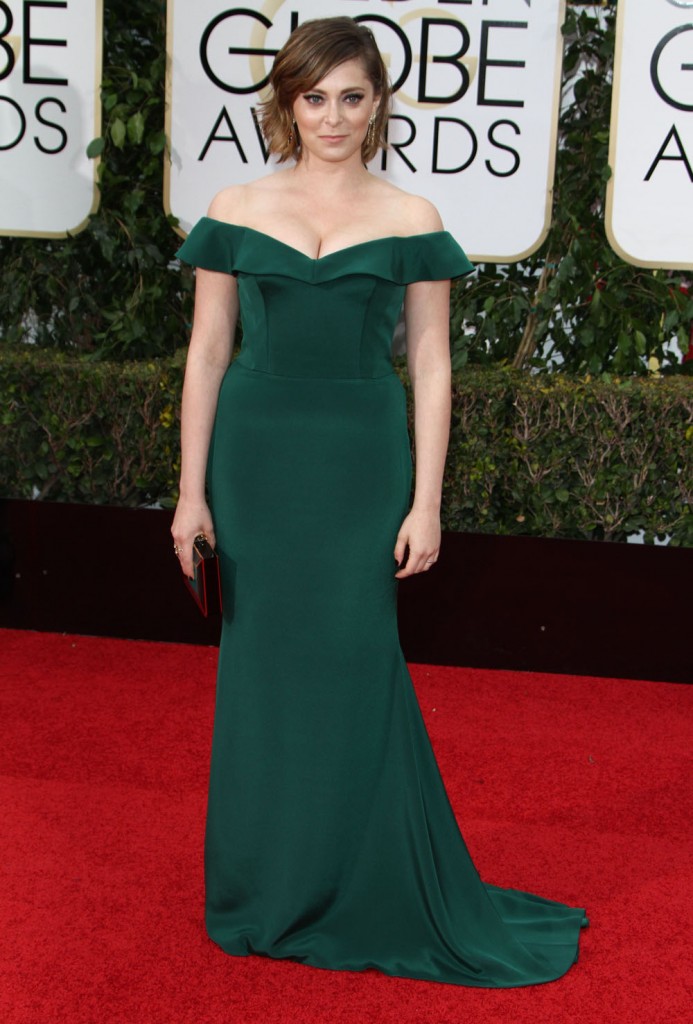 photo credit: WENN.com, FameFlynet and Getty Images