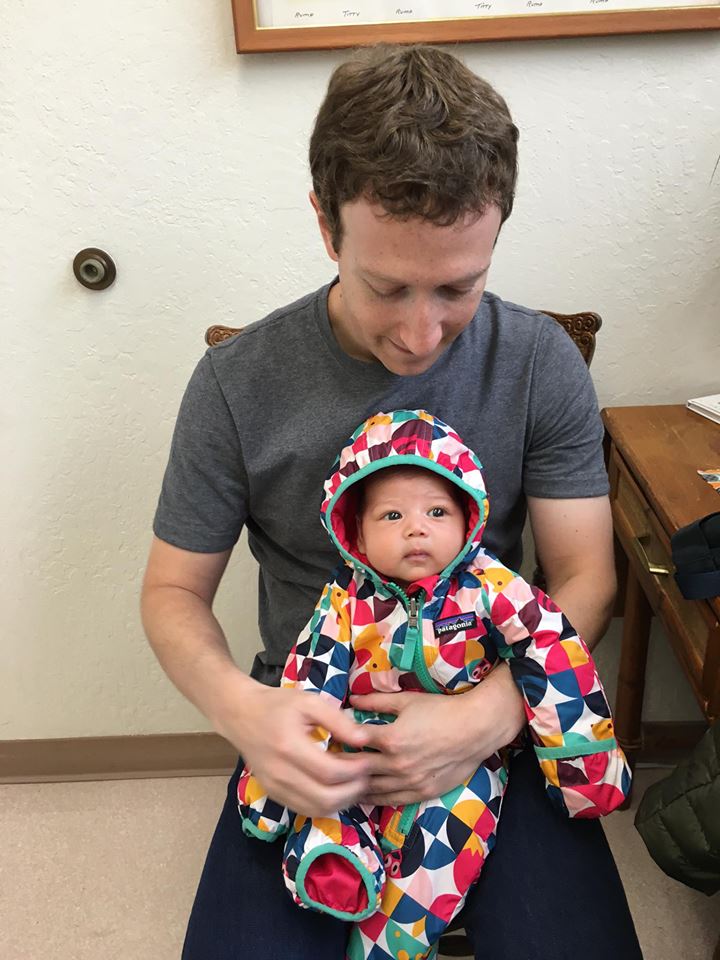 Mark Zuckerberg, the billionaire founder of Facebook, and his wife, Dr. Priscilla Chan, had daughter, Max Chan Zuckerberg, in Nov 2015. Since Max's birth, Mark has been like every other parent on Facebook and posting as many pics and proud parental moments of Max as his company's bandwidth will allow. They have ranged from a sweet shot introducing Max to the world to Max's side-eye in her Jedi outfit. Last Friday, Mark posted a picture of a darling Max seated on his lap as they waited for the doctor. His captioned it, "Doctor's visit — time for vaccines!" and the post went viral (pun possibly intended.) Seen as an official statement from an influential businessman in the debate about vaccines, the post has sparked outrage and garnered adamant support, to the tune of 78,000 comments and counting.
"It is of course another milestone, complete with an "aww"-inducing photo of Max. But this one set the Internet aflame in a way a gingerbread house never could, because this post is not really about Max at all — many see it as her billionaire father showing his hand in the vaccine debate.
Many of Zuckerberg's 47 million-some followers saw the post as a not-so-subtle expression of support for vaccinations, the public health matter at the center of an ongoing debate on modern science and civil liberties.
"Thanks for protecting your child, and other children who can't be vaccinated, and for supporting science!" wrote user Allison Hagood. "Adorable baby."
(A major element of vaccine advocacy is "herd immunity," which protects an entire community, including those who are not immune, when a critical portion of the population has been immunized.)
Another user, Elsa Sakz, countered: "Vaccine is poison for human kind. It kills more people than it helps. I wish people don't take it as an example here."
Yet, many Americans, including Republican presidential candidate Donald Trump, doubt the medical efficacy of vaccines and have pointed to their potential dangers. During a September 2015 GOP debate, Trump recounted that the 2-year-old child of one of his employees "got a tremendous fever" and "now is autistic" after getting vaccinated.
The notion that vaccines cause autism was disseminated in 1998, when a paper published by researcher Andrew Wakefield speculated that there was a causal link between the neurobehavioral disorder and the standard measles, mumps and rubella (MMRS) vaccine. The movement against vaccines was then taken up by a number of celebrities, including Jenny McCarthy and Jim Carrey.
In 2010, Wakefield's article was retracted after it was discovered that his work had been funded by parents suing vaccine companies. What's more, some parts of the paper were found to be fabricated, labeling children without autism as having the disorder."
Mark and Priscilla were open with the world about their hard road to having a healthy baby; Priscilla suffered a few miscarriages before she was able to carry Max to term. Since Max's birth, both Mark and Priscilla have pledged a part of their fortune to improve the world for the children of today and tomorrow. Priscilla is a pediatrician who would have studied all scientific evidence supporting vaccines to advise her patients – this decision was not made lightly.
After 147 people suffered from a measles outbreak linked to Disneyland in Anaheim, California Governor Jerry Brown signed SB77 into law, which eliminates personal belief from the decision to vaccinate children who plan to attend school, giving California one of the strictest immunization policies in the country. SB77 went into effect on January 1 of this year. All this post is legitimately saying is that the Chan Zuckerbergs may be considering having Max attend a non-home based school in California. However, I doubt all of Mark's 47+ million followers are aware of a California law that went into effect two weeks ago. So is Mark making a political statement or just finding another opportunity to show the world how adorable Max is?