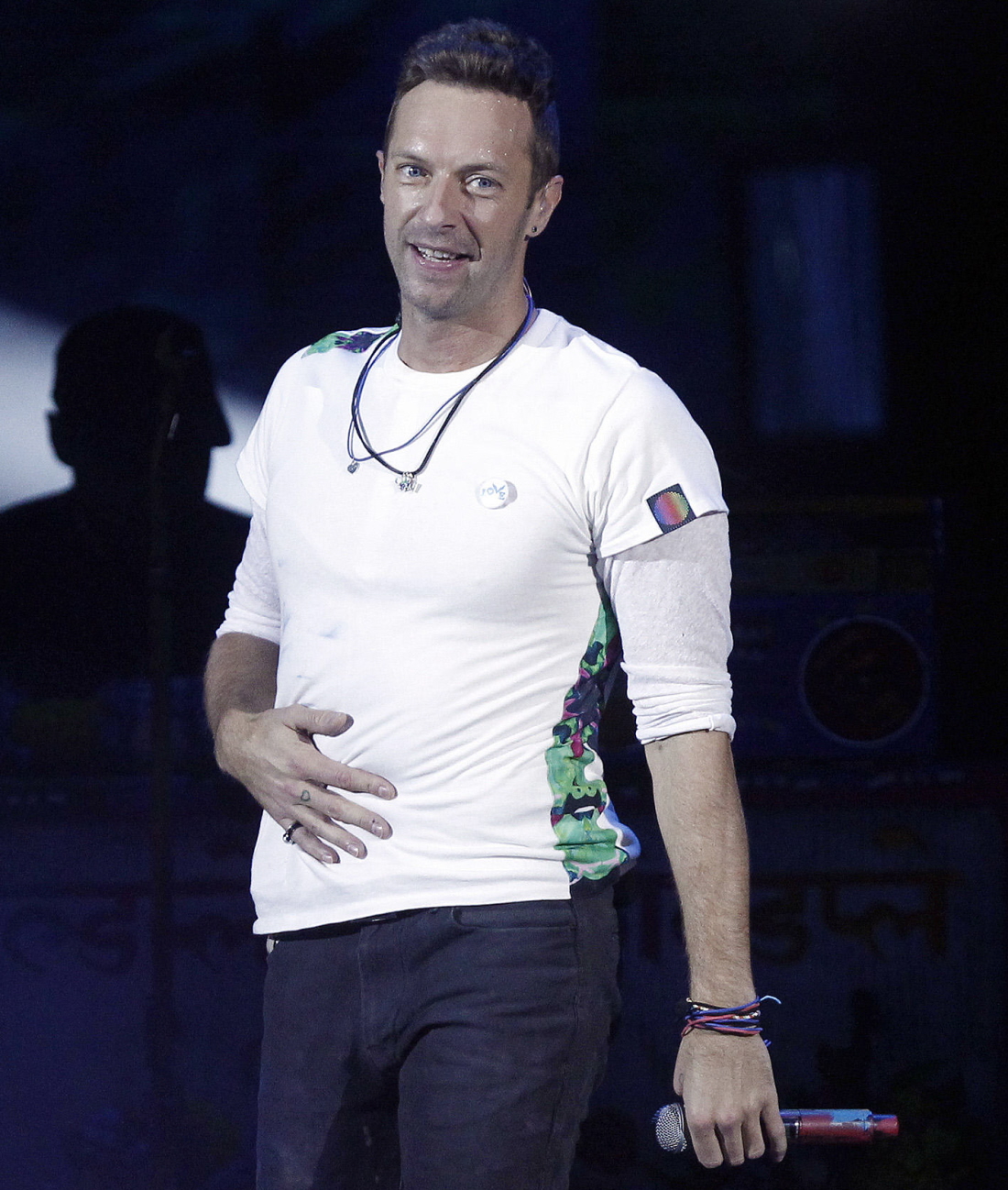 I'm starting to understand why Chris Martin and Gwyneth Paltrow were able to make it work for so many years: they both follow any silly diet fad that they hear about. People once believed that Chris was the more easy-going parent, that he was the one sneaking cheeseburgers and ice cream to Apple and Moses while Gwyneth forced them all into gluten-free, dairy-free, macrobiotic diets. While that might have been the case, Chris Martin is talking about his current diet, and it sounds just as terrible as anything Gwyneth has ever tried. Chris says he does the 6:1 Diet, where he eats normally for six days a week, then fasts on the seventh day.
He may jump around the stage as the frontman of Coldplay, but that's not how Chris Martin stays trim. Instead of counting calories or signing up for Weight Watchers, the 38-year-old musician just doesn't eat anything at all—for a day.

"I fast once a week," the father of two told the hosts of Fresh 102.7. Instead of eating on that day, the "Paradise" singer just drinks water. Commonly known as the 6:1 diet, Martin's dietary regimen began as an off-the-cuff suggestion.

"I started doing it because I was sick one time, and this guy said to me, 'Just try not eating for a day because it will make your body feel healthier,'" he recollected. "I did it and then I found I could sing a bit better, and also I felt so grateful for food…and just grateful for everything in a way that I wasn't so much before. I think that that feeling of gratitude and stuff naturally brings out a joyous feeling, and also when you're hungry you are very focused, so both sides of it I think help creativity."

However, in addition to well, not eating, there are some downsides to the diet.

"If you fast for a while, about 15 hours in, you get a little antsy, so you've got to be careful who you're talking to at that point," he said.

While he follows through with the fast, the Grammy winner admits that he does bend the rules every so often.

"Well, you're supposed to go for something like a kale salad," Martin added. "I tend to have Nutella and pancakes, which is terrible and completely defeats the point."
While fasting for one's health, one's faith or one's politics is nothing new, I think it's a stupid idea for a fad diet. But maybe I think that because I simply wouldn't have the will power for it. As I get older, I become more of a grazer… I eat smaller portions throughout the day and I've found that I get tired earlier in the evening. But if you didn't eat anything all day… how could anyone function? Someone with a 9-5 job wouldn't be able to function, I don't think. And while Chris doesn't have a 9-5 job, I seriously doubt he could fast on a day where he had a concert. He just wouldn't have the energy.
Here are some photos of Chris and his son Moses at a Lakers game this week. I kind of love these photos, and I enjoy the fact that an Englishman takes his son to a basketball game for a father-son bonding experience. I also sort of love the fact that Moses looks SO MUCH like Gwyneth.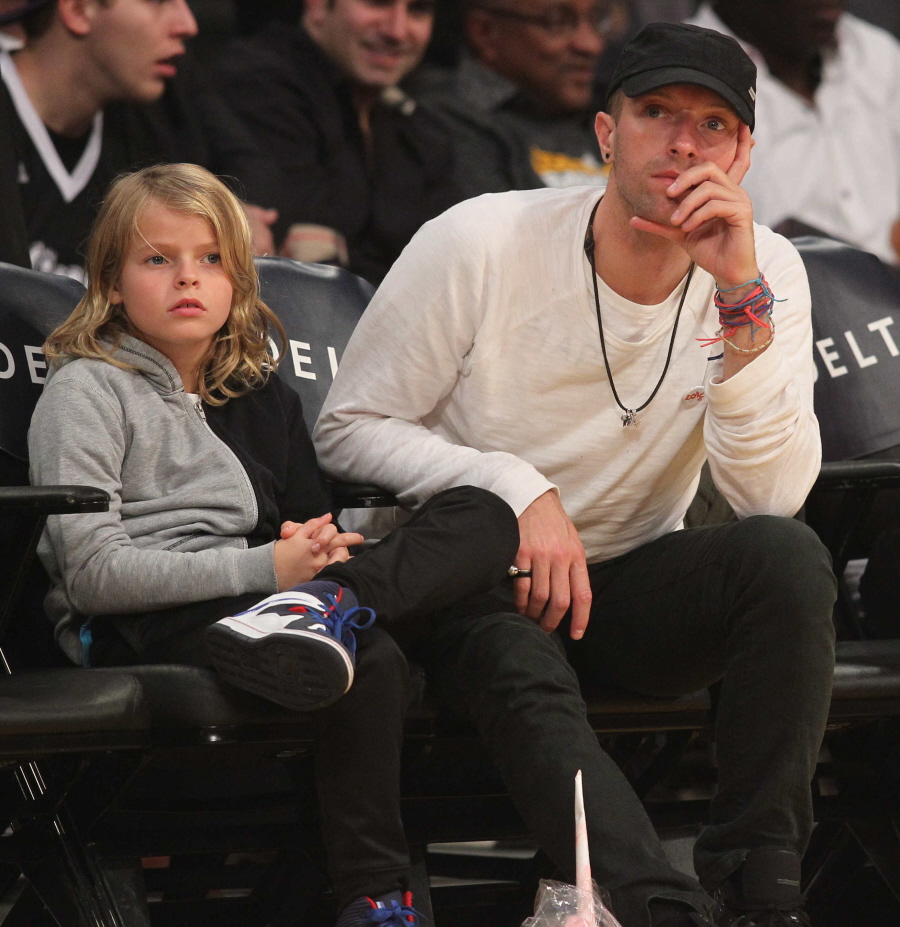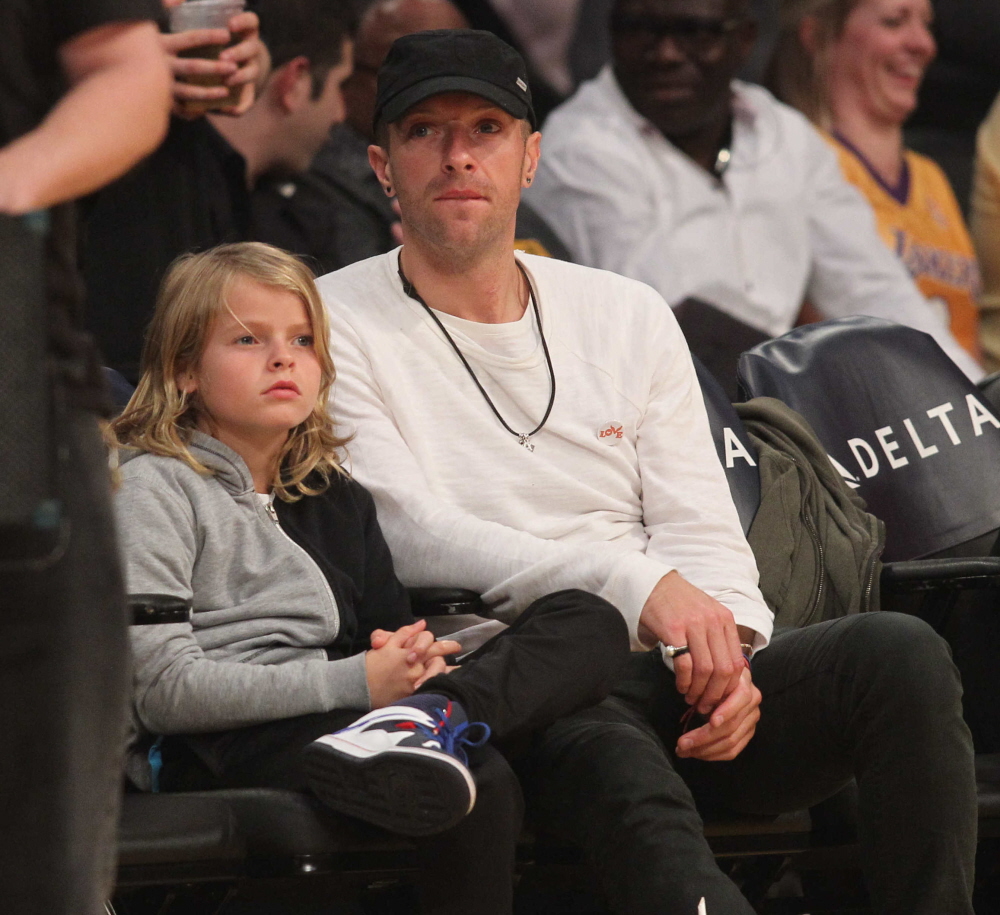 Photos courtesy of WENN.