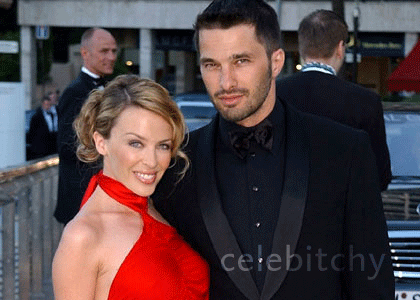 The UK's Mail on Sunday is reporting that Kylie Minogue is spending cosy weekends with her ex-boyfriend, Olivier Martinez. They split in February, after her recovery from cancer.
"Kylie has made regular visits to Olivier's home in Paris over the past few weeks," a friend revealed. "And recently their relationship has begun to redevelop.

"Things started to progress when Kylie flew over for a hospital appointment. They went for a heart-to-heart lunch and thrashed out a few issues.

A second source said: "Kylie put on a chic black dress and headscarf to look as Parisian as possible. She loves the look, and knows Ollie does, too. We were all delighted to see them back together again. She always says she's at her happiest in Paris, and especially with Ollie. She still calls him the love of her life.

"Since their split they've talked to each other on the phone constantly, but it's only in the past few weeks that they've started meeting again. It would be wonderful if they got back together and the signs look good."
I know that the tabloids like to say that Olivier was a cheatin' lyin' love rat, but I'm not convinced. Kylie seems sweet, but underneath that exterior she is tough, she's lasted in the music business for twenty years! Olivier was by her side during her cancer treatment, which can't have been easy, he seems okay to me. The couple are also rumoured to have undertaken IVF treatment together.
The Mail on Sunday source says that Kylie just loves Oliviers dog Sheeba, and that is part of the reason she stays at his flat. So maybe not a romantic rendouvous, but in fact pet-sitting? A spokeperson says "It's not true that they are back together. They do see each other but that has always been the case."