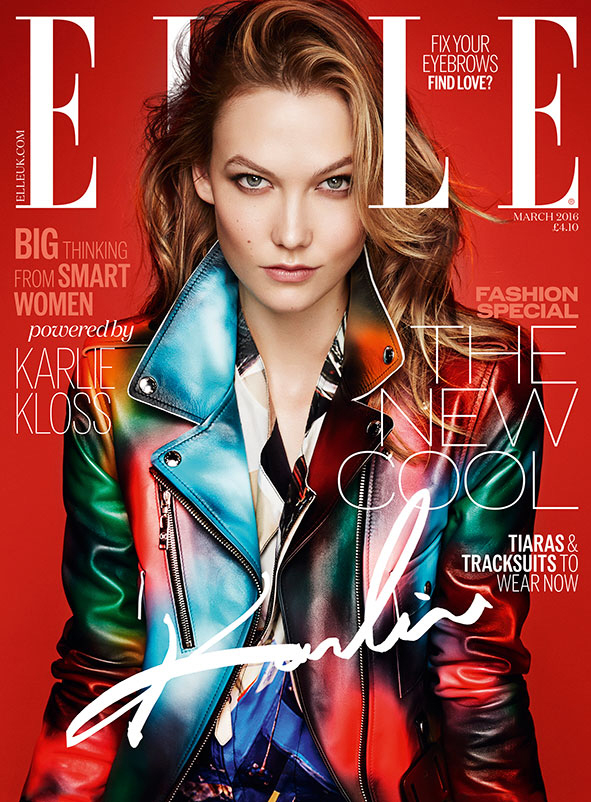 Karlie Kloss covers the March issue of Elle UK. I like Karlie a lot, but I usually find her interviews sort of boring. She's very wholesome, or at least that's how she wants to be seen, so the effect is that she comes across as bland. But there have been some rumors… whispers really, that Karlie might have had some kind of falling out with her BFF Taylor Swift. Part of the story is simple: Karlie and Taylor haven't been in the same place at the same time for a while. Maybe. But others believe that the absence of BFF-photos on each other's social media is evidence of some kind of rift. Did Taylor replace Karlie with some other tall model? Did Karlie just not appreciate the all-for-show nature of Taylor's squad? I don't know. But Karlie talks a bit about friendship and how she's bad at confrontation. It feels… interesting.
On friendships: "If you have one person in your life that you connect with then you're lucky. If you have a group of friends that you have that connection with then you're especially lucky. If you have people in your family you have that connection with then you've really won the game."

On confrontation: "I definitely don't like negative confrontation. I'm not great at arguing. I'm not good at getting into fights. I always lose and it makes me really uncomfortable. But I guess, true relationships and friendships come with ups and downs so it's about figuring out how to work with that."

She doesn't want to live online: "As transformative and wonderful as technology is at times I think being so absorbed in these online personas can make it hard to exist in the actual moment. Every industry is being transformed by technology and you either adapt or get left behind. So I think why coding has grown to be so powerful, especially for young women, is that it gives you the understanding and the skills to be a part of the change and a part of writing the future."

Diversity in modeling: "I hope it's not a trend, because it's the way that women feel most beautiful, when they're celebrating their uniqueness, their individuality."
It could be that Karlie was just talking about her views and she wasn't referencing anyone or anything specifically. But it does feel like she was talking about someone in particular, right? "Being so absorbed in these online personas" plus "I'm not great at arguing. I'm not good at getting into fights." I feel like Karlie and Tay-Tay got into a fight, possibly about #SquadGoals and the image Taylor puts out there. Maybe I'm being too much of a gossipmonger though.
Photos courtesy of Elle UK, Getty.