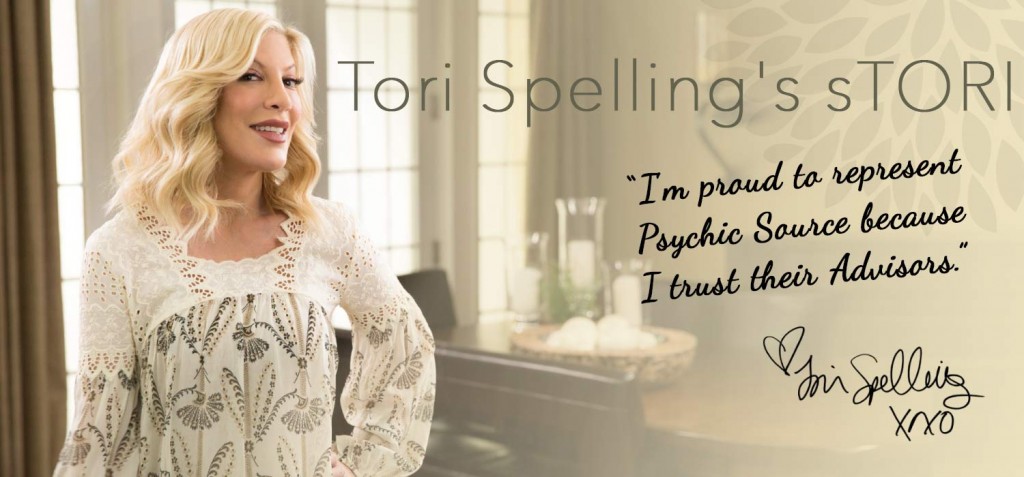 Tori Spelling may have a little cash to waste on more useless items for her storage containers (you know she's not going to pay off her debt), because she just signed a deal as a spokesperson for a psychic phone line. Tori is a great choice for this company, since she believes money will come when she pays someone else to tell her what she wants to hear. It worked in this case. Here's more:
Well, this could potentially ease some of Tori Spelling's reported money issues.

The 42-year-old actress has just been announced as Psychic Source's new celebrity partner and spokesperson. Psychic Source has been offering psychic readings for over 25 years — either by phone or through online chat — charging $1 per minute.

"I'm so excited to have the amazing advisors at Psychic Source available to me when I need insights into what's going on in my life, and I look forward to inspiring others to come along on this journey of self-discovery and spiritual growth with me!" Spelling says in a statement about her new gig.

As part of the partnership, Spelling plans to regularly share her experiences receiving guidance from advisors at Psychic Source with her fans.

"We know we will benefit not just from Ms. Spelling's celebrity status and the community of fans who love and admire her, but also from her genuine appreciation of and experiences with gifted psychic advisors in her own life," Maryanne Fiedler, Psychic Source Marketing Director, says in a statement.

The reality star has been open in the past about her use of psychics. "I explore new psychics the same way some people try out new restaurants," Spelling admitted in her 2010 book, Uncharted terriTORI. "If there were a Zagat that reviewed psychics, I'd keep it on my bedside table for handy access!"
Tori has talked about psychics and mediums for years as if all that mumbo jumbo has somehow become legitimate from the time when seances and table rapping were staged as entertainment for rich people. They're still falling for it. Also, I just want to say how disappointed I am in E! for their new "Hollywood Medium" show. Mediums prey on grieving people and they may sometimes give comforting advice, but their powers are not real and they don't have a gift other than the ability to read people and get them to part with their money. Some people believe in it and others consider it harmless, but I don't think E! should be giving these scam artists a platform. What's worse is that the shows are edited so the mediums look more competent than they are.
This reminds me of the plot of Reality Bites, that 1994 Gen X film starring Winona Ryder and Ethan Hawke. Winona's character spent all her money on psychic hotlines and had to earn enough to survive by using her dad's gas card for cash. Tori could pull a stunt like that with Candy's money. Tori could swipe Candy's Neiman Marcus card, buy a bunch of designer crap and then resell it on eBay. Tori would probably just end up hoarding it though.
Here's Tori's Psychic Source commercial.