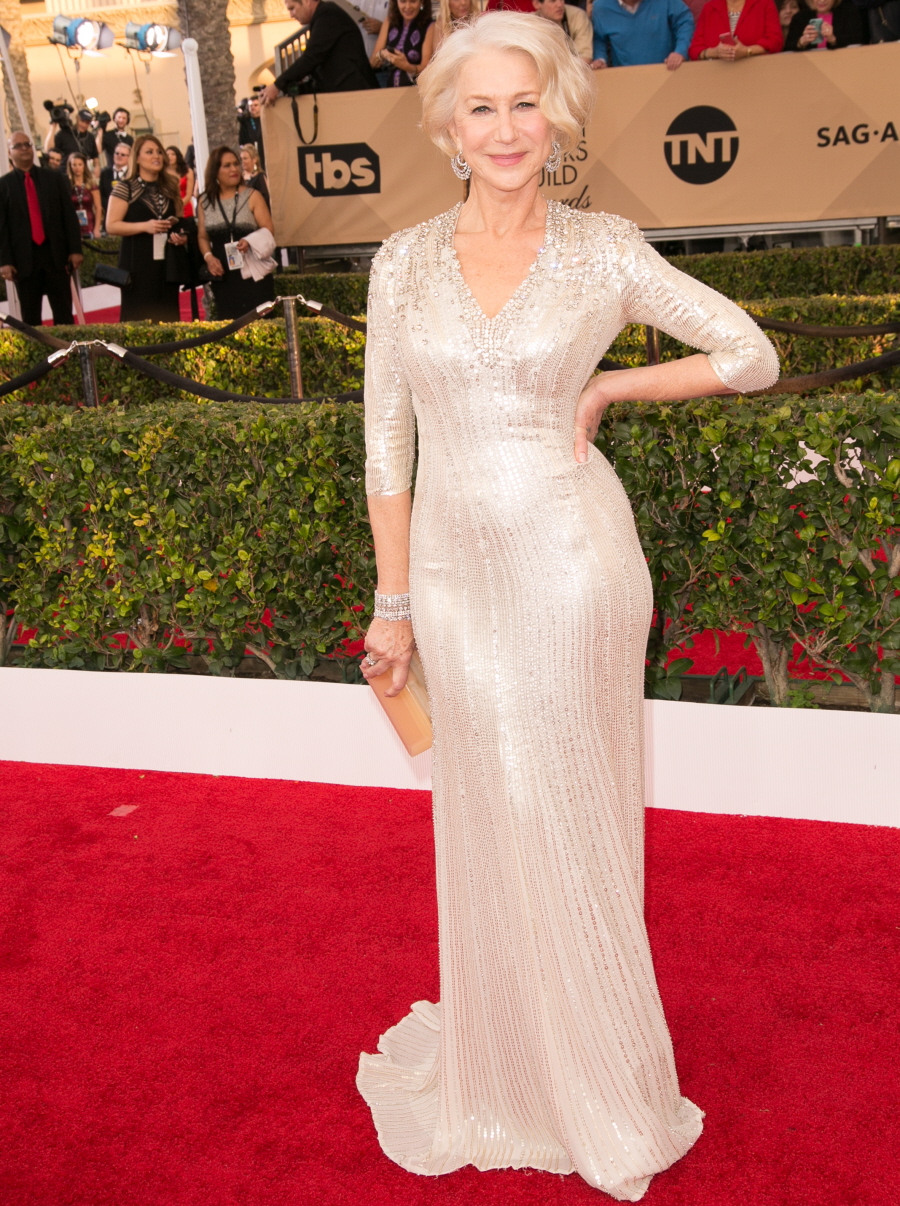 Last week, I read this interesting little item on Page Six – it was a piece about how celebrity representatives and publicists are scared to death that their clients will screw the pooch when it comes to questions about #OscarsSoWhite. The story keeps going and going, and obviously, celebrities are going to be getting questions about it for the next month, if not longer. And publicists are worried that there will be a rash of Charlotte Rampling-esque moments and careers will be destroyed because actors are incapable of discussing diversity with any kind of authenticity.
I bring this up because when I saw headlines like "Helen Mirren defends the Academy in #OscarsSoWhite row," I thought Dame Helen had screwed the pooch. I love Helen and I think she's fabulous, but she doesn't always say the right thing when it comes to complex issues. But after reading everything she said… I get it. And I don't think she said anything bad.
On Idris Elba's Oscar snub: "I think it's unfair to attack the Academy. It just so happened this year it went that way. He [Idris] wasn't nominated because not enough people saw, or wanted to see, a film about child soldiers in Somalia or the Congo or somewhere like that. They just couldn't face watching that movie and so not enough people saw that movie. It wasn't in the cinema for long enough. The thing is all of these things count, people don't really realise how much these things matter. And because of all of that he wasn't nominated – which he absolutely should have been. And if he'd been nominated we wouldn't be having this discussion, but we should be having this discussion. The conversation is incredibly important. It forced the conversation."

It's bigger than the Academy: "I'm saying that the issue we need to be looking at is what happens before the film gets to the Oscars. What kind of films are made, and the way in which they're cast, and the scripts … So it's those things that are much more influential ultimately than who stands there with an Oscar."

Hollywood is in transition: "I was thinking actually recently, I'm sure obviously you're aware of this whole 'Oscarsowhite' issue. And I started thinking, you know what, Hollywood is in a constant state of enormous transition you know and in another 20 or 30 years time, people will look back to this era and people will go, 'how could they not have seen what was wrong?' The great thing about getting older is that you realise things do change, that nothing is fixed, everything changes."
[From The Guardian & Daily Mail]
It's painful to admit, but I think Helen is right about one thing – if Beasts of No Nation had been a typical Hollywood release and it had a lot of money to promote a theatrical release, maybe that would have made a difference with Idris Elba's lack of nomination. Because it was a Netflix release and they only showed the film in limited theaters, it did make a difference. Now, all that being said… the Academy doesn't need Mirren to make excuses on their behalf. Let them stew in their own racism. It will be good for them.
These photos of Helen and Idris at the SAGs are making me tingly.
Photos courtesy of WENN, Getty.