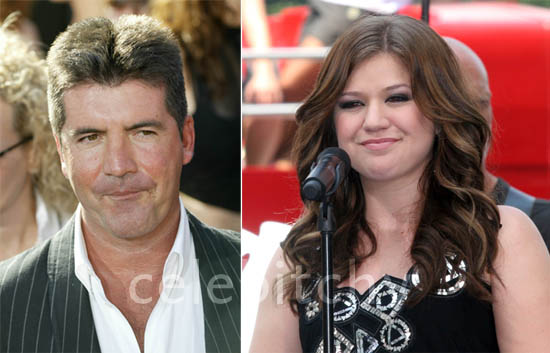 The drama between Kelly Clarkson and RCA head Clive Davis will not settle down. The two got into a pretty public feud (well Clarkson said a lot of stuff that Davis said and no one denied it) about the quality of Kelly's most recent album "My December." Kelly stood her ground, and the reviews have been mixed at best, with many critics siding with Davis. Kelly revealed to Blender exactly what she said to legendary Clive Davis.
It was nice," Clarkson told Blender of a "face-to-face" Beverly Hills Hotel meeting she and Davis had to discuss his "My December" issues. "It was just the two of us, and his dog. I was like, 'I don't know you very well, and I am not a bulls**tter. I get you don't like the album. You're 80; you're not supposed to like my album.' I said, 'Clive, I'm going to make tons of albums. It doesn't have to be mainstream every time.'"
[From Reality TV World]
Well it turns out that wasn't really a smart thing to do for a lot of reasons. Clive Davis is a pretty powerful guy. And he's her boss. So there's two good ones right there. But more importantly, he's been in the business forever, and he's stayed relevant. In some way, shape, or form, he's responsible for about half of what you hear on the radio. And it turns out he has a pretty good ear, since the record hasn't been selling well compared to her old albums. Blender noted, "Clarkson has never sounded this depressive or spiteful."
Simon Cowell decided to chime in and tell Kelly to STFU. Don't worry, he's got an accent so it sounds prettier when he says it. But it's Simon Cowell so it actually sounds mean no matter what.
They just need to kiss and make up…Clive Davis at 80 is better than 99 percent of the people in the music business in their 20s, 30s and 40s…and he's not 80….(Davis) is the boss of the record company, and it's his job to advise.'"
[From Reality TV World]
I really like Kelly Clarkson, though I don't care for any of her music. I like that she's spunky and doesn't follow the wasteland mentality that most celebrities her age seem to indulge in. I can really see where she's coming from, and especially why she wouldn't want to do something so mainstream after the last two albums. But on the other hand, Clive Davis is… Clive Davis. He's legendary, and he knows what he's doing. And he is her boss. If nothing else, if I were Kelly I would have kept quiet about it and not blabbed about it in every single interview. Either way, there are many measures of success. This album definitely isn't selling like her last ones, and it probably isn't going to produce the chart-dominating singles of her previous efforts. However it does seem to have more of an honesty to it, and there's certainly something to be said for sticking to your guns, especially on something so personal.