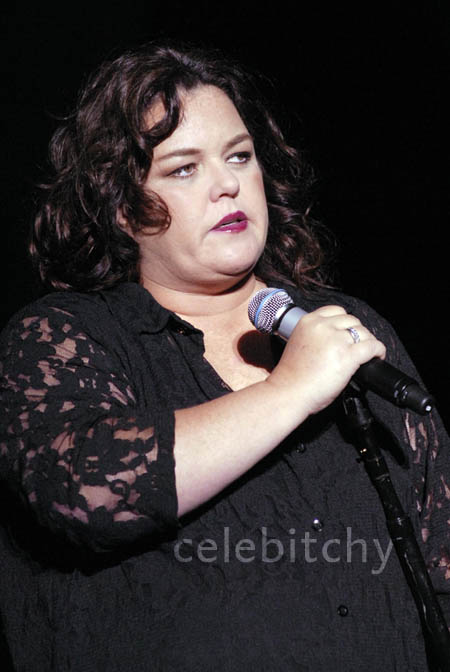 In spite of a failed bid to host "The Price is Right," Rosie O'Donnell will return to television, on the FX show "Nip/Tuck." She'll reprise her role as Dawn Budge, a woman who has won the lottery and wants to use her money fix her body and her life. Oh, and has a bit of a crush on one of the doctors. Producers weren't specific on the number of episodes, but did say she'd be on for "several." They also left the possibility open that O'Donnell's character might get her own spin-off show. "Nip/Tuck" creator and executive producer Ryan Murphy said, "'The character was so instantly popular. We've spoken about (a spinoff), it's an ongoing discussion.'"
Rosie also made some headlines last week on her annual R Families Vacations cruise. The cruise is an annual get away meant for gay and lesbian families, and is supposed to be a time to have fun and not be judged. O'Donnell raised some eyebrows when she went on yet another tirade against Elizabeth Hasselbeck and Donald Trump in front of an audience of 1500 people. The press had led us to believe that Rosie and Elizabeth had possibly mended fences, and if nothing else were going to be respectful towards one another. But Rosie dragged out a large poster of Hasselbeck over which she'd drawn devil horns, goatee, and pointed tail. According to an audience member, O'Donnell commented, "'Her only f–king credit was Survivor. Come on!'" and "' "I can't fight with pregnant people. Just go have your baby and have a nice life.'" Her comments directed at Donald Trump were a little more expected, and presented a lovely visual image. "'Rosie she'd love to break into his apartment and rub her belly all over him.'" Man that would make me so happy.
Rosie also told TV Guide last week that she didn't get the gig on "The Price is Right" because, "'They thought I was too controversial to host the game show .. I just wanted to 'gay it up."" She had previously stated that she was offered the job but chose not to take it because she didn't want to relocate her family to Los Angeles, where the show films.
I love Rosie, but she's clearly itching for a fight. You know how sometimes you're in a bad mood and you hope someone says something wrong so you can yell at them? No? Just me? Okay well anyway, that seems to be where Rosie's at right now. I mean the Elizabeth Hasselbeck thing had completely died down. The Donald Trump thing had too… and if nothing else, don't poke the beast. While the media reports that came in about what Rosie said on the cruise were rather vague, it just seems like it wasn't the appropriate venue. It's a cruise! Family fun? Check. Midnight buffet? Check. Angry middle-aged TV host? Absolutely, you couldn't have a satisfying vacation without one.
Picture note by Celebitchy Rosie O'Donnell is shown in the header image on the True Colors tour on 6/30/07. Thanks to WENN for this picture.