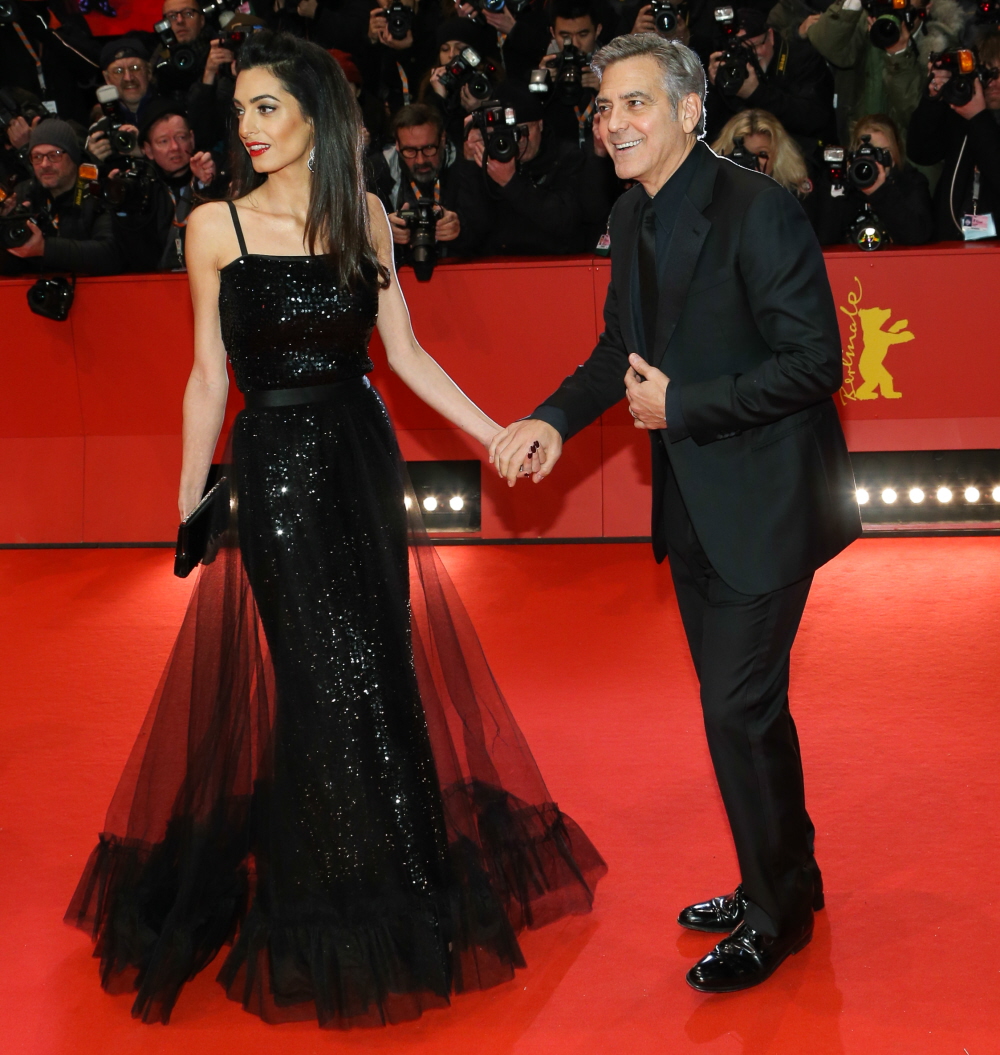 As predicted, Amal Clooney walked the Berlinale Opening Night red carpet with her husband, George Clooney, for the premiere of Hail Caesar. Before we get to Amal's whole look, let's take a moment to focus on George, since it is his film that they're promoting. Does anyone else think he's still got significant back problems? It feels like half the time we see him these days, his shoulders are hunched and he's mid-grimace.
As for Amal… let's start at the top and work our way down. Historically, Amal has always had great hair. She likes to wear it long and curled, but she occasionally changes it up with a fluffy blowout. I like when she tries new and different things on the red carpet, but this hairstyle is a miss. It makes her hair look damaged and wig-like, and the whole effect is very aging. I also think Amal should rethink this particular shade of red for her lipstick. Does it looks too harsh? Now, the dress. It's vintage Yves Saint Laurent, from 1981. She either bought or borrowed it from William Vintage. While I like it more now that I know it's vintage, I still think the sheer overlay with a dust-ruffle bottom is bad. The top half is fine though, very flattering and pretty.
Meanwhile, during the photocall and press conference for Hail Caesar earlier in the day, George was interrogated by a Mexican journalist about his humanitarianism. The journalist asked George to "detail" what he was doing to ease refugee crises beyond, you know, making movies and talking about stuff. George got pissy and replied:
"I spend a lot of time working on these things, and it's an odd thing to have someone stand up and say, 'What do you do?' That's fine, knock yourself out. I have gone to places that are very dangerous and I work a lot on these things…. I'd like to know what you are doing to help the situation?"
Oooo kitty likes to scratch! You know what that journalist is doing? He's not putting himself out there as Mr. Hollywood Humanitarian Saves The World. That's what the journalist is doing. I kind of love the cojones on that guy to be like, "Seriously, what do you do?" I respect Clooney's work in some respects, but even I sometimes wonder if the hype around him matches his actual efforts.
Clooney also told the journalist that he was planning on meeting Angela Merkel while in Germany, which… sure, I guess Merkel will definitely do more for refugees if George Clooney requests it. It's not like Germany has already pledged to take in more than a million refugees, right? Thank God she's got Clooney coming in to take credit for everything!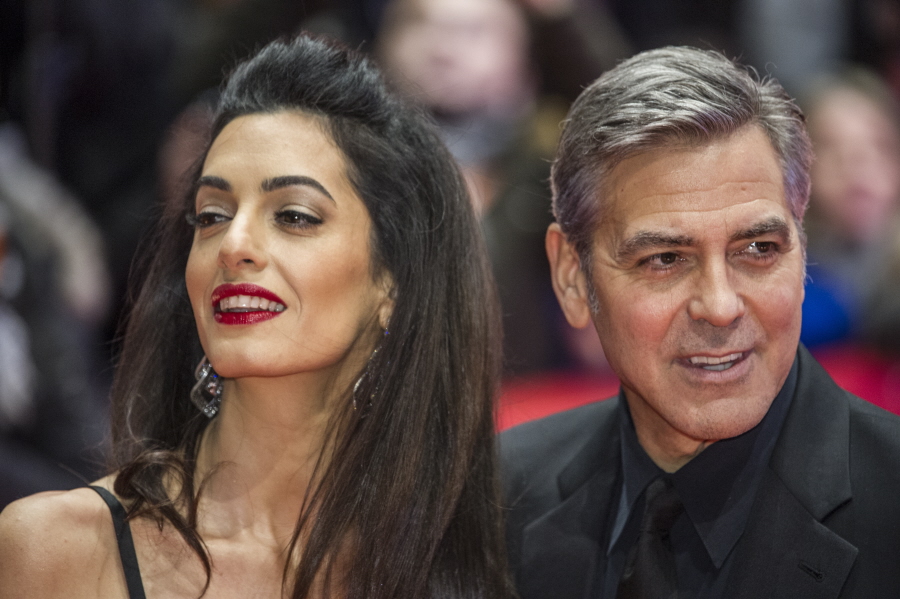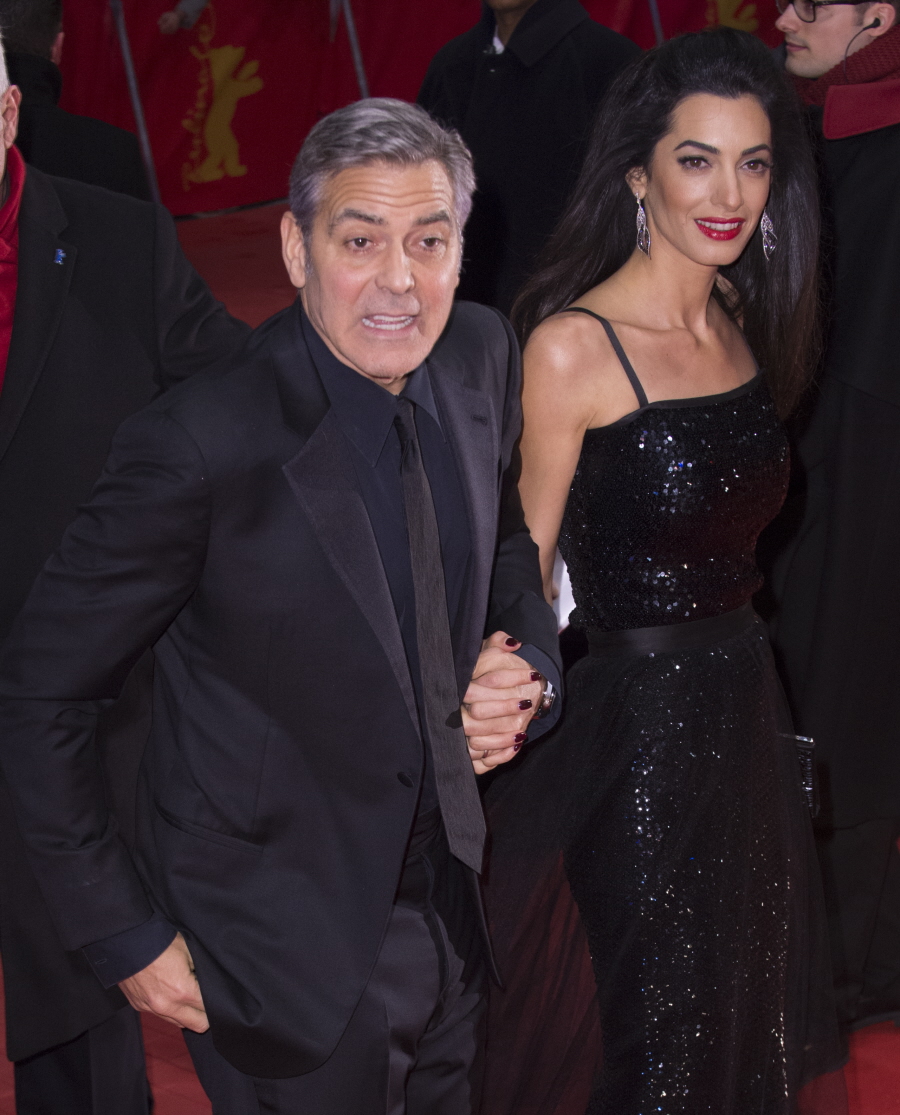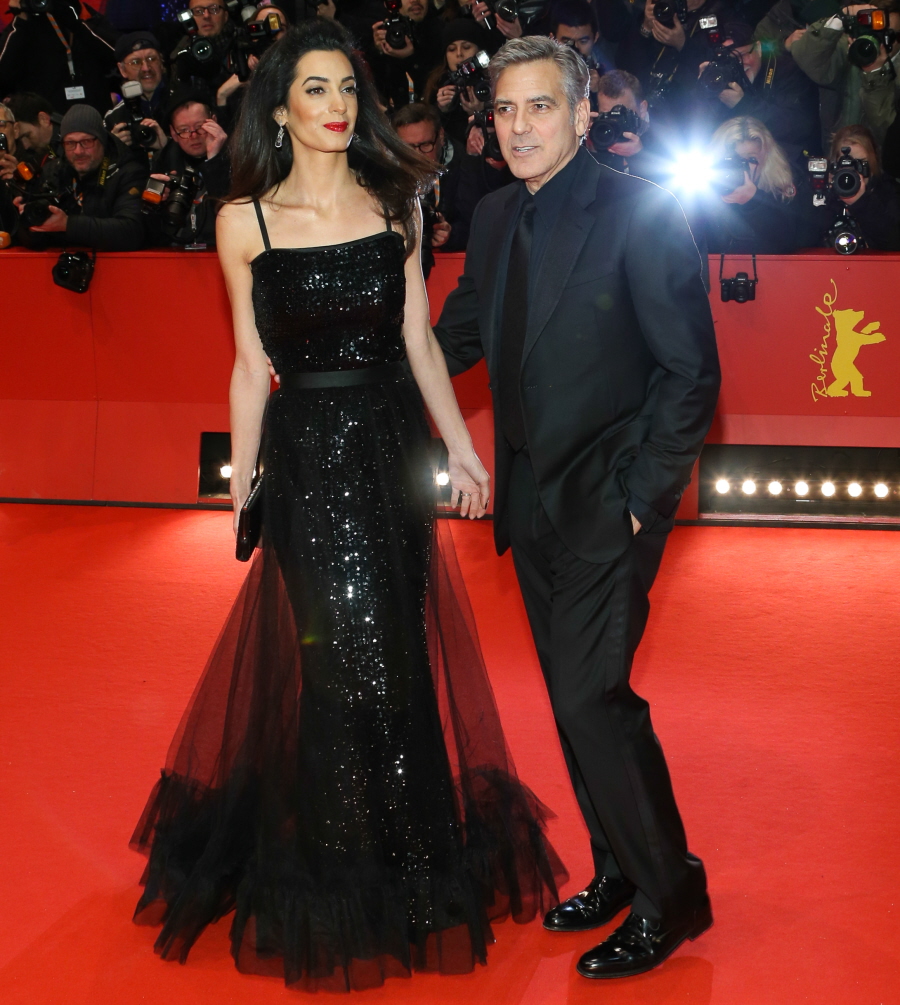 Photos courtesy of WENN.