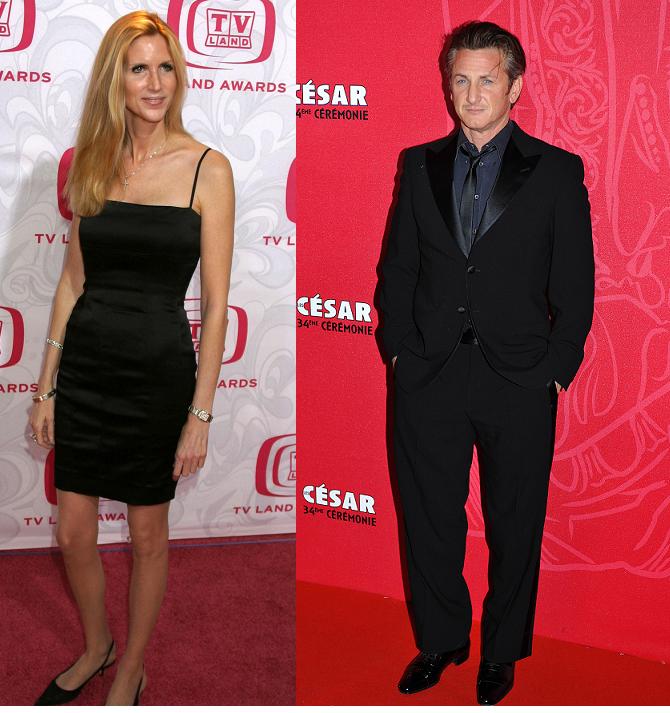 Fair Game, the film about the Valerie Plame-Wilson/CIA-agent-outing is currently filming. Sean Penn is playing former Ambassador Joseph Wilson, Plame's husband, and Naomi Watts stars as Plame. The film is being directed by Doug Liman (Mr. and Mrs. Smith, Jumper) and the script is adapted from Plame's book. Naomi Watts is a good choice for Plame, but I wasn't (and I'm still not) sure about Sean Penn in this role. His politics… well, let's just say this story is very politically sensitive, and Sean isn't.
Several actors have been cast as some of Washington's most famous power-players, pundits and whack-jobs. But several of those Washington people may end up playing themselves in the film. This is what Sean Penn wanted – to cast Ann Coulter as herself. Somehow, Sean thought he could convince Ann to appear in the film and scream at Sean's character, Joe Wilson. Ann said no… which might have been a smart move on her part.
Ann Coulter is too smart to be lured into a movie where she'd be made to look foolish.

The leggy conservative has turned down an offer from director Doug Liman to appear in "Fair Game," his left-leaning film about the Valerie Plame affair starring Naomi Watts as the CIA agent whose cover was blown by columnist Robert Novak.

Sean Penn, who plays Plame's underemployed husband Joseph Wilson, was pushing to have Coulter in a scene where she'd be screaming invectives at him. But Coulter said no.
[From NY Post "Page Six"]
I never know if Coulter's whole thing is an act, or if she really is that rabid. I've read a few profiles of her that have come to the conclusion that it is an act, and one that Coulter has perfected. Other times, I kind of think that Ann might actually believe what she's saying.
In either case, why wouldn't Ann want to do a cameo in the film? She would get to scream at Sean Penn, whom she hates, and the representation of Joe Wilson, whom she hates. If she believes what she's always said, why not go on film and say the same stuff? Perhaps Ann said no because she didn't want to appear in a film that had such "liberal" leanings. Or she hates Sean Penn so much, she couldn't even be in the same room with him? Oh, well. Another brilliant casting move bites the dust.