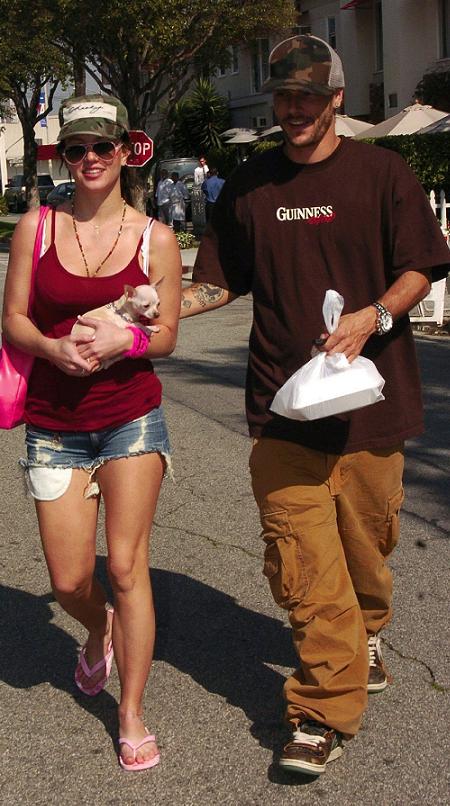 Though Britney's posse has been trying hard to keep her personal life under wraps while she's on tour and getting her life back in order, it seems like her love life right now is a bit chaotic. According to Star, Britney and Kevin have been hooking up all throughout her tour – a rumor that has been going around for quite some time. The only problem is that Kevin, who is getting a weekly stipend from Britney to babysit their kids and travel with her on tour, has a girlfriend, Victoria Prince, who is trying hard to connect with Britney and her kids. Victoria is more serious about her relationship than Kevin is, and not only has this caused strife, but Britney also wants Kevin to break up with her.
Britney is trying to sabotage Victoria's relationship with her ex. According to a source, the singer has ratcheted up her attempts to break the couple up and has told Kevin on numerous occasions, "Dump her!"

And Kevin is certainly considering it. He's been actively wooing Britney and, as Star reported, as been hooking up with the singer while traveling with her and their two sons during her Circus tour. "Kevin misses Britney and her intrigue," reveals the family insider. "She's the only woman who keeps his mind in suspense and constant turmoil, and Kevin misses the everyday fun of it. he'd do anything to get her back."

But what about Victoria? "He's just stringing her along," says a source. "Kevin's so bored with her. She's made herself way too available, and she's getting very clingy."

Although Kevin, 31, has already tired of Victoria after a few months of dating, he's not exactly ready to give her the boot just yet. He first wants to be sure Britney, 27, will commit to him and put an end to her flirtations with backup dancer Chase Benz. "Kevin reminds her that she has made no serious move toward a permanent reunion besides hooking up with him and trying to control who he dates," says the insider. "But he did tell her that when she's rProxy-Connection: keep-alive
Cache-Control: max-age=0

dy to make a go of it, that's when Victoria will be gone for good."
[From Star Magazine, April 27th, 2009, print ed.]
Chase Benz, who is mentioned in Star's article as Britney's pseudo-boyfriend, also has an obstacle in the way of a relationship with Brit – a girlfriend back home. In Touch reports that they've been dating for 3 years and that she has nothing to worry about – even though Britney's dad Jamie wants his daughter and the backup dancer to date.
Everybody is talking about the chemistry between Britney Spears and her sexy backup dancer Chase Benz. But while he's handsome, charming and definitely Britney's type, there's one thing standing in her way: He already has a girlfriend! "he has a girlfriend that lives here in Tennessee," Chase' mother, Diane Benz, said in a phone interview with In Touch from the family's hometown of Franklin. "They've been dating for three years. She is 21 like Chase, and she is beautiful on the inside as well as the outside."

[Britney's] dad and conservator, Jame, approves. "Jamie wants them together," the music industry insider believes. "Jamie is a Christian and so is Chase. He's pushing for them to be together." The source says Chase is very tempted: "He does think Britney is hot. But he is a good guy and won't cheat on his girlfriend."
[From In Touch, April 27 2009, print ed.]
It sounds to me like Chase is just a good friend – Britney has always struck me as the kind of girl who has a lot of good guy friends who may flirt with her, but are ultimately just there as a friend. A lot of girls (like me) find that relationships with guys are more stable than those with girls, who can be catty. This is especially true for Britney, who works in an industry fueled by jealousy (remember when Brit was besties with Paris and Lindsay?)
As for Britney and Kevin, who didn't see this coming? They clearly fuel each other, for good or for bad, and ultimately they have children together. When I first heard that she was going to give him a stipend to take their kids on tour, I knew there was something up. You don't ask your ex on a trip like that unless there's something more than "friendliness" between you.
Here's Victoria with Kevin and Britney's sons (whom she genuinely seems to love) this past winter. Images thanks to Fame Pictures .