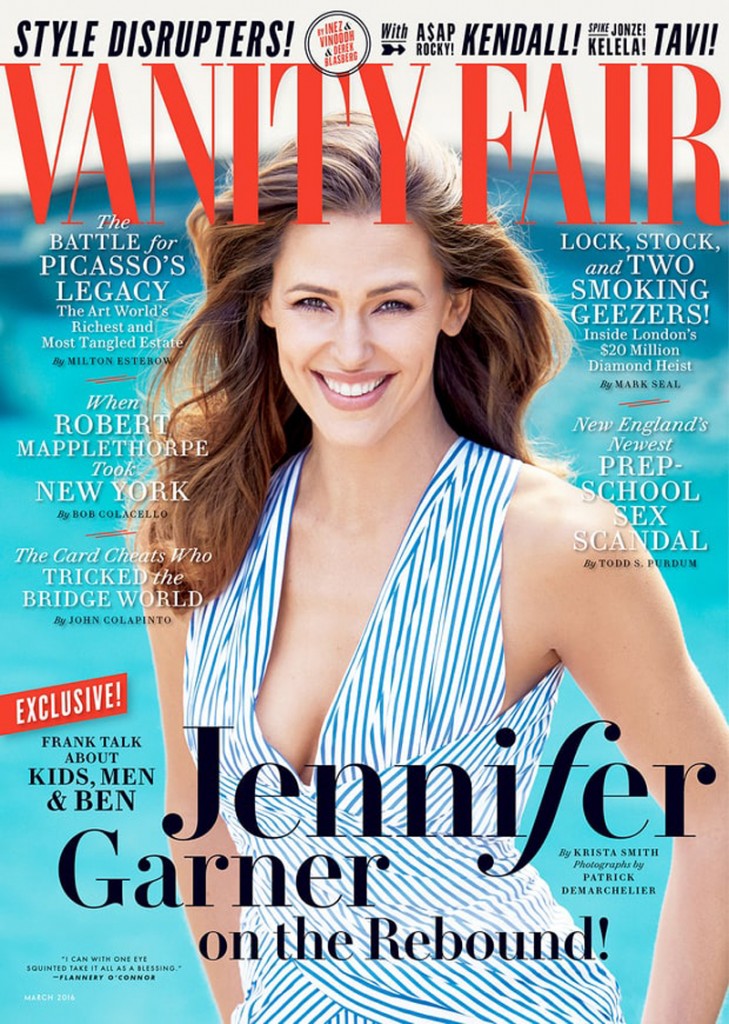 Jennifer Garner covers Vanity Fair, which… is confusing to me. Is she promoting her terrible-looking faith-based glurge movie, is she promoting her career in general or is she part of the PR for Batman v. Superman? (She also has Wakefield coming out sometime this year.) Maybe it's all of that put together, although I can't help but think she makes Ben Affleck look so much better for having put up with him for so long. And it also makes her look like somewhat of a doormat. Especially when she so obviously goes to bat for him. I have the feeling this won't be the only post we have on this interview as there's plenty to discuss.
First off, she establishes that she hasn't been kissed in eight months and she also says that Ben wasn't cheating with the nanny because they were separated at the time. It's known that Ben slept with the nanny around June 25, when the family was on vacation in the Bahamas. That's seven months ago and that's when Jennifer is said to have found out that her husband was cheating with her children's caregiver. I would assume that Ben stopped getting intimate with his wife around the time he started hooking up with the nanny, so that explains the eight month timeline. Here's more of what Garner told Vanity Fair, and it's of course a very flattering piece on her overall, with quotes from friends and family gushing about her and her charity work.
She calls Ben the love of her life
It was a real marriage. It wasn't for the cameras. And it was a huge priority for me to stay in it. And that did not work. I didn't marry the big fat movie star; I married him. And I would go back and remake that decision. I ran down the beach to him, and I would again. You can't have these three babies and so much of what we had. He's the love of my life. What am I going to do about that?

She describes Ben as mercurial
He's the most brilliant person in any room, the most charismatic, the most generous. He's just a complicated guy. I always say, 'When his sun shines on you, you feel it.' But when the sun is shining elsewhere, it's cold. He can cast quite a shadow.

They were separated when Ben banged the nanny
We had been separated for months before I ever heard about the nanny. She had nothing to do with our decision to divorce. She was not a part of the equation. Bad judgment? Yes. It's not great for your kids for [a nanny] to disappear from their lives. I have had to have conversations [with the children] about the meaning of 'scandal.'

She tries to ignore the press about their family
I turned on CNN one day and there we were. I just won't do it anymore. I took a silent oath with myself last summer to really stay offline. I am totally clueless about all of it. Ben says, 'Oh, you just don't care,' and I say, 'No, it's the opposite.' It hurts me so much, and I care so much. I cannot be driven by the optics of this. I cannot let anger or hurt be my engine. I need to move with the big picture always on my mind, and the kids first and foremost.

On doing a love scene for Wakefield
When you haven't been kissed for over eight months, it's strange. But it's my job. It's nine in the morning and you think, I could really use a shot of alcohol. Then, after a take or two, after everyone has seen your boobs and love handles, you just want to take every crew member and be like, 'Please have mercy on me!'

On people wanting to see her back with Ben
When Jen Aniston and Brad Pitt broke up. I was dying to see something that said they were getting back together.

On people mocking Ben because he's a cheater
People have pain—they do regrettable things, they feel shame, and shame equals pain. No one needs to hate him for me. I don't hate him. Certainly we don't have to beat the guy up. Don't worry—my eyes were wide open during the marriage. I'm taking good care of myself.

On Ben's douche tattoo on his back
You know what we would say in my hometown about that? 'Bless his heart.' A phoenix rising from the ashes. Am I the ashes in this scenario? I take umbrage. I refuse to be the ashes.
Kaiser pointed out to me that Vanity Fair is the outlet of choice for certain celebrity women to dish the dirt on their exes, specifically when Jennifer Aniston cried to the ocean (and her BFF) about Brad Pitt lacking a sensitivity chip and when Hilary Swank revealed that Chad Lowe was an addict. (Also credit to Lainey for mentioning that.) To me it looks like Garner is confirming that Ben cheated while kind of sticking up for him and establishing that he's a good dad and she wants him in her life, she's done this over and over again in the press.
There's much more in the story, including Garner explaining that she's not ready to date but got hit on once, and her praise of Ben as a dad. She also talks about how she got through this difficult time. They're putting the kids first, as just about every PR planted story on them has stated. The one thing I learned is that Garner is resolved to move on and put this behind her. At least that what she's saying. I'll believe it when they actually file for divorce.
Oh and Kaiser bet me $10 that Ben would go to church the weekend before Batman vs. Superman opens. I bet against her but I wouldn't mind paying up.
You can see Vanity Fair's slideshow of Jennifer Garner here.
Yes, it's real! Check out Ben Affleck's massive back tattoo! https://t.co/55weLugz4g pic.twitter.com/NIePkMLu6D

— People Magazine (@people) December 10, 2015
photos of Ben and Jen are from September, 2015. Photos of Jen alone are from January 31, 2016. Credit: WENN