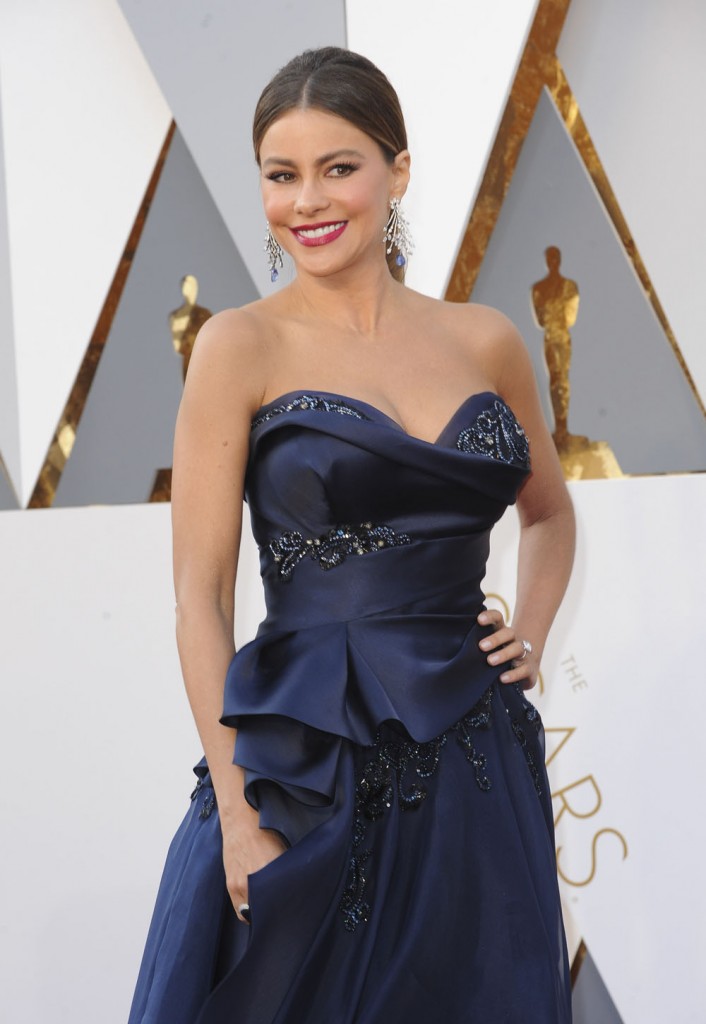 Presenter Sofia Vergara was one of the poor souls in Marchesa last night, which only one nominee was wearing. She was in this navy overworked strapless gown with a chiffon skirt, satin top and a lot of fussy details like beading and a side drape at the waist. This is just way too complicated and the result is that you don't know where to look. Plus it's the same silhouette she always wears. Sofia does get points for wearing her hair back though, as our friends at Socialite Life pointed out on Twitter. Remember how she said that women over 40 shouldn't wear their hair back? I wonder who convinced her to switch it up.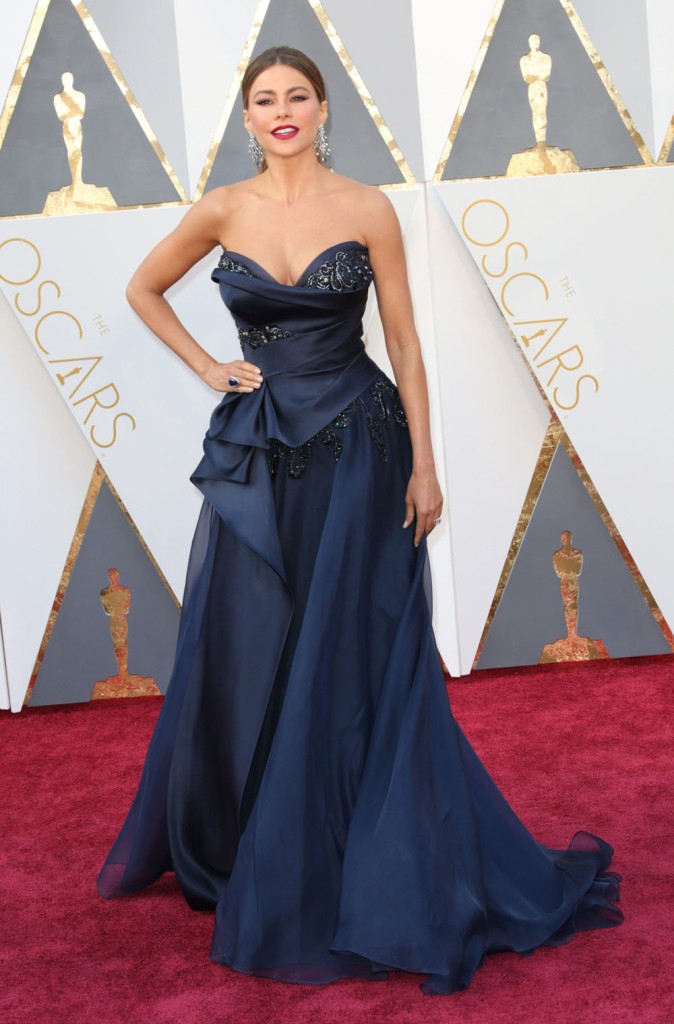 Heidi Klum will make every worst dressed list in this terrible one sleeve deep v-neck Marchesa with ombre stripes. She has to be trolling on the red carpet at this point. It's like she knows that wearing the most fug dress she can find will get her coverage. She's already done the "show lots of skin" tactic, this is her next phase.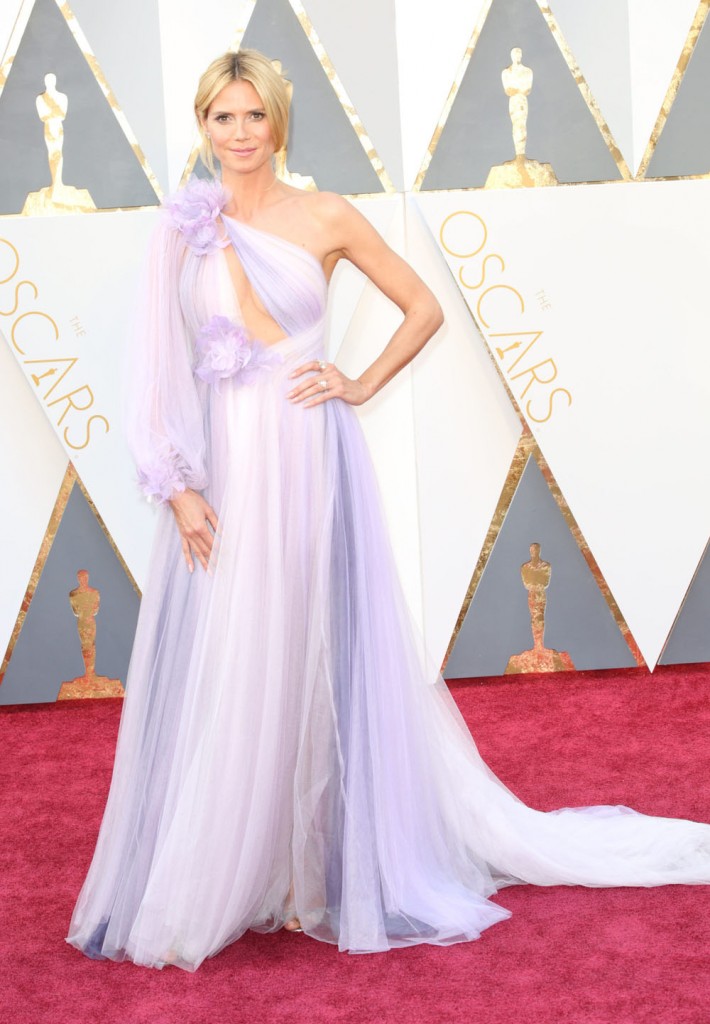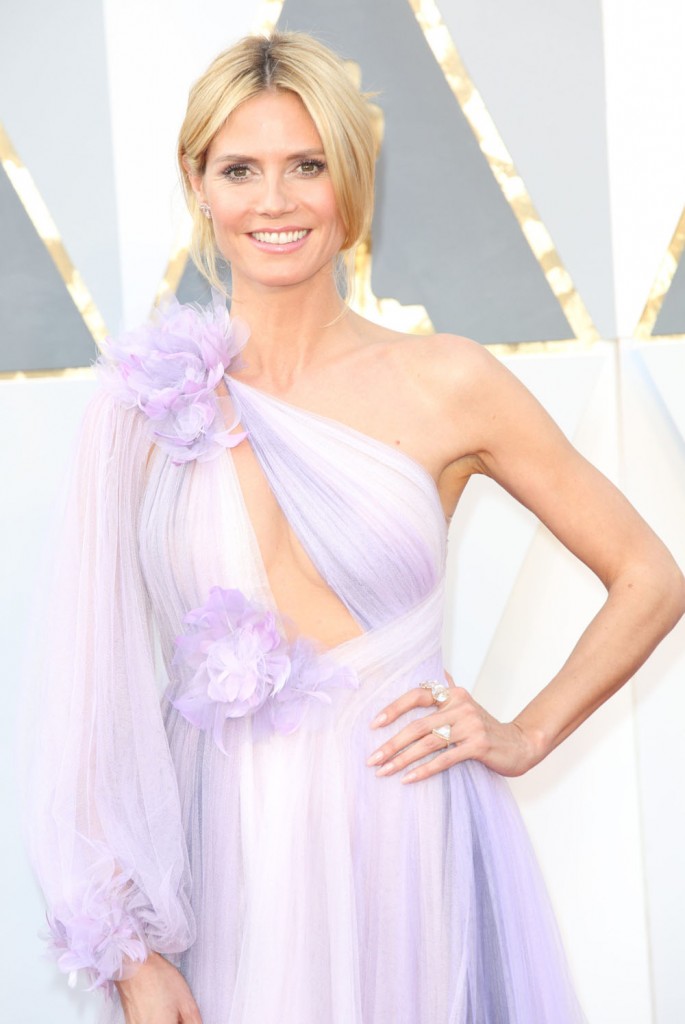 Chrissy Teigen was one of the least offensive in Marchesa, although she still looked somewhat questionable in this formfitting nude dress with rose and floral embellishments and a deep v-neck and v-back. There's just too much going on with this gown. It's too busy and looks somewhat showgirl. Less is more. Did you see that Teigen made the same "oh no"/disgusted face at the Oscars this year? She was reacting to that bizarre bit with Stacey Dash.
Chrissy Teigen made another iconic face in the audience at the #Oscars https://t.co/8mOWZQ2aa5 pic.twitter.com/j6yNMJSmrb

— BuzzFeed (@BuzzFeed) February 29, 2016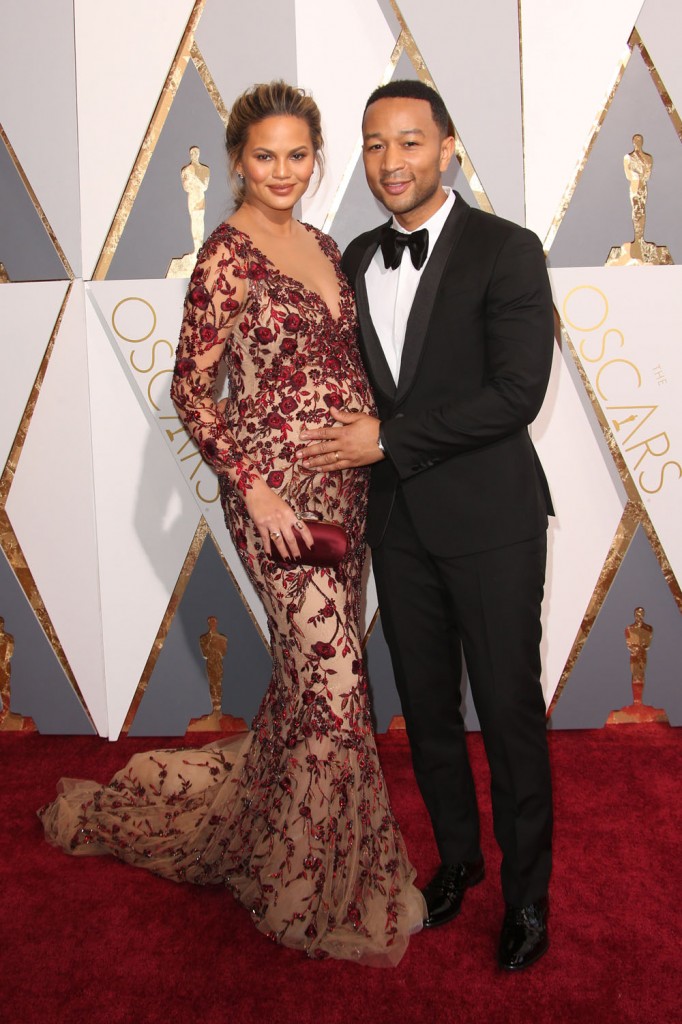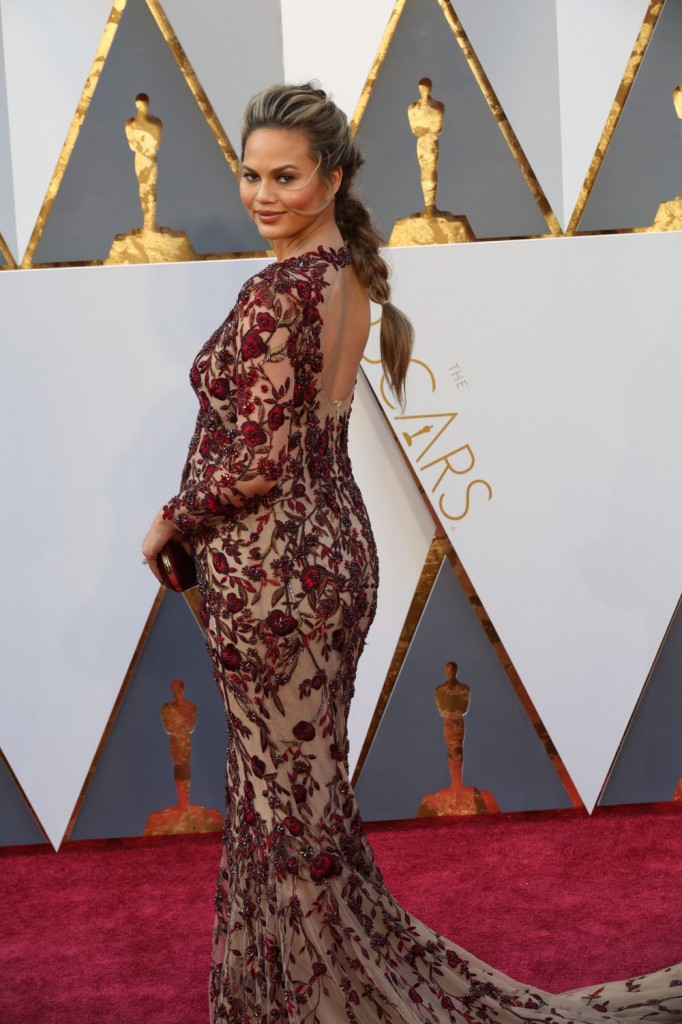 Jennifer Jason Leigh wore this kind of cheap-looking Westwood knockoff, which is of course Marchesa. The peach color washes her out, it's got dippy floral pattern tulle peeking out of the bodice and along the side and it's just a sad dress. She seemed a bit tipsy on the red carpet and told Ryan Seacrest she'd had some champagne heading over to the Oscars. I don't blame her.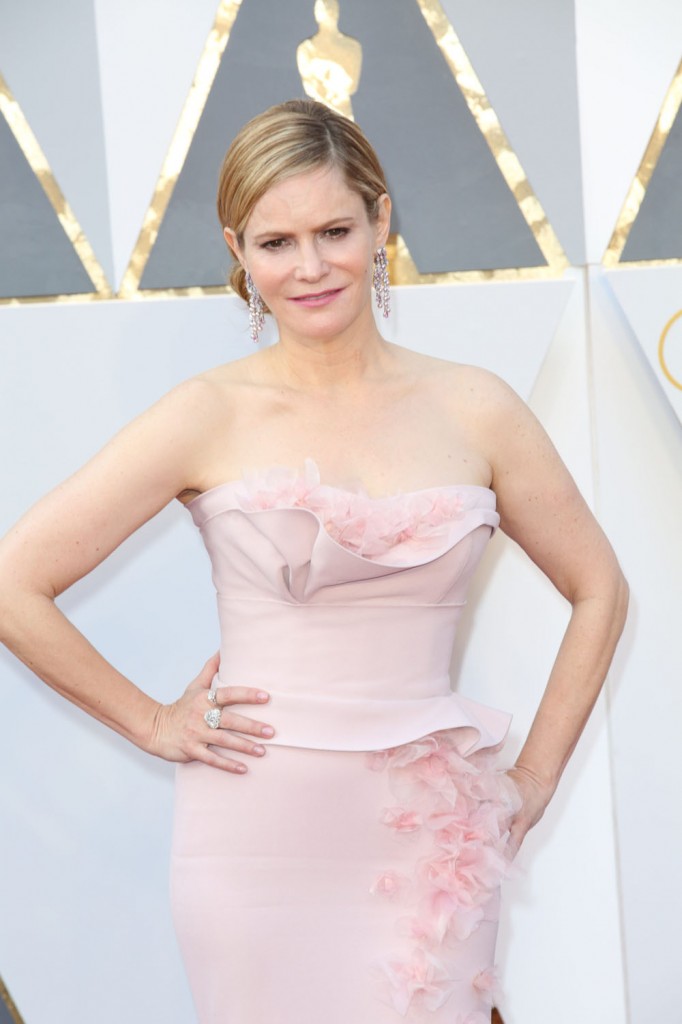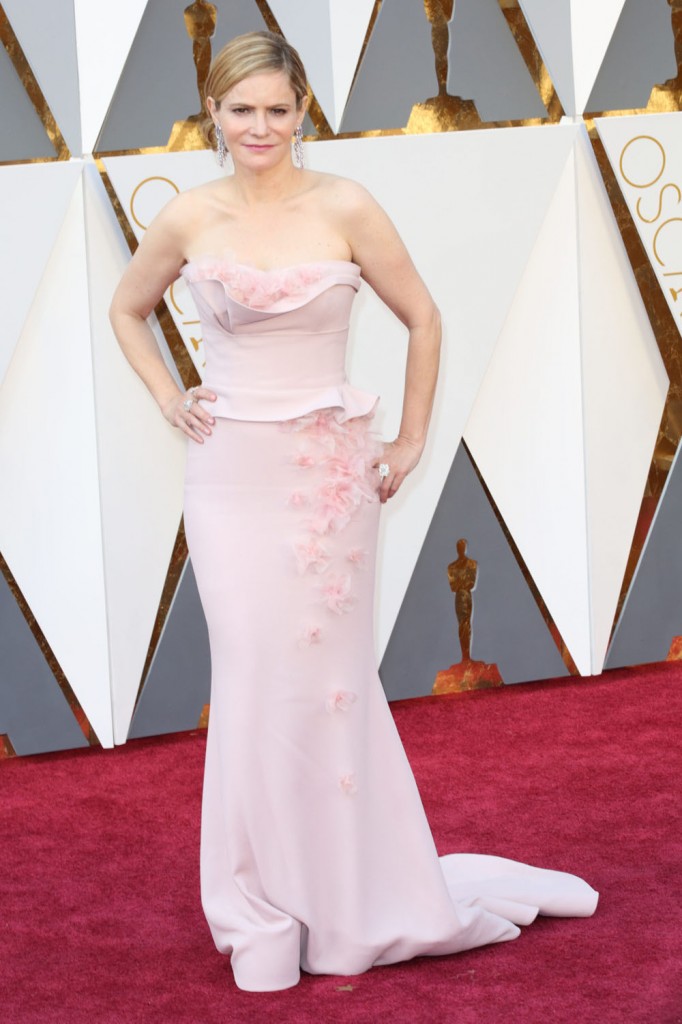 Isla Fisher had the only somewhat pretty Marchesa which I've seen on the carpet. She was in this cream off the shoulder gown featuring oversize silver, white and bronze floral embroidery. The cut of this and fit is perfection and I love the little skinny belt. This dress did not need all the floral details, which remind me of a fancy tablecloth. Oh and Sacha Baron Cohen did his Ali G bit as a presenter last night. Ali G was supposed to have retired in 2007. I really didn't get it.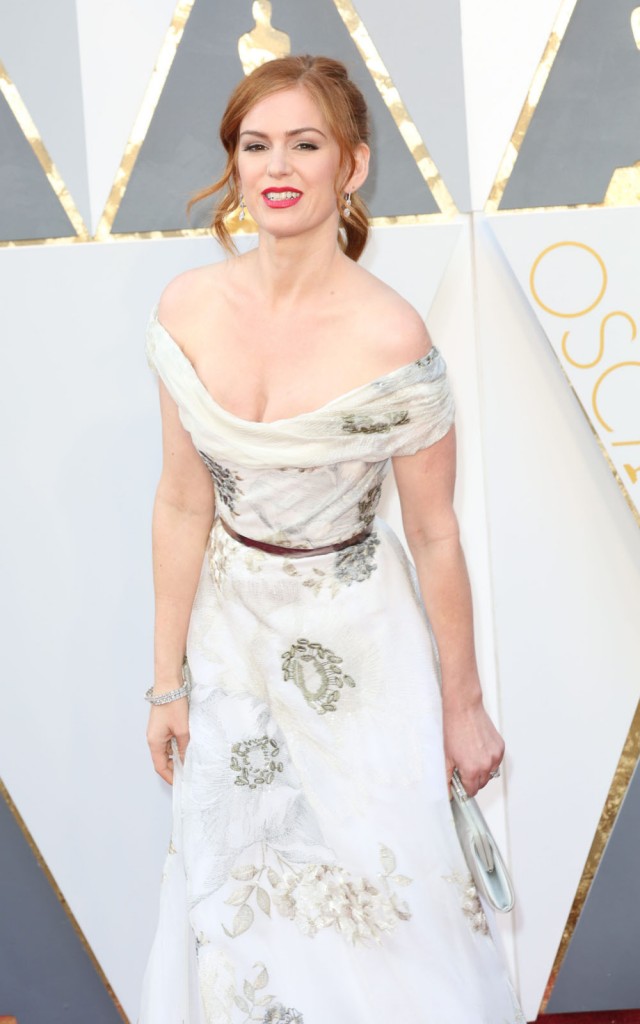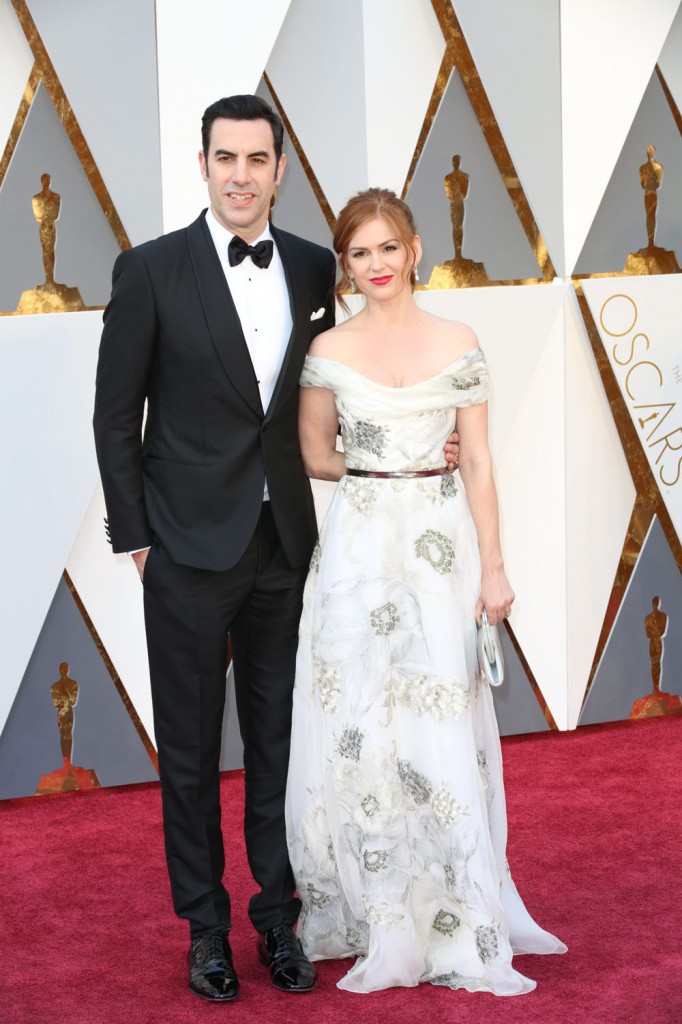 photo credit: WENN.com