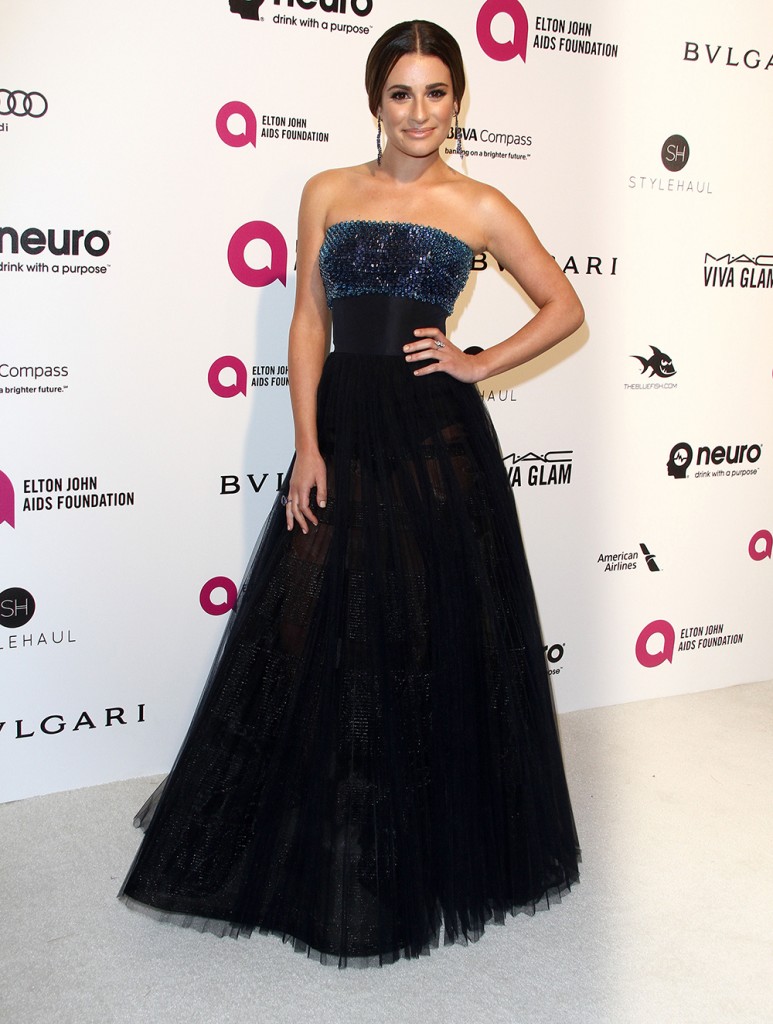 Glee alum Lea Michele arrived at Elton John AIDS Foundation's Oscar Viewing Party in West Hollywood last night in a gown by designer Pamella Roland. The newly single actress' gown featured a sequin covered emerald blue bandeau top with black sash around her waist. Her skirt was sheer floor length tulle with navy paneling underneath. Lea kept her bling to a minimum, accessorizing with elegant drop earrings and a sapphire and diamond ring. Lea wore her hair in a low ponytail and pared a smoky eye with a nude lip. The actress, who took to the stage during the party with former Glee co-star (and eternal hottie) Cheyenne Jackson, sure didn't appear to be down in the dumps about her recent breakup. I'm glad Lea can put on a brave face, but the dress isn't doing it for me. I made a sequined tube top for a disco party in college and that is the feeling I'm getting from this gown. It is giving me a decidedly "Studio 54, circa 1979" vibe. And I am not a fan of the sheer skirt (although it certainly seemed to be the trend this year.) I do like her hair and makeup.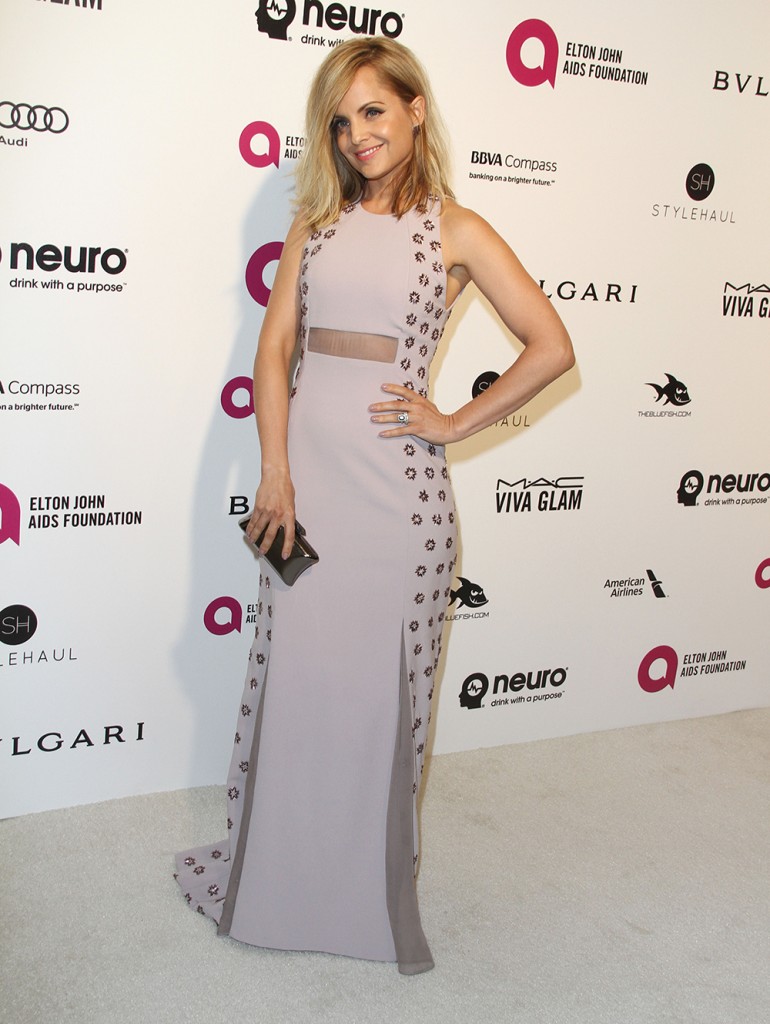 Mena Suvari arrived at the party in a pale dress with starburst accents and a sheer mid-midriff (if that's a "thing") .I guess the dress is alright. It's nothing spectacular. I don't like that peek-a-boo sheer panel in front. It's up too high and it doesn't really serve any purpose. I like the color, but am not crazy about those starbursts either. I'm also not entirely on board with her hair. It looks a bit messy for the gown but, to her credit, her makeup looks great.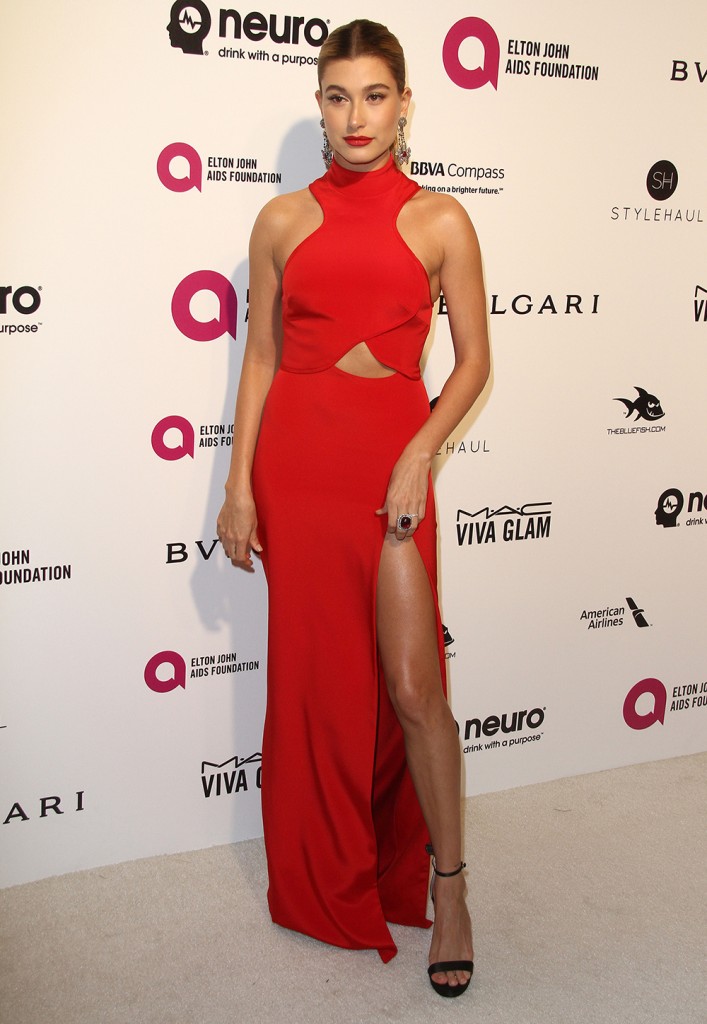 Model Hailey Baldwin, who was recently romantically linked to Justin Bieber, looked glamorous in a red satin gown with a cutout at the waist and a split to showcase her long legs and strappy black stilettos. Hailey's date for the evening was Formula One racer Lewis Hamilton, who looked quite handsome in a charcoal suit and black shirt. I love red dresses and Hailey has the body to pull this look off effortlessly. Her ruby and diamond jewelry are the perfect complement to the stunning gown and her hair and makeup are on point. And, I have to admit, she and Lewis do make a good looking couple. Sorry, Bieber.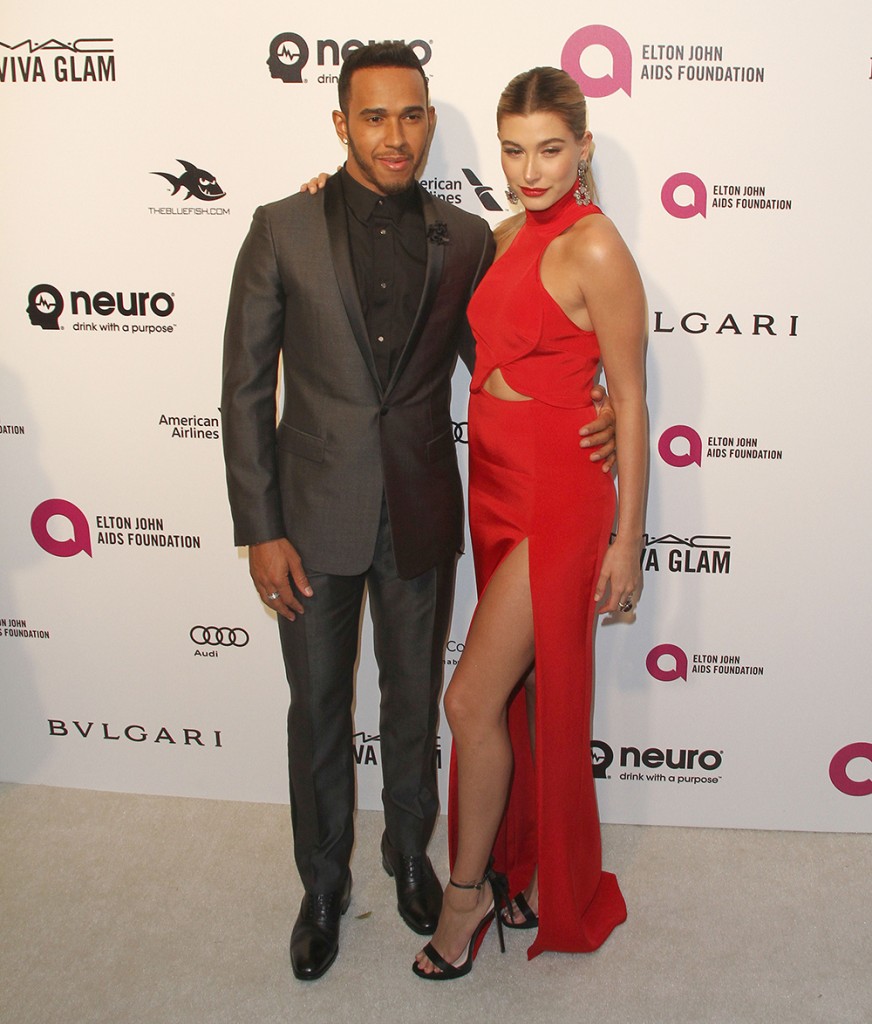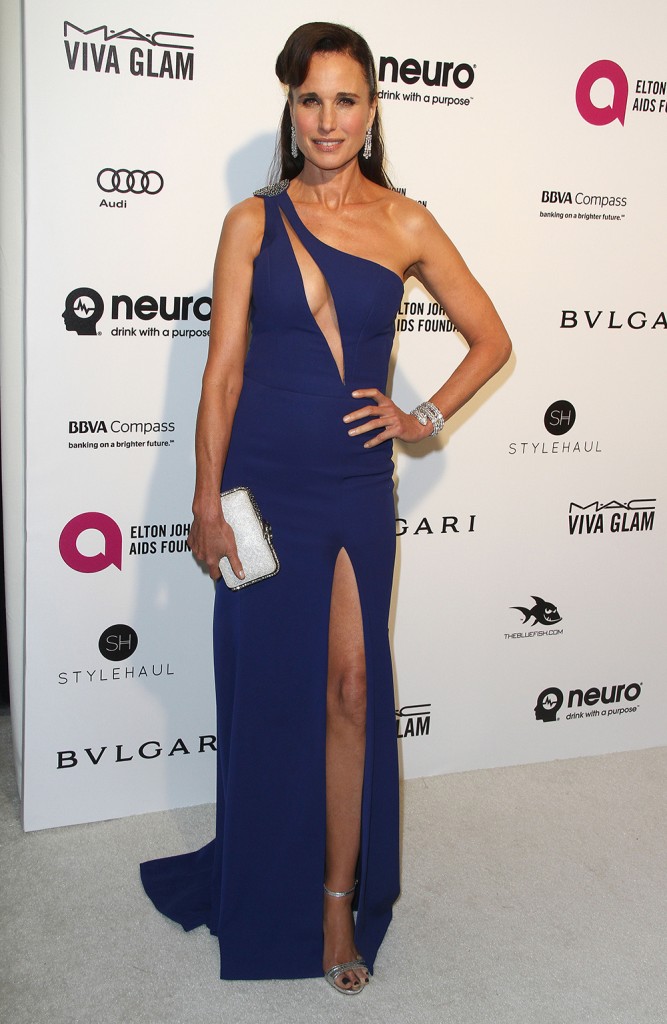 Andie MacDowell stepped out in a daring electric blue gown with a deep plunge in the front and a thigh-high slit, topped off with a beaded embellishment on her shoulder. Andie is definitely epitomizing the old saying, "If you've got it, flaunt it." She accessorized the gown with diamond drop earrings, a diamond bangle and a cute white clutch. It's hard to believe that Andie is 57 with those curves and her flawless makeup application. I adore the color of her dress. I like that she dared to bare some skin, but I do wish the gown had more of a defined waist. And let's talk about the hair. Was she trying to look like the singer from Karmin? I think with everything going on here, a simple updo would have sufficed. All in all though, this is a winning look.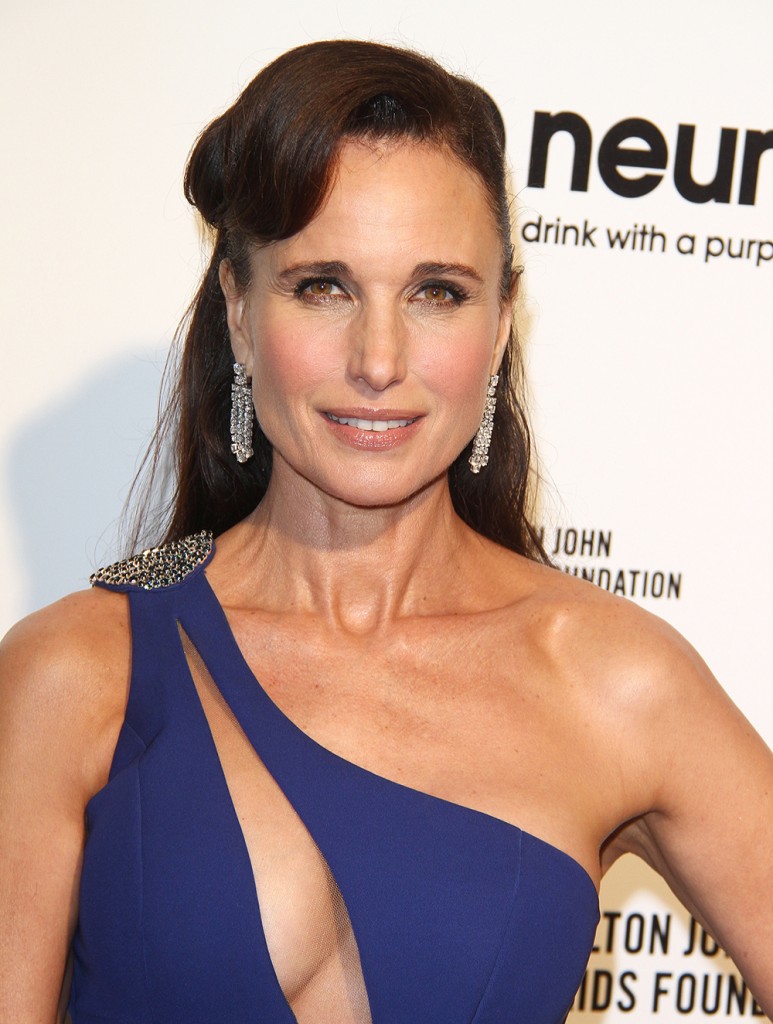 Photo credit: Getty Images, Fame Flynet