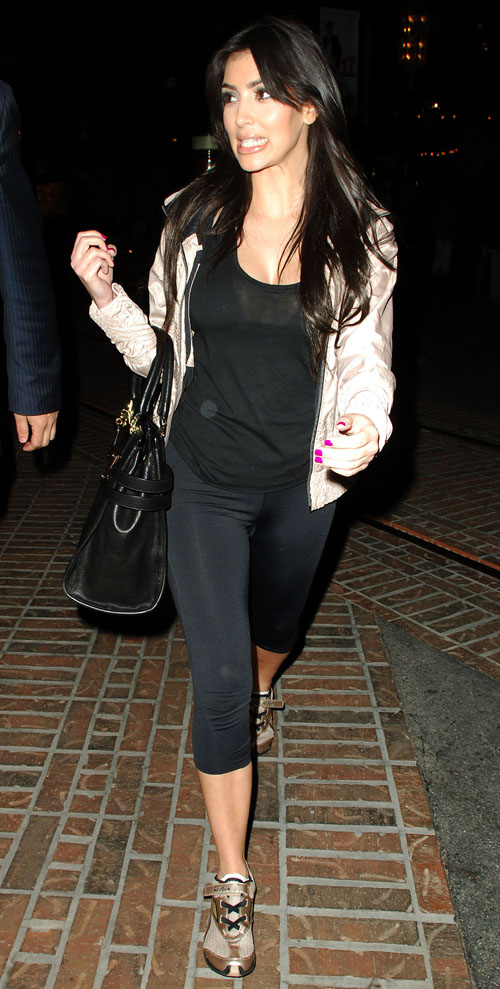 US Weekly had a small fashion article in their latest issue which happened to mention that clothing store Forever 21 now has a plus-sized line, and that "Kim Kardashian is a fan." It was implied that Kardashian was in the line's target size range, which is listed from XL – 2XL, but nowhere in the article did it specifically mention that Kim was that size. On her blog, Kardashian said that she does like Forever 21 but is not a plus size, and that's she's a size 2, not a 2XL. What's more is that she said it offended her to be called fuller figured:
I feel that this clipping from Us Magazine is a bit misleading, so I wanted to comment on it.

I am a huge fan of Forever 21 and I'm very happy they have expanded their line to include a plus-size range, but I am not in that size category and this article makes it sound like I am! I am a curvy girl and I love my curves, but curvy and plus-sized are two very different things. I work really hard to maintain my curves while staying slim and healthy, so to be classed as a "fuller-figured woman" of extra large proportions is a little offensive.

For the record, I am a size 2, not 2XL.
[From Kim Kardashian's blog]
Kardashian recently lost weight through diet and exercise, and partially in preparation for the launch of her fitness DVD, "Fit in Your Jeans by Friday." The 5'2″ reality star said she went from a size 6 to a size 2. You can see how she would take offense at being called "fuller figured," because she wasn't even an XL before she lost weight. You can also imagine how Kim's comments would be construed as insensitive toward women who do wear larger sizes though. People are trashing Kim in the comments on her blog, saying that her comments show how small-minded and self-obsessed she is:
Your comments made you sound incredibly shallow and superficial. There is absolutely NOTHING wrong with being plus sized or 2XL! I am not + sized myself, but that was incredible insensitive of you to say. Had you been wiser, that wouldn't have bothered you.

I can't believe that you really took time out of your day to scan and post this article. Next time you read things, make sure you're fully understanding it. I feel badly because not only did you hurt my feelings, but many of your fans' feelings.
[Comment on Kim Kardashian's blog by AngelaMarie]
Many are saying that the article never said Kardashian was in that size range and by responding in that way she's hurt people that used to look up to her:
The article didn't even say she was plus size but even if it did there's a tactful way of addressing the issue without putting others down
[Comment from nikkisws]
kim, i love you and i think you're a great role model. however, they didn't call you plus sized. I'm so proud of my body and i thought you were someone to look up to, saying to always be confident. you've unintentionally offended some of your fans.
[Comment from NWord]
Many are focusing on Kim's statement that she finds it offensive "to be classed as a 'fuller-figured woman' of extra large proportions" as particularly insensitive. It was just in March that she said "I'm proud of my body and my curves." Maybe she'll issue a half-apology statement to the effect of "not that there's anything wrong with that," but I doubt she'll grasp how obnoxious she was. This is the woman who posted photos of the pet chimp her family rented just a week after the incident in which a chimpanzee mauled a woman in Connecticut. She just doesn't get it.
Kim Kardashian is shown out on 4/14/09. Credit: WENN.com