Star Wars: The Force Awakens writer and director, J.J. Abrams, presented the Best Director award at the Oscars on Sunday. J.J., also known for Alias, Lost and the most recent Star Trek franchise, took over the Star Wars universe from George Lucas for episode VII. In Star Wars: The Force Awakens, J.J. championed a multitude of strong, diverse characters, notably the leads Daisy Ridley and John Boyega. J.J. is currently working on episode VIII and promises that the Star Wars universe can – and will – encompass more diversity including gay characters:
Now that Daisy Ridley's Rey and John Boyega's Finn have given the Star Wars franchise its first female Jedi and black lead, respectively, does its fearless director J.J. Abrams see a future for a gay character in the galaxy?

"Of course!" Abrams said Thursday night at his Bad Robot HQ, where he hosted the US-Ireland Alliance's annual Oscar Wilde Awards ahead of Sunday's Oscars, where The Force Awakens is nominated in five categories. "When I talk about inclusivity it's not excluding gay characters. It's about inclusivity. So of course."

By Abrams' logic, the sprawling Star Wars universe couldn't possibly exist without a gay populace—even if we haven't seen a single character identified as gay thus far. "I would love it," he said. "To me, the fun of Star Wars is the glory of possibility. So it seems insanely narrow-minded and counterintuitive to say that there wouldn't be a homosexual character in that world."

Amid the #OscarsSoWhite controversy, Abrams has been vocal about the need for Hollywood to not just talk about but take action in the name of diversity.

"I think we all have a hell of a lot to do, and I think it is insane to me that we still have to have a conversation about inclusivity. It's shameful," he told The Daily Beast last month. "We all need to do better to represent this world. It's something that is important to me, and is something that we're focusing on at [production company] Bad Robot.
Existing Star Wars novels, such as Paul Kemp's Lords of the Sith and Chuck Wendig's Aftermath, already have homosexual characters so the groundwork is there. Of course, the internet is calling for a FinnPoe confirmation. Whereas I am all for Boyega's Finn and Oscar Isaac's Poe Dameron to become an official romance, I would very much like to request a new moniker for the couple.
J.J. went on to say that discussions about inclusivity are already happening, "It's in private meetings, it's in private phone calls, it's in interviews. I know that this will happen. I know it will. Not just on camera but behind the camera." From his lips to Hollywood's ears.
Mini Alias reunion at the VF party with JJ, Jennifer Garner and Vincent Garber, posted by Garber's husband Rainer Andreesen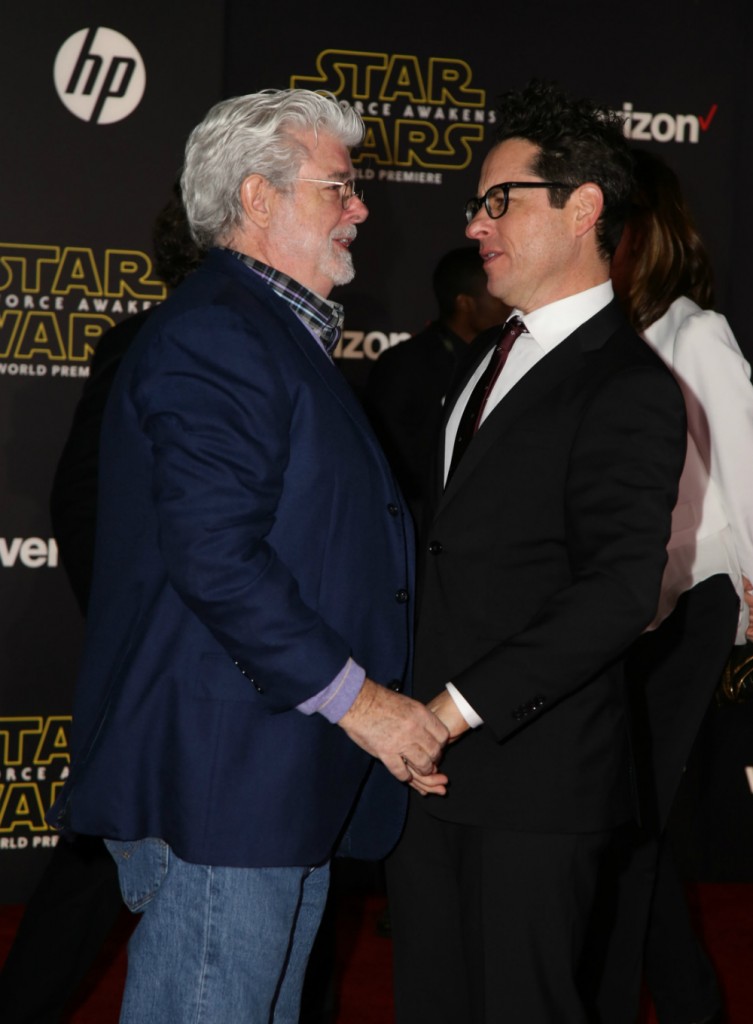 Photo Credit: Getty Images, WENN and FameFlynet Photos