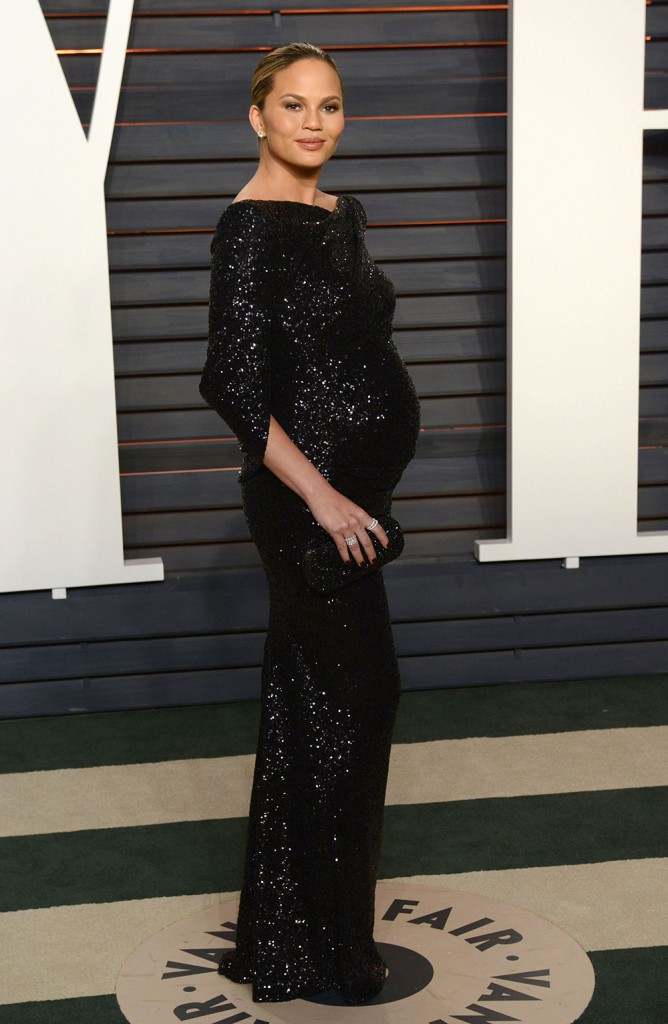 Chrissy Teigen was one of the celebrities who went to the "dark side" at Vanity Fair's post-Oscars party on Sunday night. After literally being sewn into the floral Marchesa gown she wore on the red carpet and at the ceremony, she changed into a stunning sequined black gown by Talbot Runhof. The curve-hugging gown also featured bell sleeves and a low back. Pregnancy is no excuse not to show a little skin, right? Chrissy opted to keep the additional bling to a minimum, adding stud earrings and a few rings. Of the two dresses Chrissy wore, I definitely like this one better. It's simple, but really glamorous and she and John Legend, looking dapper in his tux, make a good looking couple. Bravo, Chrissy.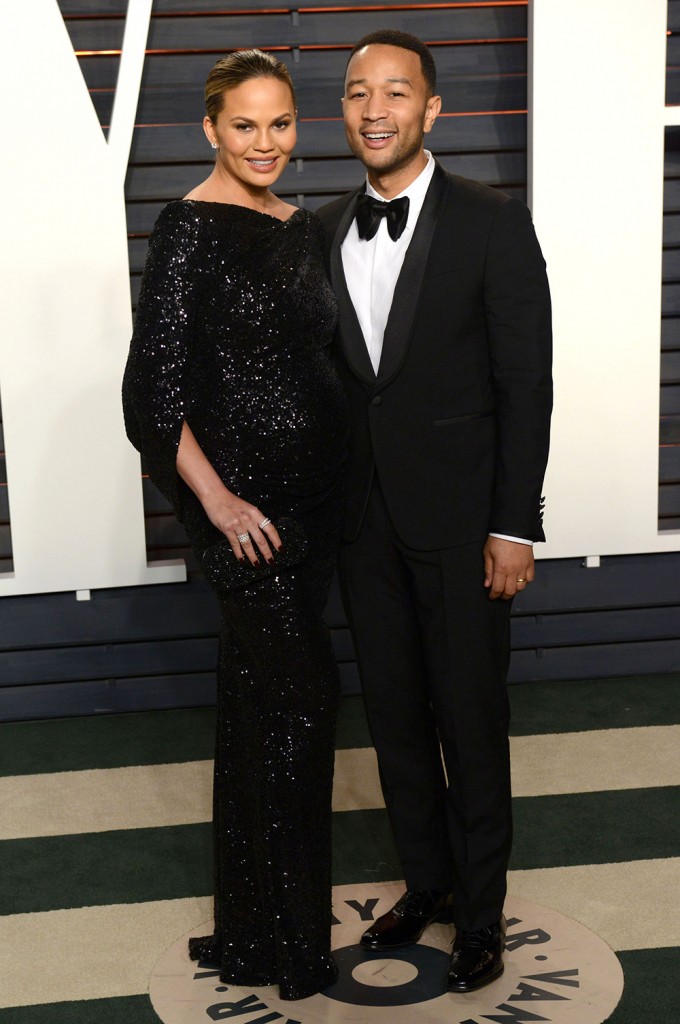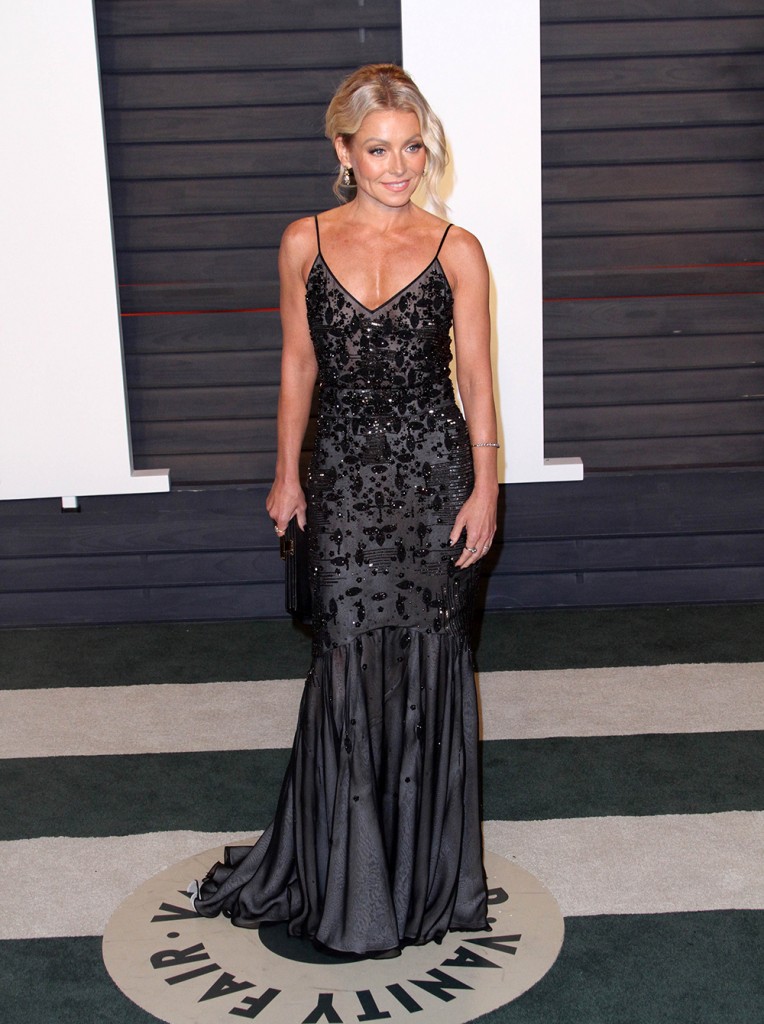 Kelly Ripa looked elegant in a spaghetti strap, beaded gown from designer Dennis Basso. The talk show hostess, who jokingly gave Leonardo DiCaprio a stuffed bear (get it?), opted for a classic updo and minimal jewelry, letting the gown do the talking. Makeup-wise, she showed off a muted palette with a nude lip and rocked a dark manicure. This is another look I really like. You can rarely go wrong with black, like they say, it's really flattering. The dress is also a nice complement to husband Mark Consuelos' navy tuxedo.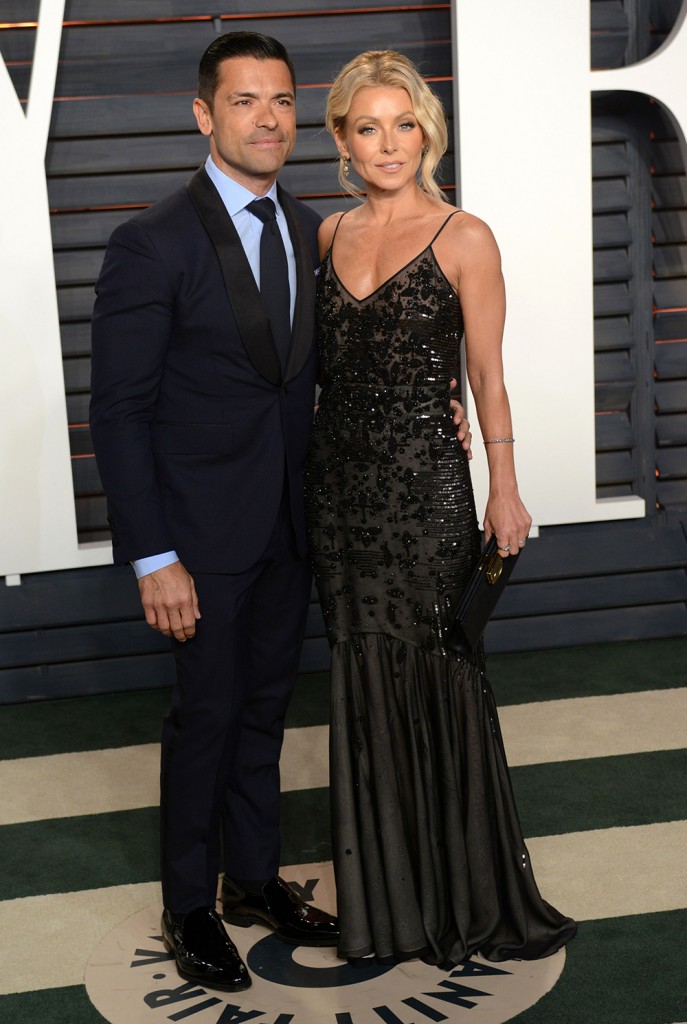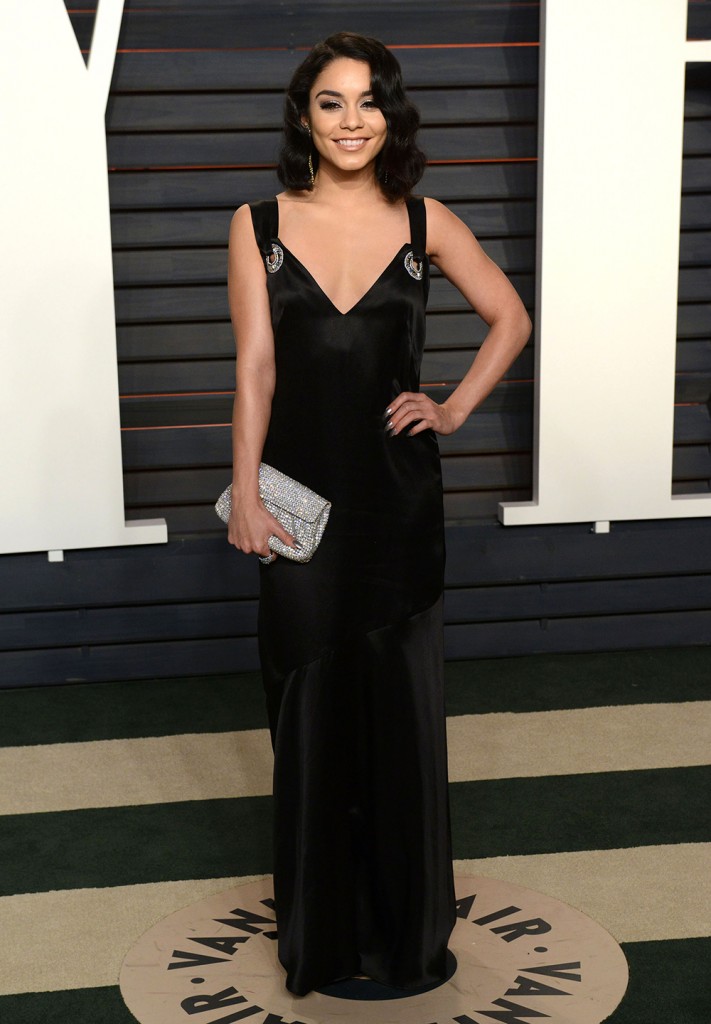 Vanessa Hudgens wore my favorite black gown, a simple, yet elegant satin number from H&M Conscious Exclusive – the affordable fashion chain's line of sustainable clothing. The sleeveless gown featured a plunging front, an open back and silver beaded embellishments on the front. She complemented the look with dangling earrings, open-toed sandals and a sparkly clutch. The actress evoked old school Hollywood starlets with her hair in retro waves. Instead of a more traditional red lip, she went with a more nude shade, which complemented her smoke eye makeup. Vanessa's boyfriend, Austin Butler, got dolled up in a classic satin-lapeled tuxedo.
And then there's Juliette Lewis. The actress (and occasional rock singer) known for taking chances on the red carpet showed up in a black gown from Vivienne Westwood. The off-the-shoulder gown itself was a little too poufy for my taste, but it works for Juliette. One advantage to the front of the dress being shorter than the back is that she can show off those strappy sandals. I envy anyone who can wear those. My calves look like hams tied up for Easter dinner in those lace-up shoes. I do wish that she either put all of her hair up or down. The "miscellaneous hanging strands of hair" look does nothing for me. I'm kind of sad she didn't go with something more edgy, but there's always next year.
Photo credit: WENN.com, Getty Images, Fame Flynet