Olivia Munn showed off another 2016 Oscar trend – metallics – as she modeled a beaded, gunmetal gown by J. Mendel at the Vanity Fair post-Oscar party on Sunday night. The actress went more demure at the ceremony, but I guess wanted to "let it all hang out" (almost quite literally) after the show. The gown, which looks kind of reptilian to me, featured an "up to there" side slit and gratuitous underboob. She also let her hair down, eschewing a bun for a long ponytail. She kept her jewelry simple with a pair of teardrop earrings. I much prefer the orange Stella McCartney dress she wore for the red carpet, but I do like this better than the gown she wore for Oscar festivities last year, which CB very aptly referred to as having a "sparkly shelf for her boobs." I was hoping to see a photo of Olivia with beau Aaron Rodgers, but I'm sure he didn't change out of his tux for the party. Lucky men.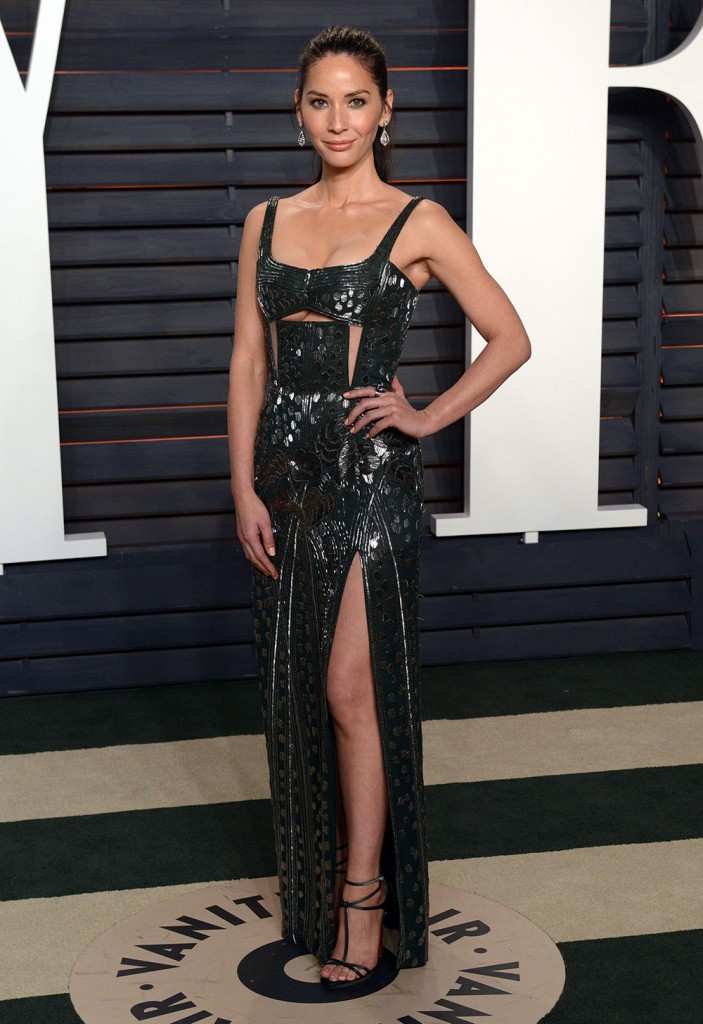 Modern Family's Sarah Hyland looked dazzling in a sparkly silver gown by Blumarine at the 24th Annual Elton John AIDS Foundation's Oscar Viewing Party on Sunday night. The plunging neckline was dramatic and Sarah wisely skipped a necklace, accessorizing instead with a simple bracelet, ring and drop earrings. She kept her hair simple with a slightly tousled bob and brought our her doe eyes with a smoky palette. Sarah's boyfriend, British actor Dominic Sherwood, posed with her looking quite dreamy in his tuxedo.
Oscar winner Hilary Swank also attended Elton's party with boyfriend Ruben Torres. The actress wore a gown from the Michael Kors Collection's Fall 2016 line, consisting of a sequined silver (and slightly see-through) top paired with a sleek full-length black skirt with a high slit. Hilary completed the look with dark nail polish, diamond drop earrings, a black clutch and strappy sandals. She had her long hair swept to the side. I actually kind of like this look. I am not a big fan of Michael Kors (at least his ready-to-wear line, which has always been on the snooze-inducing side in my eyes). I dig the concept of pairing a flashy top with a simple yet elegant skirt. It's nice to see Hilary out and about, it seems like she's been living under the radar for a while.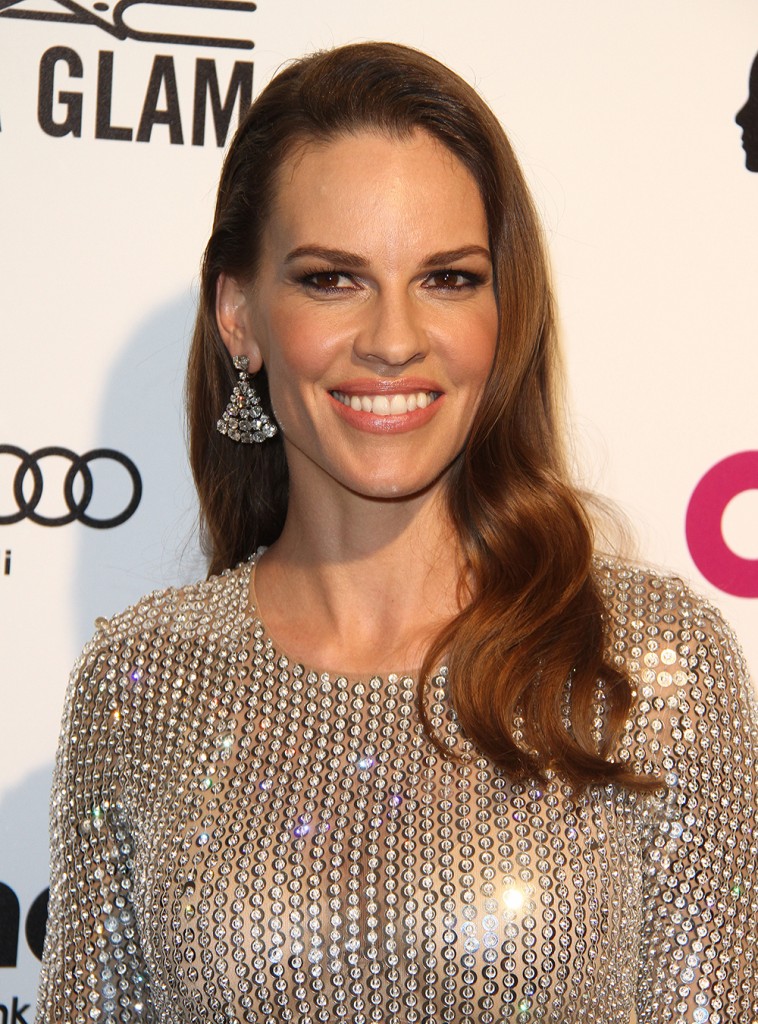 Last but not least, we have Lily Collins channeling her inner "golden girl" in Saint Laurent at the Vanity Fair party. The 26-year-old British actress probably should have worn this one for the Golden Globes, as her own "globes" were partially on display in this racy gown. This one not only had a plunging neckline and front slit to highlight her legs (and gold sandals), but showed off lots of skin from the side view, including Lily's most recent skin art – a fairy seated on a crescent moon accompanied by the words "fairytale ending." Lily evoked a silent film era siren with her wavy hair, bold eye makeup and berry lips. I like the concept and the look Lily's going for, but there's just so much skin exposed here. I'm no one's mother, but I would love to give her a shawl or something.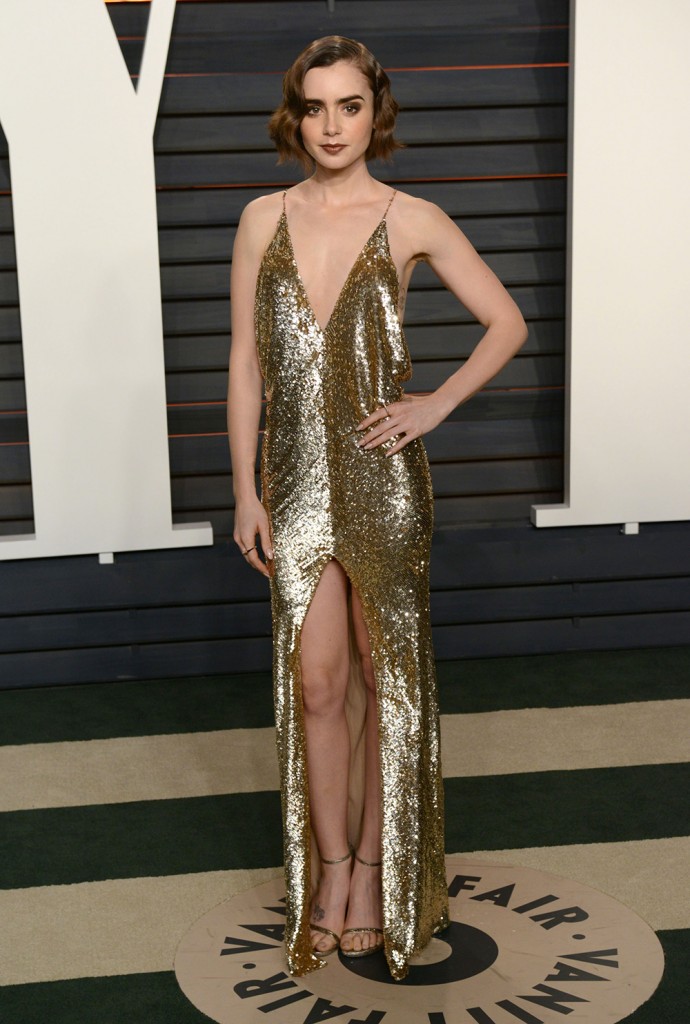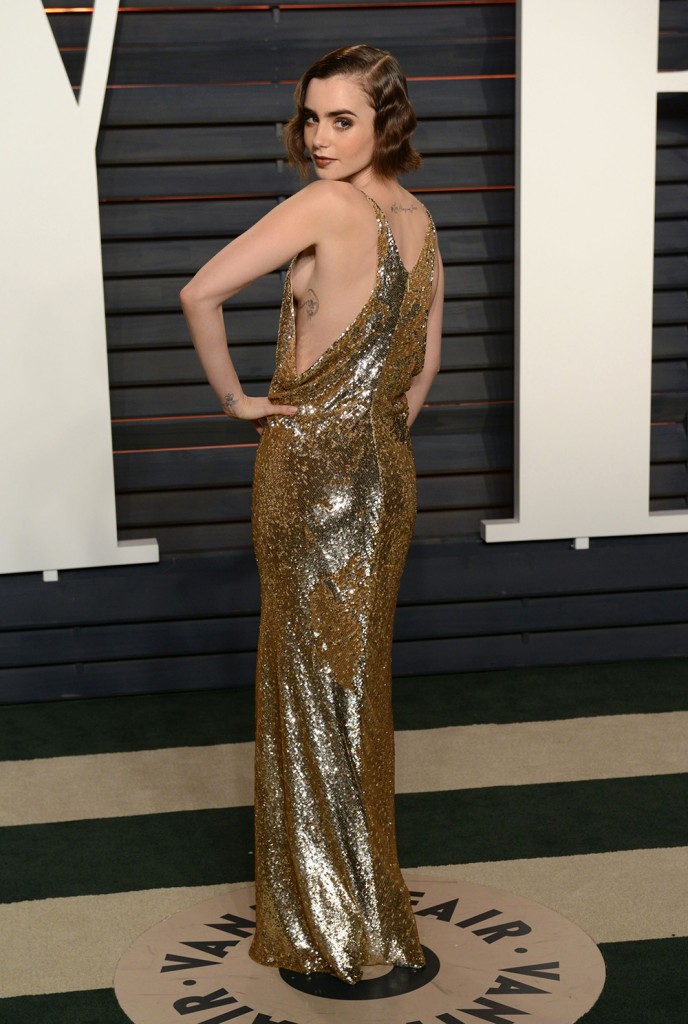 Photo credit: Fame Flynet, Getty Images