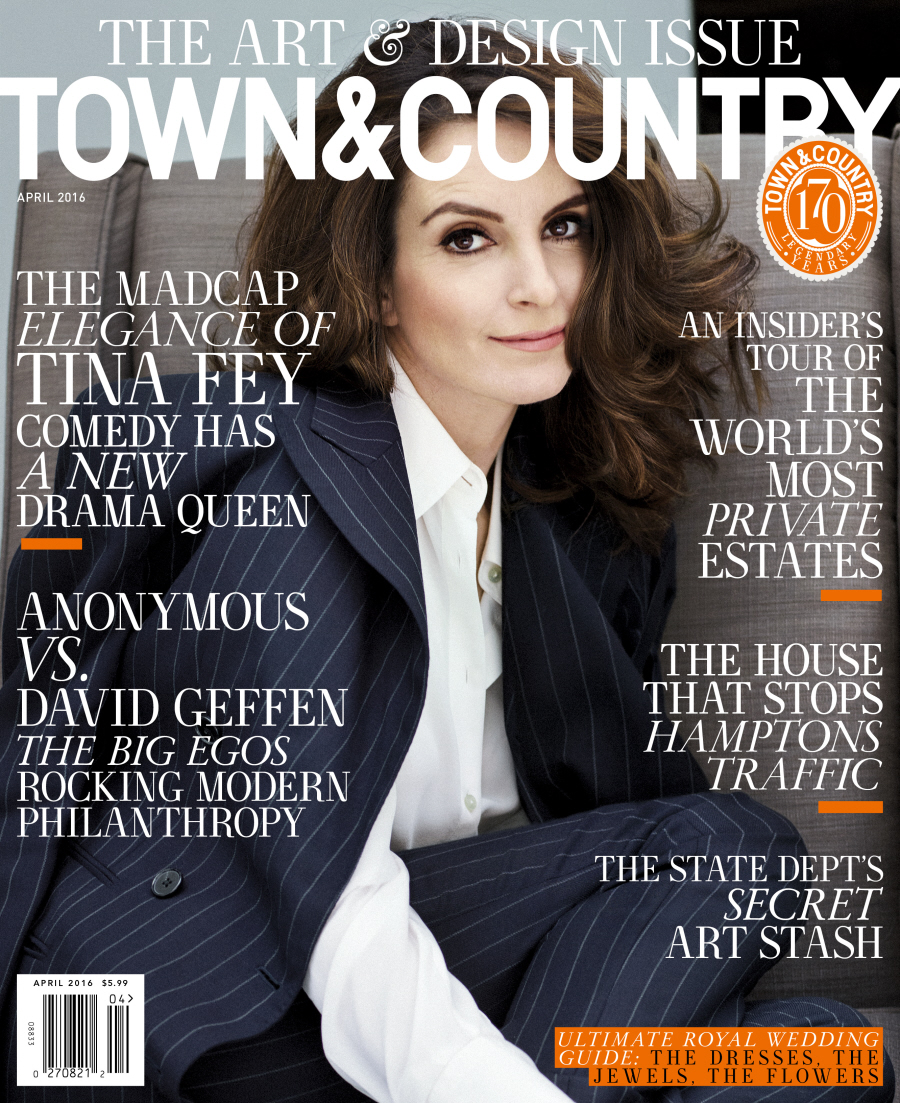 Tina Fey covers the new issue of Town & Country, and I absolutely love the photos. It's all suits and menswear-inspired stuff, very Tina-as-Annie-Hall and it really works. Tina is currently promoting Whiskey Tango Foxtrot, the fish-out-water film about a Chicago journalist who becomes a war correspondent in Afghanistan. She's also doing some promo for the new season of Unbreakable Kimmy Schmidt, which comes out in April. You can read Tina's full interview here. Some highlights:
On not hosting the Golden Globes this year: "When it's not your gig, you're like, 'I'm just gonna go to bed.'" This year's MC, Ricky Gervais, naturally took a shot at the former hosts, claiming he was paid the same as Fey and Poehler together. "I immediately texted my agent: 'That's not true, right?'" Fey says. She laughs, but she also assures me, "It's not true."

Aging in Hollywood (she's 45): "The greatest challenge for me as an actress is just getting older. Trying to play the scene at hand while also trying to hold your face up. Fast-forward to being 68, and it's a glorious act of bravery."

Plastic surgery & Botox: "There were people on the Globes in their twenties who were so Botoxed. In their twenties! We've been so conditioned now to never see a real human face, one that moves, with its original teeth. Sometimes we forget that there is a choice. I choose not to do this. It's like wearing multiple pairs of Spanx: Good for you, not for me. Not mandatory."

Keeping in shape. "I was looking at Jane Fonda last night. And you know why she always looks great? Because there was never a point where you say, 'Hey, remember those two years when Fonda got fat?' It never happened. You just have to keep that baseline. That g–damn baseline."

Whiskey Tango Foxtrot is not political: "It has nothing to do with what should be done about Afghanistan—it is 100 percent not that. It's really about Kim blowing up her original life and taking a leap when no one expects a person over 40 to go and have this adventure, for lack of a better word, in a place where, for hundreds of years, the West has been out of its depth."

Whether women are funny: "Amy and I just did two months of press for Sisters and journalists were still bringing up, 'People say women aren't funny.' The next time I'm at a press junket and someone says that, I have to remember to say, 'We need to stop talking about whether women are funny. And we need to acknowledge that black people are funnier than white people. Let's discuss that.' Every single interviewer asked, 'Isn't this an amazing time for women in comedy?' People really wanted us to be openly grateful—'Thank you so much!'—and we were like, 'No, it's a terrible time. If you were to really look at it, the boys are still getting more money for a lot of garbage, while the ladies are hustling and doing amazing work for less.'"

Female friendship: "'I helped out so-and-so' is not something I would ever say, but it definitely has been important to me and Amy and Maya [Rudolph] and all the women I came up with. We really are a generation that is there to work together and not be tricked into thinking we have to backstab each other to get somewhere. So while I can't take credit for the trend, I am definitely not part of the problem."

Her politics: "…It would be tough to stay neutral now. In hindsight [the 2008 presidential election] seems genteel in comparison. [This year,] It's funny until it isn't. It's gotten kind of ugly." A longtime Independent, she is underwhelmed by the candidates. "I hate them all."
She says so much more, and it's actually a really great read, as many of Tina's interviews are. While I wish she was around to do more political stuff on SNL, I like the fact that she's not claiming that a vote for Hillary is a vote for feminism or whatever – she just doesn't think in those terms, and I'm happy about that. I also like that she talks about how important her female friendships are and how they won't "be tricked into thinking we have to backstab each other to get somewhere." Word.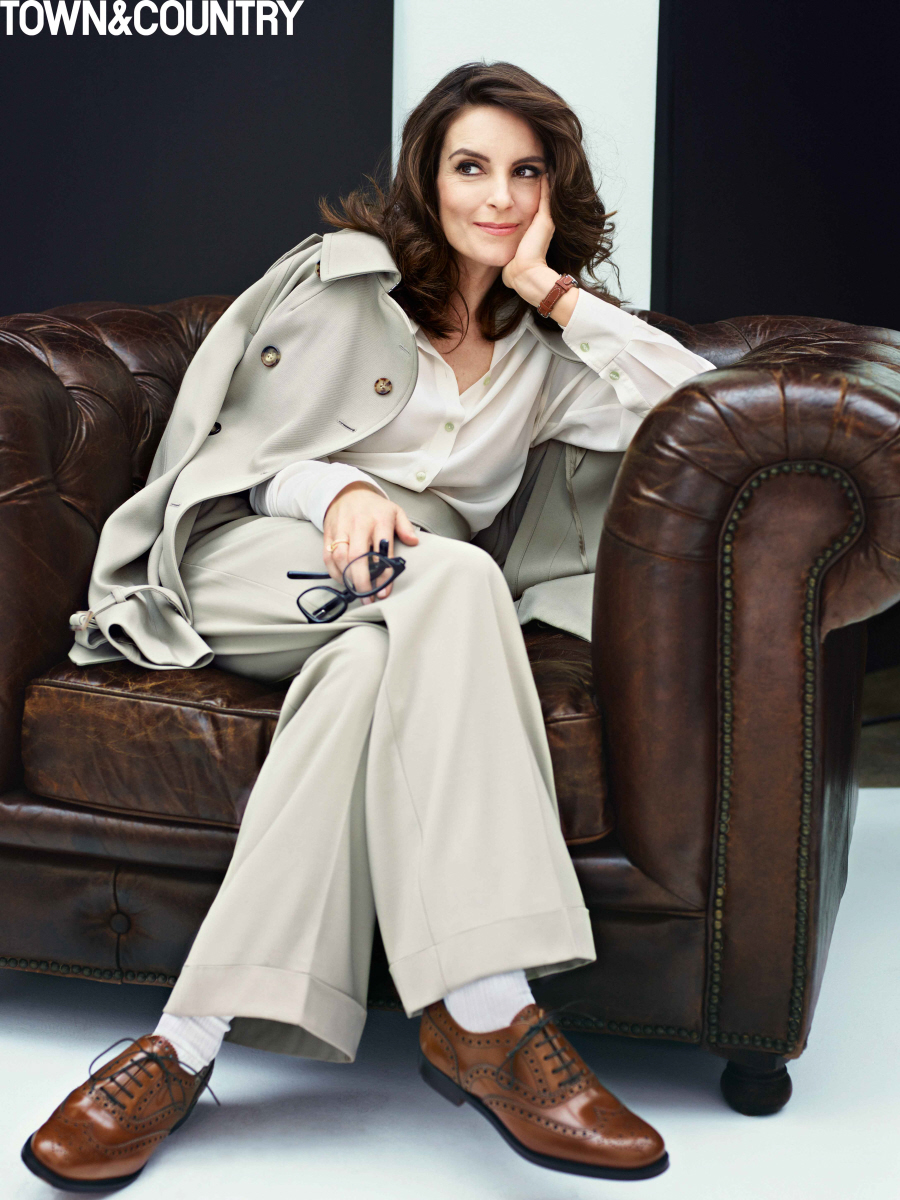 Photos courtesy of Alexei Hay/Town & Country.