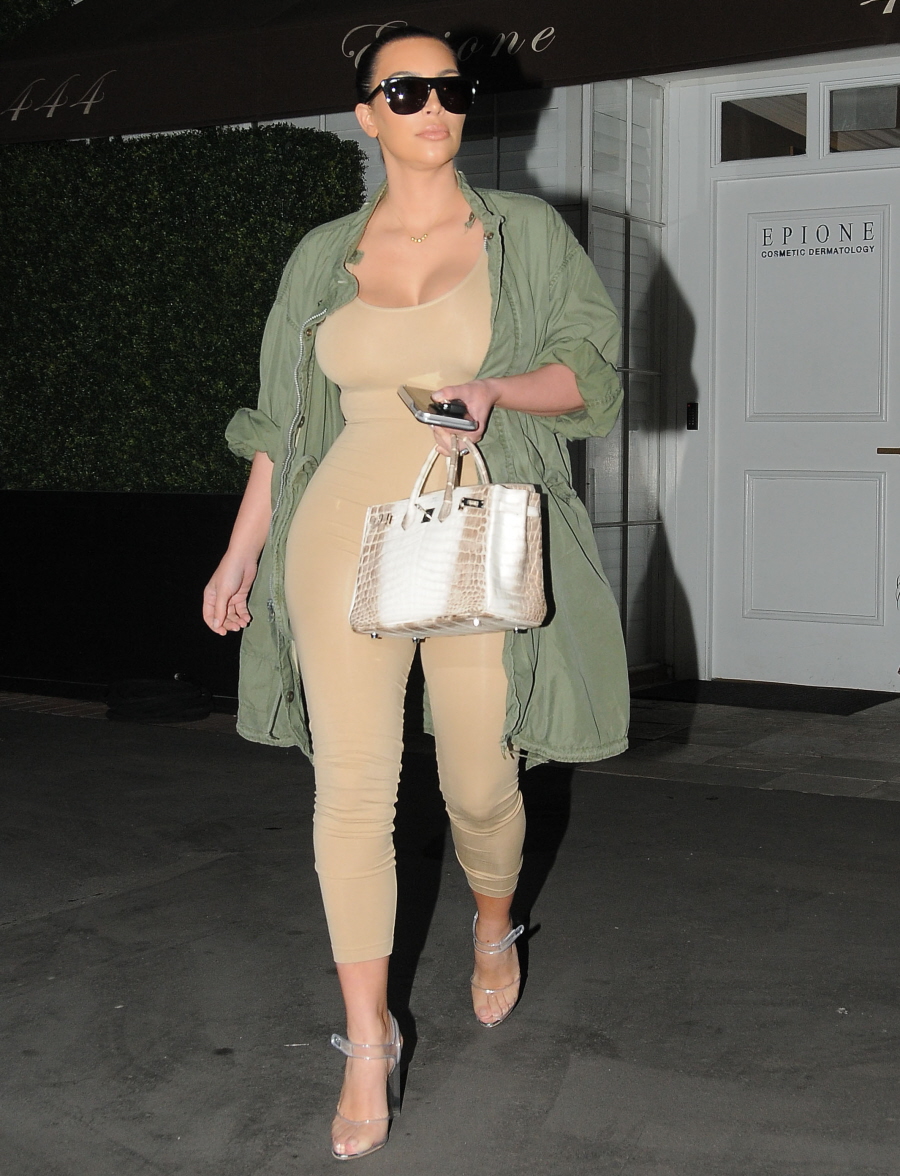 Here are some photos of Kim Kardashian out and about this week in Beverly Hills. She was actually coming out of the same dermatologist's office that she went to earlier this week. What's going on with her skin? Kim has been open about her struggles psoriasis before, maybe she's having a flare up or something?
Anyway, Kim's dermy issues aside, that's not the point of this story. The point of this story is her ensemble. She finally took off the ill-advised black capri leggings and she's donned a nude onesie, which is from Kanye West's Yeezy + Adidas line. Which is terrible, and very reminscent of full-body Spanx and/or wearing a onesie made of pantyhose. I don't really have an issue with the oversized army jacket, although the lucite stripper heels are kind of awful. But the biggest ticket item of this ensemble is the purse. According to People:
That small bag slung over her arm so nonchalantly may look like no big deal, but in fact, it's an extremely rare, no longer in production 30cm Himalayan Nilo Crocodile Birkin made from albino crocodiles. Just to put into perspective what that means exactly, the last one of these bad boys to sell at auction was 5cm smaller than Kim's and sold for $121,875. We think we may have just discovered where all that debt Kanye's in came from.
It's kind of funny AND terrible. It's funny because Kanye is all "I'm $53 million in debt because of my dreams, y'all, FREE YEEZYS FOR THE PEOPLE" and Kim is all, "Yeah, I totally spent $150,000 on a purse I'm only going to carry once every two years." I also find it totally shocking that A) there are albino crocodiles and B) those albino crocodiles are desirable for their skin, for purses. Of course it's a gorgeous purse, but it would be just as gorgeous (if not more so) if it was just regular leather treated to look like albino crocodile. And while I love a good luxury handbag, I would never, ever spend that kind of money on a PURSE. I mean, $121,000 to $150,000? ON A PURSE. No.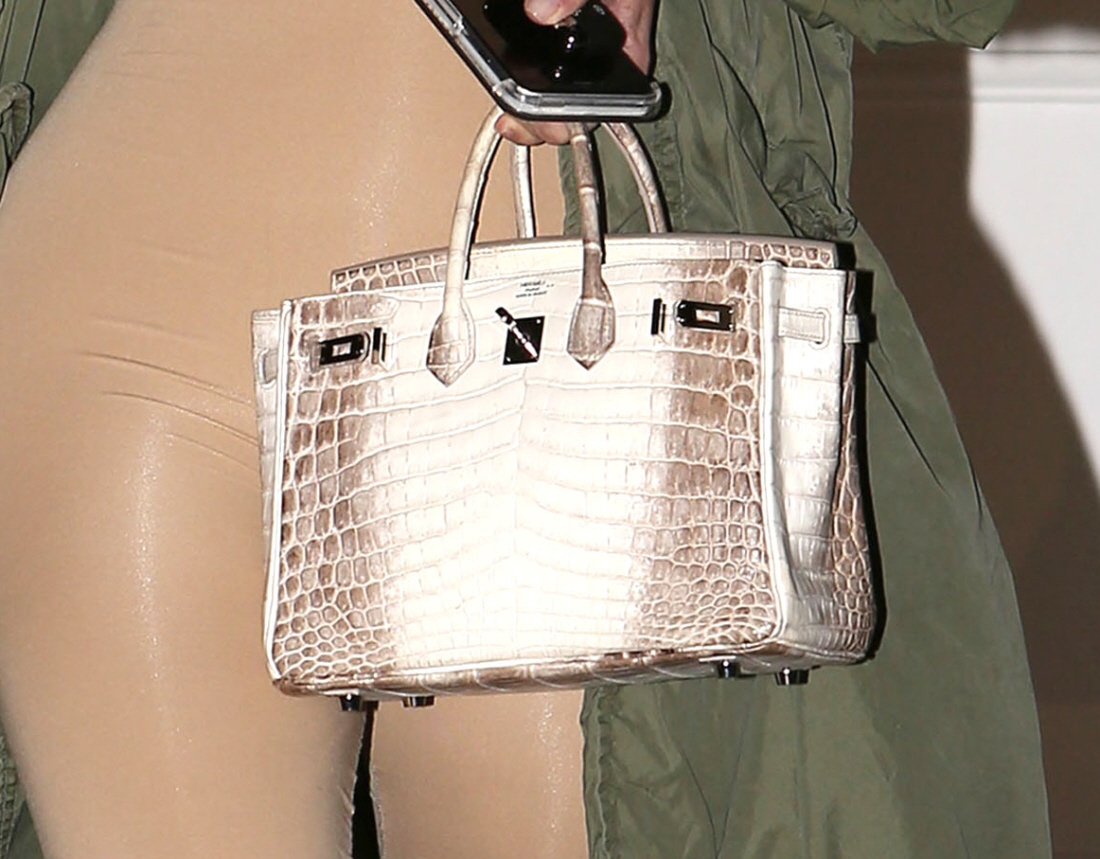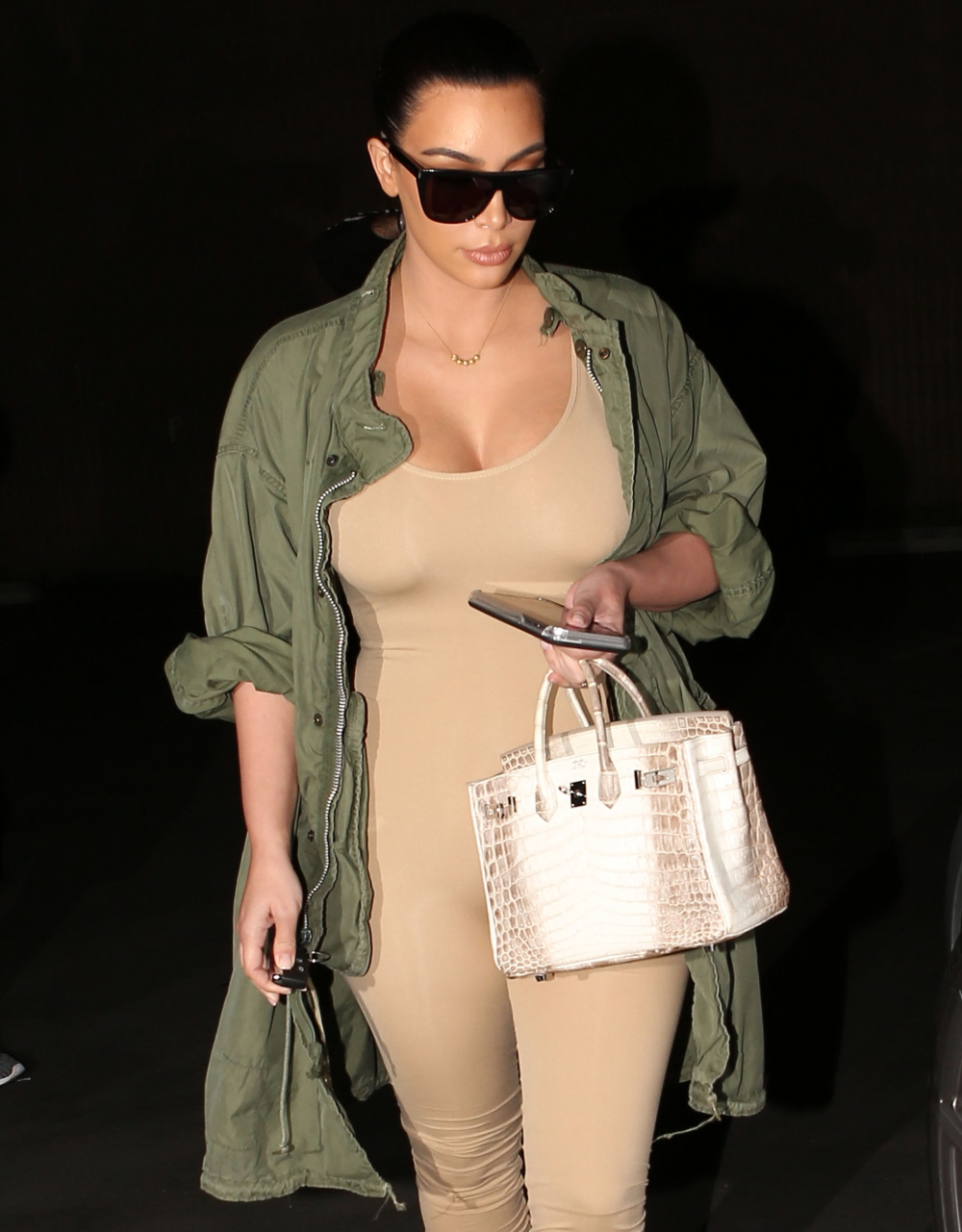 Photos courtesy of Fame/Flynet.