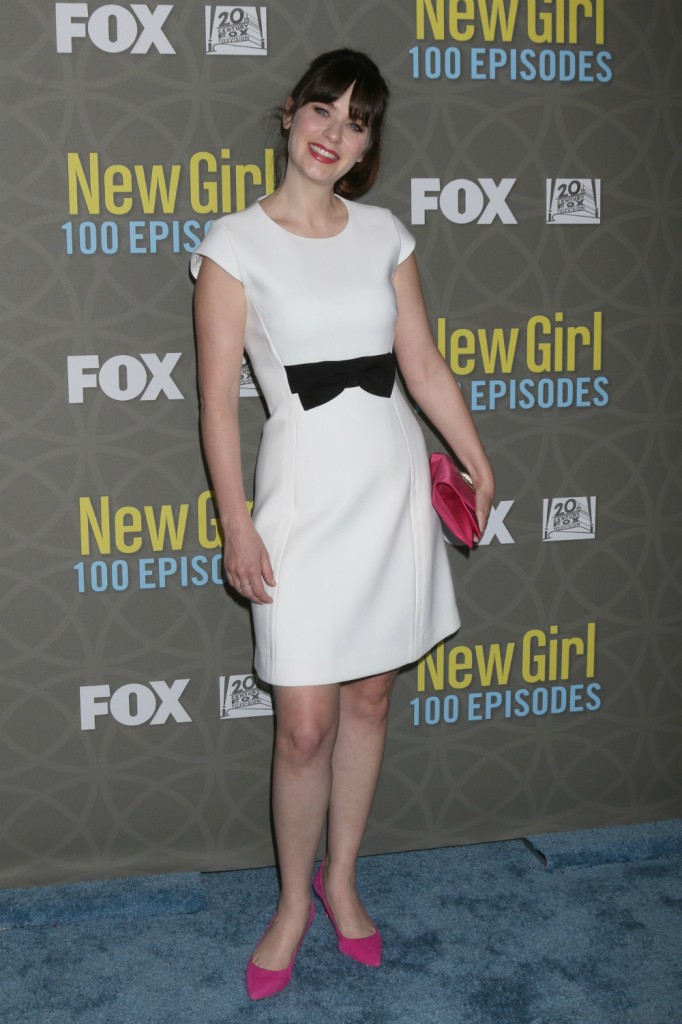 The shot above is of Zooey Deschanel celebrating her 100th episode of New Girl Wednesday night at the W Los Angeles. How cute is that dress? The shape and simple black bow embellishment makes it both sophisticated and fun. I even like the pink shoes and clutch, although the 80s girl in me would have gone with red. Zooey is back at work on New Girl after a six-week maternity leave; her character Jess returns next week. Megan Fox, who has been filling Jess' quirky shoes, has been well received. Promoting her return to the show on Ellen yesterday, Zooey mostly gushed about how cute her seven-month-old daughter, Elsie Otter Pechenik, is. In addition, Zooey discussed Elsie's unusual verbal skills and why she is named after a semiaquatic, albeit darling, animal:
Zooey Deschanel's daughter Elsie Otter isn't quite talking yet, but sounds are definitely happening.

The actress tells Ellen DeGeneres on Thursday that the 7-month-old "makes a lot of little, like, pterodactyl kind of noises."

"Like 'ahh, ooh, ahh.' And a noise that sounds like choking," Deschanel says of Elsie. "She'll be like 'ah, ah, ah.' And I'll be like, 'What's wrong?' and she'll be like, 'Ha, ha, ha!'"

The star also explains why she and husband Jacob Pechenik went with such a unique middle name for their little girl, joking, "In a sense that we're all mammals."

"We thought Elsie is a classic name — a lot of people have grandmas and aunts named Elsie," she shares. "And then we were like the middle name can be a little bit like wild."

"We both found that we had a mutual love for otters," she jokes further. "There were some more normal middle names… but I realized that nobody else likely had the middle name 'Otter.' "
Babies discovering the sounds their bodies can make is a very amusing time in their infancy. They sound like a broken sound effect machine but are so impressed by their own noises. You are constantly running in to see what's wrong with them and they just look at you like, "how about that, huh?"
If I am being honest, I don't mind the name Elsie Otter that much. I should mention I never get too worked up about what people name their kids. Yes, Elsie Otter together is precious or, as Kaiser said, sounds like a children's cartoon character, but I like the name Elsie. Zooey is not showing photos of Elsie so having a quirky name for her kid makes for good press. Plus, the whole 'adorkable' thing is Zooey's shtick anyway. If the story about how both she and her husband love otters is true then more power to them, it will make a nice connection between the three of them. I don't have a lot of room to complain, though; I tried to get my son named after my favorite rock star and my daughter named after my favorite car. You will be glad to know both got vetoed.
Here is the clip from Ellen:

At the Vanity Fair party after the Oscars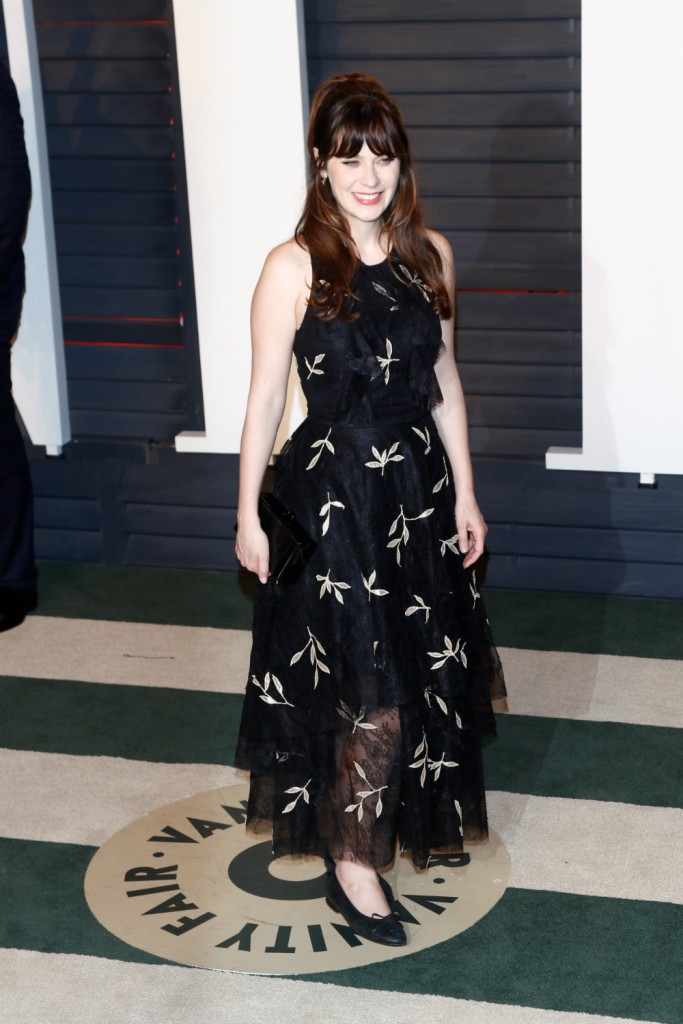 Photo Credit: WENN Photos