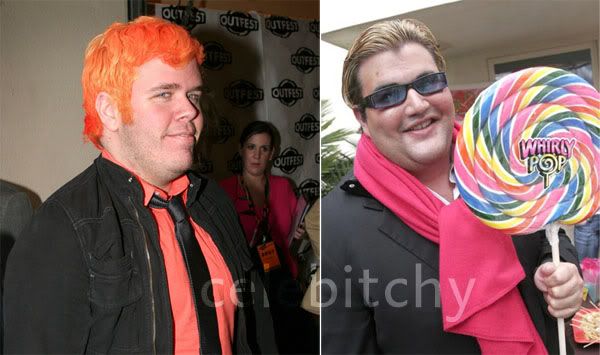 Maybe Perez Hilton realizes this is a shitty week for gossip and is trying to spice it up in his own ridiculous way. Either that or he's desperately trying to get some attention for his upcoming VH1 reality show. The Queen of all ripped off paparazzi pictures has challenged Brandon Davis' larger and lesser-known brother, Jason Davis, commonly known as Gummi Bear, to a hotdog eating contest outside of popular LA store Kitson.
Maybe Perez doesn't really want to go through with it, though, because he proposes that before attempting to chow down as many dogs as possible they run a mile. I'm guessing the running part is to discourage Gummi from participating. It also doesn't sound like a legitimate eating contest to me because there's no time limit mentioned.
It could also be the case that Perez is trying to get some material worthy of 5 minutes of airtime on VH1. His "What Perez Says" show will supposedly debut in September. The majority of the footage of Victoria Beckham light-footing around scowling got discarded for her reality show and was cut to just a one hour special that tanked. Maybe Perez fears a similar fate, as earlier stories had his reality show being denied for lack of celebrity friends. Just have someone shit on the floor and say they couldn't hold it and it'll be good enough for VH1.
Perez and Gummi Bear's biathalon will take place today at 5:00 pm PST if Gummi accepts the challenge.
Perez is shown below at Tori Spelling's BBQ for her "Inn Love" reality series on 7/16. I understand that it's easy to gain weight when you're in front of the computer all day. Carbs must be hard to resist when you work in a coffee shop, but it's like he's become a parody of himself. With that bright orange hair and the ridiculous way he dresses maybe he is subconsciously trying to make himself into the biggest target possible. He's showing the public that he's not afraid of our ire and that insults just bounce off of him. It's like he's saying "take your best shot people," I'm large, orange and in charge.
Header image is of Perez at Outfest 2007 LA Gay and Lesbian Film Festival on 7/14. I wonder if anyone talked to Perez at the festival or if he was mostly met with scowls. Gummi Bear is shown below at the beach in January. Thanks to Splash for these pictures.