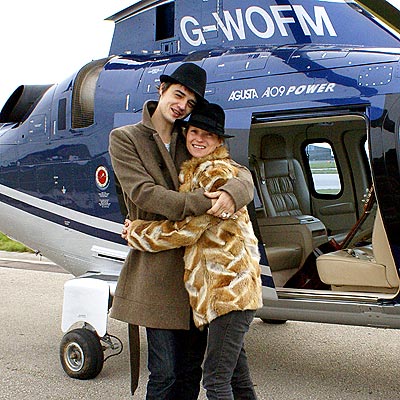 Kate Moss is finally cutting Pete Doherty out of her life for good. She stood by the floppy unwashed urchin through multiple drug possession arrests, half-assed rehab attempts, and public declarations of love that would have embarrassed the least self-conscious celebrity, but when he cheated on her that was the last straw. She changed that stupid lock, made him move his crap out of her house, and wasn't swayed by a picture of their pet cat that he scrawled on and tried to wave at her. Now she's taken the final step and has changed all her phone numbers too:
We can reveal that the supermodel has changed ALL her phone numbers – mobile and landline – to prevent Pete getting in touch.

Says our well-placed source: "Pete was still phoning up last weekend and in the end it was too much even for Kate.

"She thought she had made things clear – that he should never get in touch with her again, under any circumstances.

"But he failed to get the message so she's taken drastic action. It's a pain for her but she's more adamant than ever about making a clean break."

We revealed on Monday how 33-year-old Kate was footing the bill for Pete, 28, to have another anti-heroin implant. It seems to have been a last gesture of goodwill before her patience ran out.

Our spy adds: "Kate is determined to wipe the slate clean and that means never speaking to him again. Her friends are behind her decision and will support her every inch of the way."
[From Mirror.co.uk]
The last we heard the cheating druggie Doherty was living in a trailer park bemoaning his existence. Things are about to get a lot harder for him now that Kate's not bankrolling his dental work and drugs. He's said to be working through the pain by concentrating on a second album with his band Babyshambles.
Here are the lyrics to a song by Babyshambles called "There She Goes" (not the one that gets stuck in your head immediately upon reading the title) that seem fitting for this occasionL
There she goes, a little heartache
Oh there she goes, a little pain
Make no mistake
She sheds her skin like a snake
On the dirty road to fame
Kate has shed her skin, and will hopefully leave it behind for good. It might not be as dirty for her now that Pete's out of the picture.
Kate and Pete are shown in the header image in happier times in March, when Kate treated Pete to a helicopter ride for his 28th birthday. Photo via People.