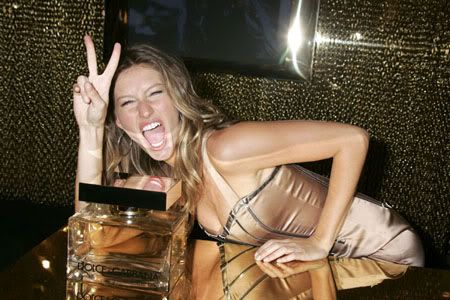 It's amazing what people will pay you to look good. Actually, looking good doesn't quite cut it – in the words of Derek Zoolander, I guess you've got to be "really, really ridiculously good looking."
So Forbes has released a list of the top fifteen highest paid models, and surprisingly, Kate Moss comes in at number 2, beaten out by Gisele Bunchen. Then again, Kate's got ten years experience on Gisele; we'll see where Gisele is on the list in 2017.
What do you do to earn all this cash? Forbes elaborates…
Gisele Bundchen is a workhorse who leads the pack by far: While most models on the list have one major contract in addition to three or four seasonal campaigns, Bundchen juggles almost 20 campaigns. She also brings in at least $6 million a year by licensing her name to a Brazilian shoe company, Grendene. But watch for Bundchen's fortunes to possibly decline next year: In December, her record-breaking $5 million a year deal with Victoria's Secret expires.

For most other models, things are different. Top models like those on our list still bank millions, but only once a multiyear contract is secured. The days of $10,000 runway fees are over. Top models don't even do runway. It's considered an internship process for the hundreds of anonymous 15- and 16-year-old foreign girls who swarm the runways of New York, Paris and Milan each season. They do 70 shows in six weeks and are paid about $250 an hour their first season.

A good hardworking model can make $200,000 a season. But chances are that model, once the season is over, will never be seen or heard from again.
I could do that. And if I was a foot taller and around ten pounds lighter someone might pay me to do it.
Forbes also has online a behind the scenes look at a Victoria Secret shoot, apparently businessmen like scantily clad models as much as any truck driver.
Interestingly, it also has a small write up about the best way to stop the aging process – digital retouching.
The Top Fifteen earning models are:
1. Gisele Bunchen $33million
2. Kate Moss $9 million
3. Heidi Klum $8
4. Adriana Lima $6 million
5. Alessandra Ambrosio $6 million
6. Carolyn Murphy $5 million
7. Natalia Vodianova $4.5 million
8. Karolina Kurkova $3.5 million
9. Daria Werbowy $3.5 million
10. Gemma Ward $3 million
11. Liya Kebede $2.5 million
12. Hilary Rhoda $2 million
13. Shalom Harlow $2 million
14. Doutzen Kroes $1.5 million
15. Jessica Stam $1.5 million
Here are some pictures of Gisele launching the new Dolce and Gabbana fragrance on 7/15.