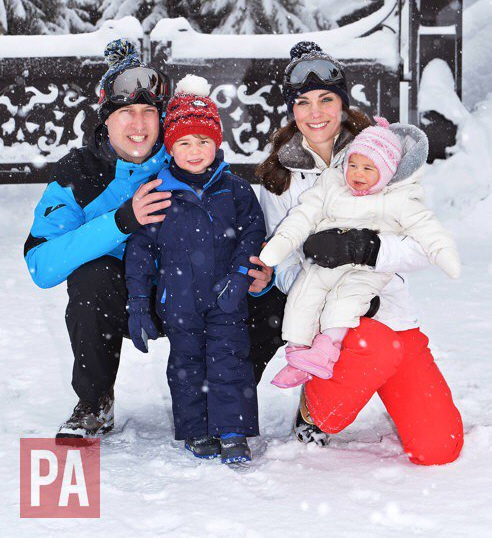 The Daily Mail is sort of freaking out about the ski photos of the Cambridges. To be fair, William and Kate come across as tone-deaf at best – as I said in my earlier post, many of us predicted that we would see photos of George and Charlotte following the press freakout last month about William's severely lacking work schedule. But I'm not sure many of us could have predicted that we would see photos of George and Charlotte… on vacation with Will and Kate. So the Daily Mail's headline is amazing: "State secret: 'Work-shy' William and Kate take the kids on their first skiing holiday – but only reveal it when it's over and won't tell you where they've been." OUCH. Here are some highlights from The Mail's coverage:
Everything was cloaked in secrecy: The Cambridges left for vacation and returned in secret, and they went to a "secret location" in the French Alps. It's believed that they left England last Wednesday and returned Saturday or Sunday.

The royal photographers were not invited: "Unlike royal ski holidays of old – when a group of photographers was invited to capture the family relaxing on the slopes – the Cambridges chose to escape the country without telling the media of their plans. Instead of arranging a photo-call to mark the trip, William and Kate invited only a single Press Association photographer, who took a small number of posed portraits. Details of the trip only emerged after the family's return yesterday – but they still refuse to reveal the destination of their winter break."

They probably took a private plane: "Royal officials have declined to comment on whether they took a commercial flight or a private plane – although the timings and the fact that they weren't spotted at an airport suggests that they may well have taken a private jet."

They skipped the wedding of close friends: "The ski trip might explain why the Cambridges were unable to attend the wedding of their good friend Olivia Hunt this weekend. Olivia, 33, the sister-in-law of TV adventurer Ben Fogle, was William's first girlfriend at the University of St Andrews. She tied the knot with Nicholas Wilkinson, 34, who was named as Britain's 'hottest' barrister by a legal blog in 2014."

Why the Cambridges didn't invite photographers: "Sources have told the Mail that William and Kate firmly believe their children are too young to be 'paraded', as they see it, in front of a group of photographers." A source says: "They were keen to share pictures with the public but are firmly of the opinion that they are too young for photocall. They decided to invite one photographer to take what are a beautiful set of family photographs and believe the public will understand and support them in that decision."
The Daily Mail had a separate write-up on how Will and Kate skipped their friends' wedding – go here to read. While I don't think it's a big deal to skip one wedding, it is part of a pattern with Kate specifically – she's cutting off a big chunk of William's friend-base, and she doesn't want to associate with many people beyond her family. As for the rest of it… my favorite part is where Will and Kate likely took a private plane (paid for by the taxpayers) and they still don't think they need to provide even the most basic details about their vacation. Also, now that they've proven that they can go on holiday undercover, doesn't that make you wonder how many times they've already done that in the past few years?
Photos courtesy of Kensington Royal's Twitter, Instagram.