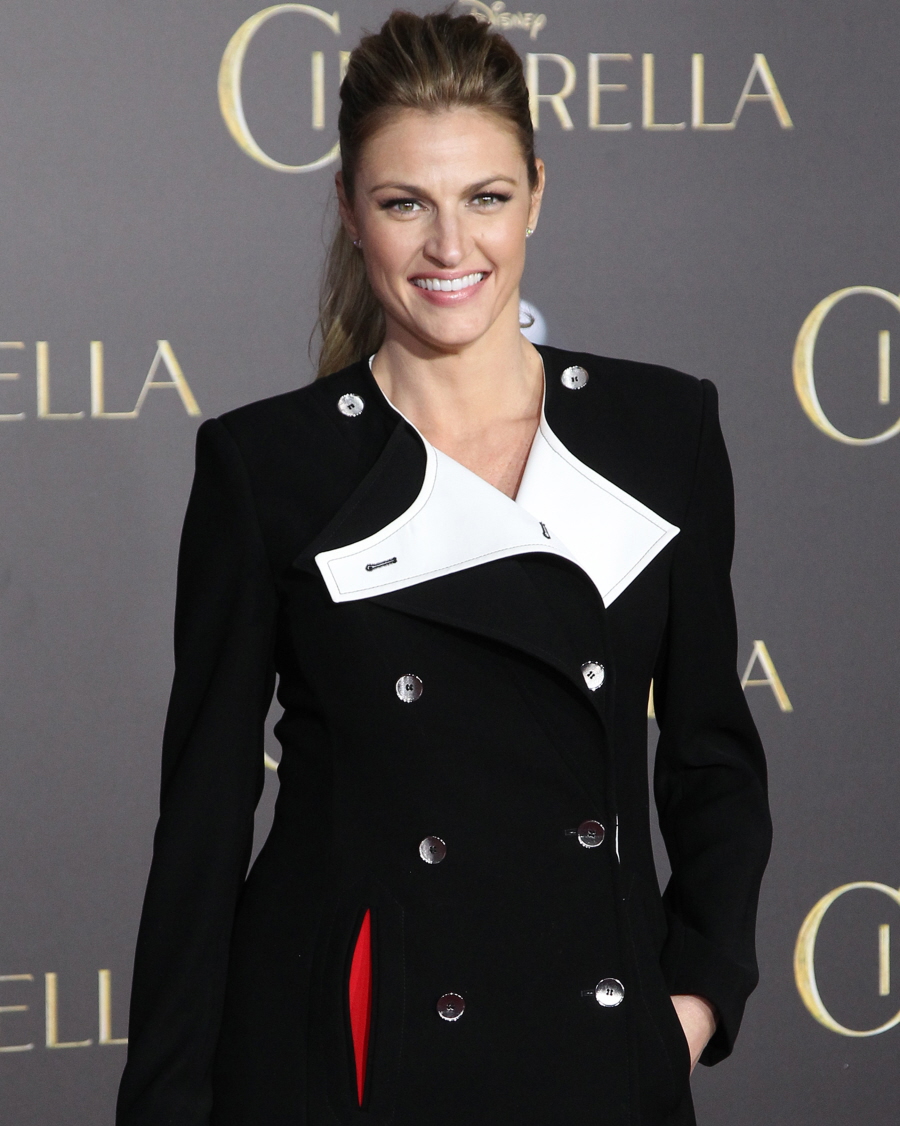 For weeks now, legal watchers have been focused on the Erin Andrews case. Erin Andrews – a sports journalist and co-host of Dancing With the Stars – was suing her stalker and a Nashville Marriott (and the Marriott Hotel chain) for $75 million. The case revolved around a really awful incident in 2009 in which Andrews' stalker, Michael David Barrett, was allowed to check into the hotel room next to Erin's and film her through a peephole. Barrett put the peephole footage online, and the footage went viral. The incident was pretty disgusting, and Barrett later went to jail. Andrews' lawsuit partially blamed the Marriott hotel for allowing Barrett such easy access to her. Well, the jury came back yesterday and Erin Andrews won.
A jury has awarded Erin Andrews $55 million as a result of her lawsuit against a Nashville Marriott and a man who took and posted a video of her. Andrews was asking for $75 million in her civil suit vs. West End Hotel Partners, which operates the Marriott at Vanderbilt, and Michael David Barrett, who tampered with her hotel room's peephole to record a video of her while she was in her hotel room. Barrett then posted the video online in 2009. The jury found Barrett 51-percent responsible and the hotel to be 49-percent responsible, meaning Barrett is on the hook for approximately $28 million in damages while the hotel is ordered to pay $26 million.

Barrett was sentenced to 2½ years in prison after he was found guilty of stalking Andrews in the events surrounding the incident. Barrett had reserved the room next to Andrews' and said he found her room through a directory within the house phone at the hotel. He explained his practices in a video played last week during the trial.

Andrews is currently a broadcaster for Fox Sports and co-hosts ABC's Dancing with the Stars. She testified during the civil suit that she feels guilty her current boyfriend, Minnesota Wild hockey player Jarrett Stoll, didn't know her before the incident because of the emotional toll it has taken on her.

"I feel really guilty he didn't know me before this happened and to try to explain to someone who has questions about why I have trust issues, why I'm insecure, why I'm embarrassed; he doesn't understand," she said on the stand last week.

According to an ABC News reporter, jurors, which deliberated for approximately seven hours Monday, gave Andrews hugs and asked for autographs after the verdict.
All of the network and cable news shows have been running footage from Erin's testimony in particular, and she has been understandably emotional about the whole ordeal. Unfortunately, this jury settlement is more of moral victory. Her stalker doesn't have that kind of money, and Marriott is definitely going to appeal – TMZ had a run-down of how Erin won't be seeing much of this $55 million. I would think that Marriott might be wise to offer her a seven-figure settlement just to save everyone further hassle. Still, it's a moral victory and I'm glad that Erin stood up for herself.
— Erin Andrews (@ErinAndrews) March 7, 2016
Photos courtesy of Getty, WENN.