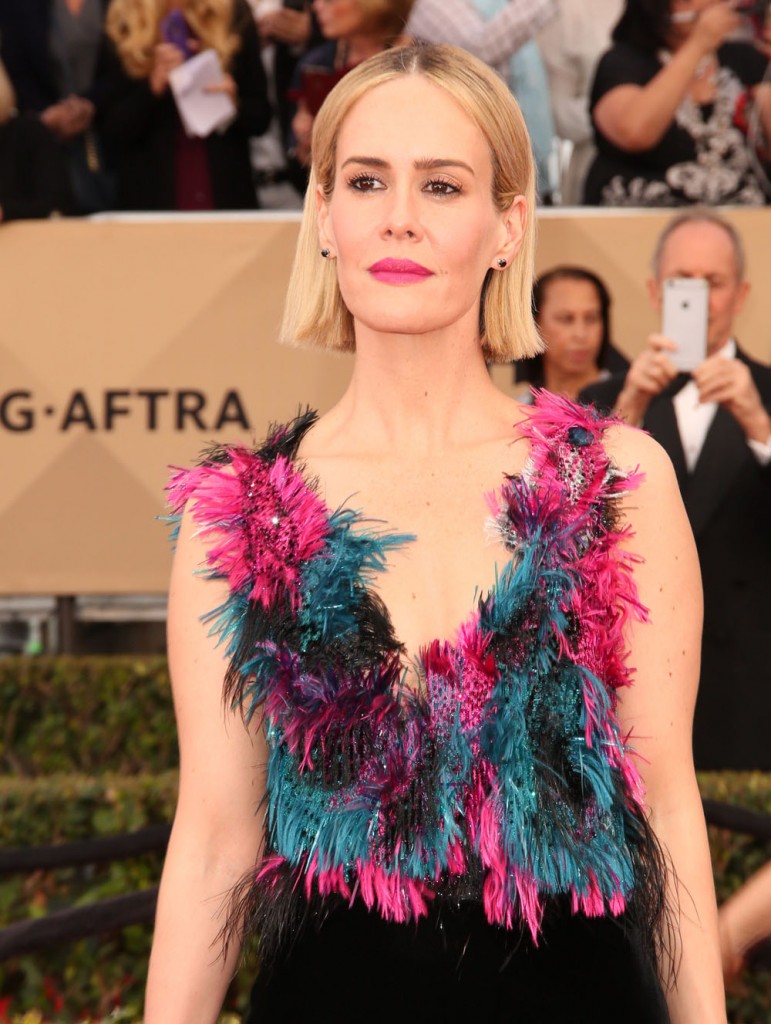 Sarah Paulson recently admitted that she did research for her role as Marcia Clarke in The People vs. O.J. Simpson by getting drunk with the actual Marcia Clark. Paulson, who has never been afraid to take on a role (look at any of her characters on American Horror Story), sat down with Ellen DeGeneres and spilled the hilarious "T" about her first meeting with the OJ prosecutor. She told Ellen, "I drank a lot of tequila with her. It was really fun. It was like the mole (Clark's beauty mark) kept moving all over her face in my mind. It was like, 'Is that you? Oh, now it's on your forehead.'" Oh, just watch this. It's beautiful.
Sarah, who had poured over the pages of Jeffrey Toobin's book, The Run of His Life: The People v. O.J. Simpson (the book that inspired the series) added, "When I saw her, it was like seeing someone I'd idolized or had a terrible crush on for my whole life. And she walked into the restaurant and I was like, 'Ahhh,'And she sort of looked around like this was a sort of terrifying experience for her." Sarah's obsession could result in some major industry accolades, so I don't think her "research" was in vain. At all.
Spoilers for People vs. O.J. Simpson follow
The New York Post feels that Sarah's work (especially in last night's episode) is enough to earn her an Emmy. Even though there's more to come, I have to agree with the Post. Sarah really did some heavy lifting on last night's ep. Marcia not only had to deal with fighting for custody of her kids, but with the press mocking her for her appearance – only to get a "makeover" that prompted one reporter to ask why she opted to now look like Rick James. Ouch. Oh, and there was a nude picture leak. Oof.
And, this latest installment of the series brought up the issue of whether or not real-life Marcia and her co-prosecutor Chris Darden hooked up. I, personally, could have sworn that I thought the pair ended up romantically linked, but a Google search makes me question that. Sarah and Sterling K. Brown, who (also skillfully) plays Chris Darden were asked if they felt their characters had more than a professional relationship and they had slightly different opinions. Sterling told E! News, "I remember in an interview he did on Oprah, he said that Marcia Clark is an extraordinary woman, so I definitely think he was attracted to her, and not just her physical being, but like her intellect, her spirit, etc." Sarah, however, avoided the speculation, telling E!, "My take is probably not as important as what the facts are, and since some of it is really unknown to us, we are not giving the full breadth of what we believe to be true. Playing it was very easy with Sterling, he's so lovely and available and wonderful and so good."
I swear I thought these two were an item after the trial. But, if you watched the show last night, it looked like the two prosecutors had a little bit more than just a professional relationship. I have never slow danced to some sweet 70s R&B jams with any co-worker I've ever known. (And there's a few I would have loved to do that with. Oh, just saying, of course.) So, if you saw last night's episode, do you think that Sarah will be on the "best actress" ballot for next year's Emmys?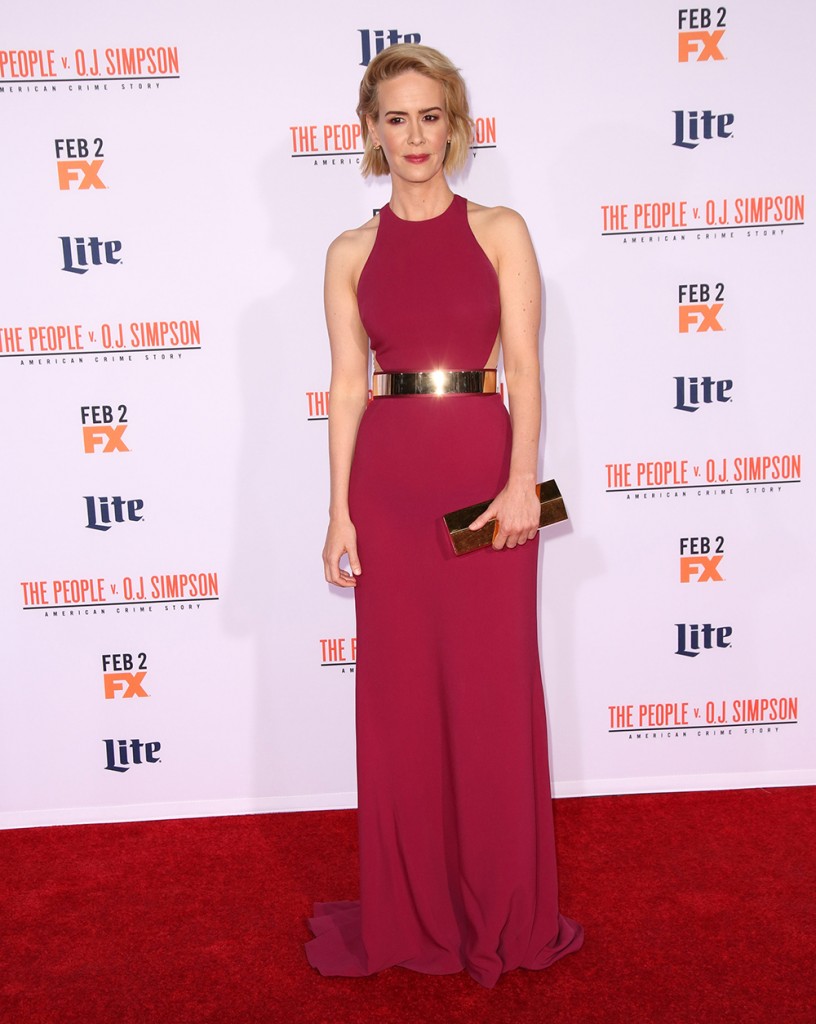 photos credit: WENN.com and Getty Images