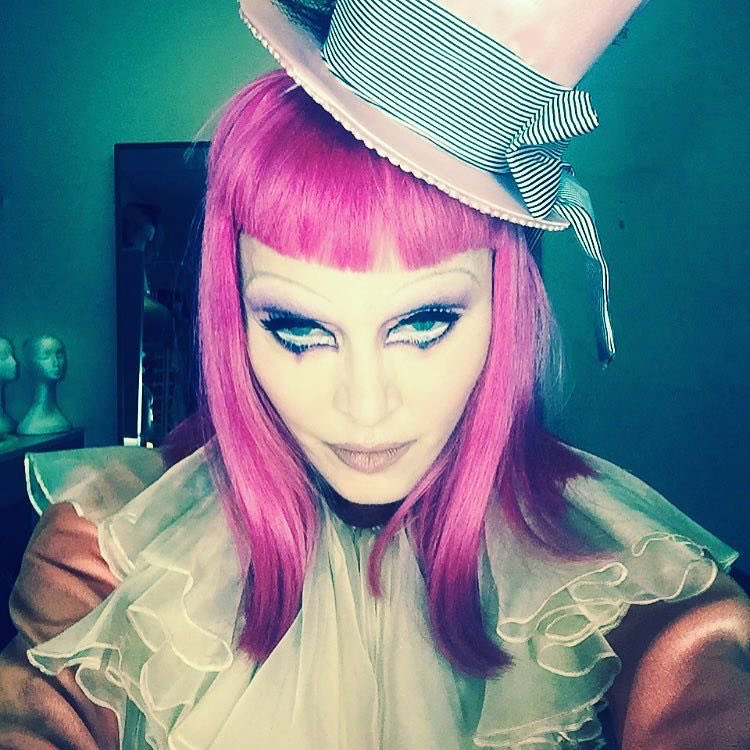 The last few posts about Madonna and Guy Ritchie's custodial drama have barely gotten any comments, so I really don't know if you guys have been interested in the continuing drama. To recap, 15-year-old Rocco Ritchie has decided he would rather live with his dad, and Madonna is really, really upset about it. Lawyers for Guy, Madonna and Rocco have been battling it out in court, and Madonna and Rocco have allegedly been speaking and trying to work out something behind the scenes. Meanwhile, Madonna is finishing up her Rebel Heart tour and things are not going very well at all. "Rebel Heart" has morphed into "Sad Clown," as you can see from these assorted social media photos (from Madonna's Twitter). Apparently, Madonna suffered some kind of tequila-soaked meltdown on stage in Melbourne, Australia this weekend.
Furious Madonna branded ex-husband Guy Ritchie a "son of a bitch", it has emerged — as she suffered a second boozy meltdown on stage. The singer, locked in a bitter custody dispute with Guy over their son Rocco, begged "someone please f*** me" as she swigged tequila during the chaotic show. After falling off a tricycle, she told the crowd in Melbourne that she had "messed up" her songs, before joking: "You would think it was in my DNA!"

And at one stage, after downing booze from a fan's hip flask, she pleaded: "Somebody take care of me, please. Who is going to take care of me?"

The Sun told last week how Madonna, 57, stunned fans by boozing on stage during a show at Melbourne's Forum on Thursday. The emotional star went on to dedicate a song to estranged son Rocco, 15, whose childhood photo was beamed across the stage in the background.

The next day, Rocco sat in London's High Court as his mum's barrister told of her wish to "heal the wounds" and "restore peace to the family".

But sources close to Madonna say the star is furious that Guy, 47, has ignored her pleas to pass on messages to their son in recent weeks. And they revealed that she blames him for the crisis in the relationship, branding him a "d***head" in one stinging attack. She is said to have told aides: "I never want to see his face again."

A source said: "Being cut out of Rocco's life has hit Madonna hard and it's clear she blames Guy. She has openly called him a d***head, and a son of a bitch, and said that she is going to make him pay 'big time' for what he has done to her."

Appearing at Melbourne's Rod Laver Arena yesterday, Madonna told the audience: "If I have learnt one thing in my life, it's just go with it. If you just laugh it doesn't hurt as much."

She went on to play the clown onstage, cracking jokes, honking the horn of a tricycle and chucking peanuts into the crowd. But the child's tricycle she brought on had the last laugh. As she tried to ride it round the stage, she fell off, landing in a crumpled heap. And, after skipping a series of songs, she admitted: "It's all going pear-shaped up here."
I'm so sorry, but I giggled at "It's all going pear-shaped up here." That's a great line for a tequila-soaked on-stage screw-up. As for the rest of it… I go back and forth on this. Like, I genuinely think she's devastated and she misses Rocco terribly. I also think she's a narcissist who is making it all about herself and how devastated she is and how much she hates Guy and how someone needs to take care of her. If there's one thing teenage boys love, it's when their mothers are messy megalomaniacs who believe their children are merely extensions of themselves, right?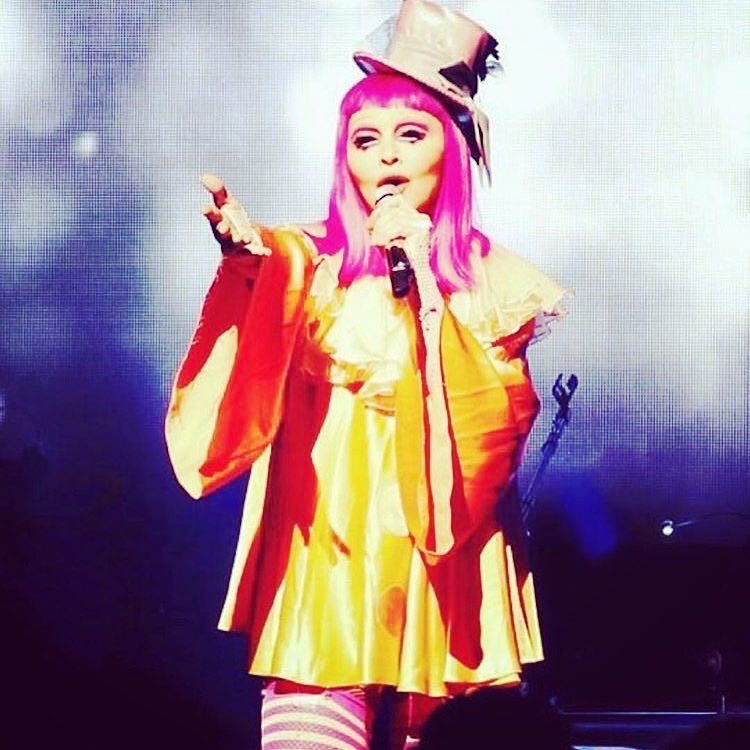 Photos courtesy of Madonna's Twitter.