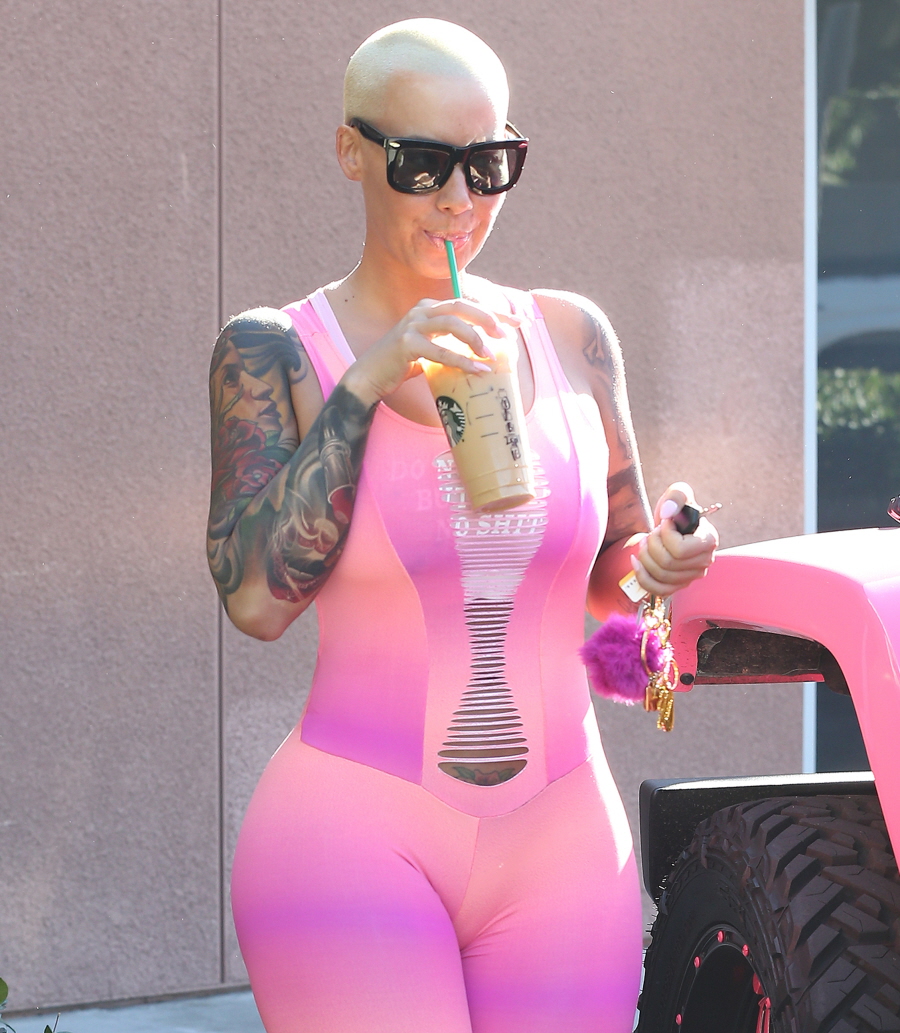 Some people have theorized that Kim Kardashian is basically paying Amber Rose to play nice and be friendly in public. Which I think is sort of insulting to both of them. But I was wondering why Amber was suddenly so vocally supportive of Kim's life choices recently. I'm starting to figure it out – Amber is using Kim in much the same way Kim has used Amber. If their "beef" made headlines, so can their friendship, and every time Amber mentions Kim's name, Amber's quotes will definitely get widespread coverage. So, Amber was in Austin for SXSW to promote her new 3D character on the Zoobe app. While in Texas, Amber chatted with The Daily Beast about Slut Walk 2016, her new friendship with Kim, how she's supports Hillary Clinton and much, much more. Some highlights:
Being called a ho and a slut: "We do that to each other and it's really unfortunate. People get turned off by the name 'SlutWalk' because they don't really know what it is, but it's about ownership regardless of what we've done in our life. I'm a grown woman—I'm 32 years old—so I've obviously had sex outside of a relationship, or before I was married. I've dated guys in my life and realized it didn't work out. It's just life. You look for love and find out what you want in life. Guys do it all the time, but we get criticized for it because we're women, and it's bullsh-t."

Amber on Kanye West: "He went to my hometown and said, 'I want to thank the City of Philadelphia for the beautiful person I wrote this song ["Runaway"] for. And then it's just like, I don't understand it! But you know what, it's not for me to understand. I've been married, had a baby, and it's been f–kin' five years. Get over it."

Her "friendship" with Kim Kardashian: "The thing is, me and Kim will probably—I won't say we'll never be friends, but we accept each other for who we are, and that's the most important thing as women. I don't get along with her husband—I don't think we'll ever be the best of friends—but it's good that we understand who we both are, got all that sh-t out on the table, and can just move on with our lives knowing that the Internet is mostly what gave us the beef we had. We didn't naturally have any beef with each other, the Internet just naturally instigated everything. So we got it all out and it's all good now."

What she has in common with Kim: "It's bullsh-t, and this is the thing: They come at me and Kim so hard because I was a stripper and she had a sex tape. So if we could sing, it would be OK if we were on stage half-naked. We all love Beyoncé, but she's on stage half-naked and twerking all the time, yet people say, oh, she has talent so she's able to do that. We don't have the talent that Beyoncé has, so we get criticized as former sex workers, but at the end of the day we're just women—we're all women—and we should all embrace each other. No one is greater. We're all the same. So, to criticize us as incapable of being smart businesswomen because Kim has a reality show and I'm a socialite and we don't sing is stupid. We've both been in movies, and we take our acting, business ventures, and everything else very seriously. No one gives a f–k that Channing Tatum was a stripper. He's an established actor who's at the Vanity Fair parties and the Oscars, but for me, no matter how far I go in my life, I see these stories that keep referring to me as a 'former stripper.' No one says 'former stripper' about Channing Tatum, or 'former McDonald's worker' about Brad Pitt. No one does that to men."

She loves Hillary Clinton: "I can't f–kin' wait! I'm so excited. I'm voting for Hillary, I don't give a f–k. I love her, and always have. I feel like this is her time to just sh-t on everybody and be the powerful woman that she is. And I'm leaving the United States if [Trump] is elected. F–k it! I'm moving to Canada. It's over."
I laughed out loud at "We don't have the talent that Beyoncé has, so we get criticized as former sex workers…" She's right, although I bet Kim's eye is twitching at being called a "former sex worker." God, when did I become an Amber Rose apologist? She's right about a lot of things, but I just have to say… Beyonce DOES get criticized. If she decides to sing about her sex life with her husband, people clutch their pearls and tut-tut. If Beyonce shakes her Black Panther-loving ass at the Super Bowl, Fox News is in full meltdown mode. It's more than the double standards between men and women or the double standards between women with "talent" and women who use their bodies in more direct ways to make money. It's about body-policing in general, and more specifically the body-policing of all women.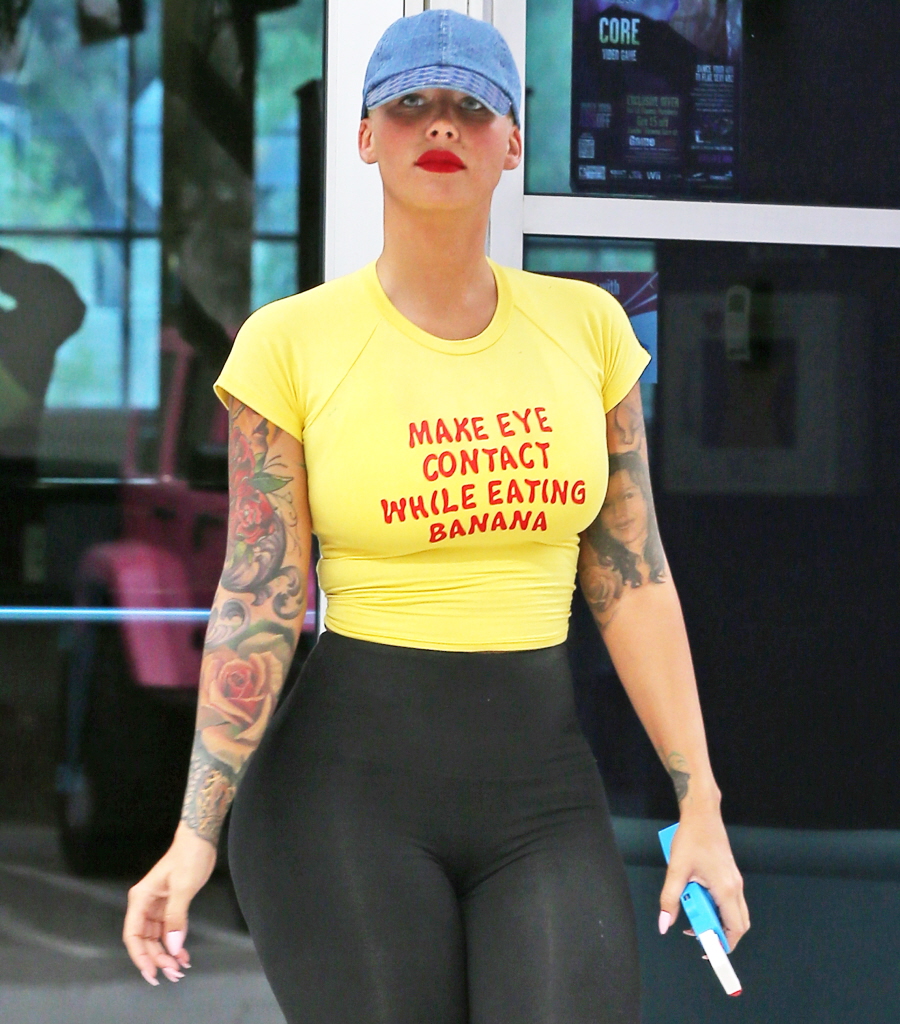 Photos courtesy of Fame/Flynet.