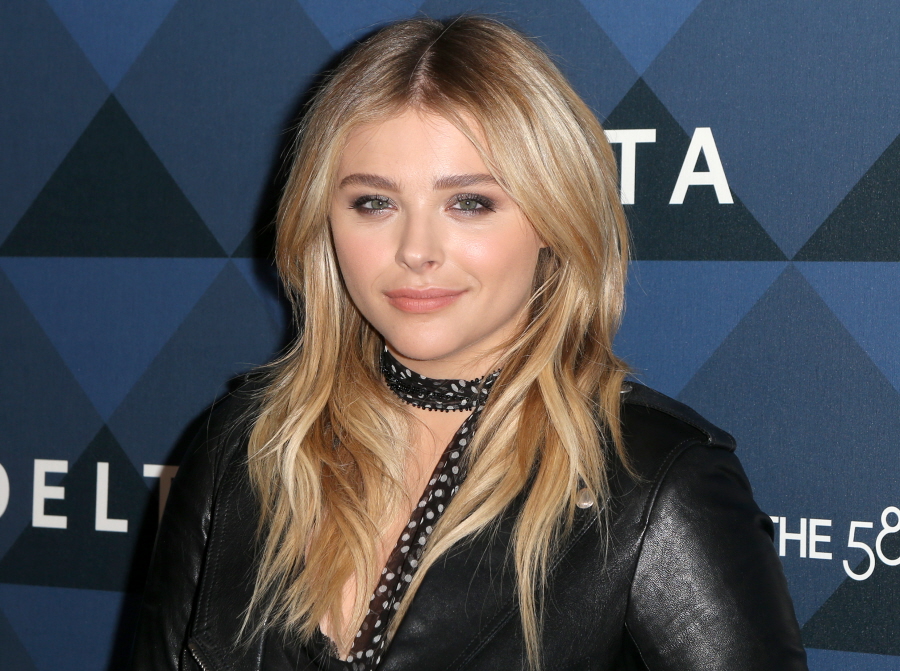 I have mixed feelings about Chloe Moretz. Like, I think she's genuinely talented, even underrated as a dramatic and comedic actress. But then she does things like this. Chloe entered the fray in a big way last week when she became one of the celebrities criticizing Kim Kardashian's nude selfie. I sort of missed Chloe's initial tweet about it, which was directed at Kim. Chloe wrote: "I truly hope you realize how important setting goals are for young women, teaching them we have so much more to offer than just our bodies." When she was criticized by her Twitter followers for "slut-shaming" Kim, Chloe wrote: "There's a huge difference in respecting the platform that you're given as a celebrity and 'slut shaming' something I never have done and would never do." Except that she actually was body-policing Kim to some extent. Kim clapped back at Chloe pretty hard, and Chloe ended up spending a few days retweeting people who agreed with her (Pink, random followers) and throwing down more shade at Kim.
Chloe, as it turns out, has been outspoken in her feminism. For her, feminism means that she should not take on heavily sexualized roles, and as we discovered last week and in this interview, it also means that she side-eyes women who make the choice to post nude selfies, sexualize themselves, or have any kind of sexual agency that Chloe does not personally approve of. Chloe sat down with Elle Magazine for a chat about other stuff, and Elle asked her about the Kim Kardashian incident:
Elle: Speaking of your social platform, what compelled you to respond to Kim Kardashian's nude photo? What misunderstandings surrounding slut-shaming do you think exist?

Chloe: All I'll say is that I think a lot of things can be misconstrued in a lot of ways. And I think if people open their minds more, and they try to look deeper into something than just something that is a very big, hot, fiery button to hide behind…I think if people looked into something bigger that I was trying to speak upon, they wouldn't be so easy to fire back silly, miscellaneous things.

What would you say to young women trying to navigate the sometimes treacherous waters of social media?
Depict yourself adequately as what you want to be seen as. Don't front, don't put something out there that you feel isn't realistic and doesn't portray who you are. Just be yourself, be you, and don't be afraid to speak your mind.

You've been outspoken, especially concerning your career and trying to turn down roles where female characters are sexualized. Why is that important to you?
It's not even roles where females are sexualized, it's where they're overtly sexualized in a masculine, stereotypical [context]. I think that's more of the thing for me. If they are sexualized, do it in a way in which the character feels they're being adequately depicted, in a sense. It all depends on the time period of the movie, or the context of the movie. It's more that I can't stand [female] characters that are not empowered in a certain way, or at least don't come to a conclusion at the end of the movie where they find empowerment in themselves. So, for me, it's just about making choices [so that] I can have a young woman look at the movie and not be negatively influenced.

When did you start having conversations about feminism and sexuality?
That all really started when I was about 13—it started internally within my family, and then I saw that with the influence that I have and the career path that I have, maybe I can say what I'm feeling at least, and see if that applies to anyone else's life. And if it does, maybe it can help them through the situations that I've been going through and to shed light onto things that people might not be speaking about as much, because they might be too afraid to.
Wait, she's saying "slut-shaming" is a "very big, hot, fiery button to hide behind"? No, Chloe. Slut-shaming and body-policing are very real things that happen in every society, at every level of society. She's only 19 years old and I genuinely believe that she has the time and ability to educate herself on these issues without being so dismissive of legitimate criticism.
Photos courtesy of WENN.