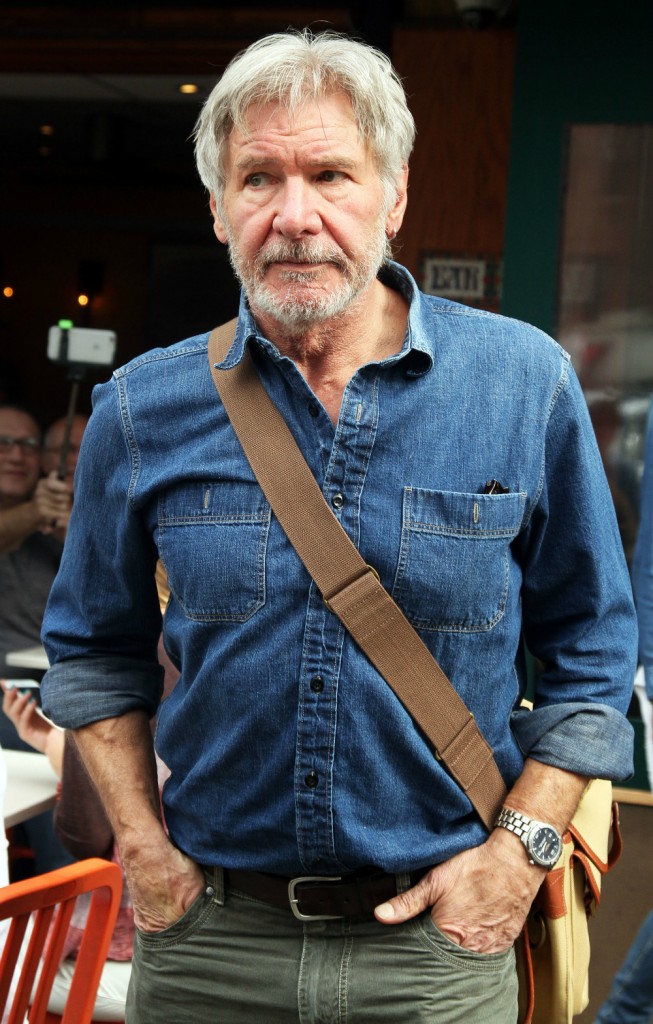 When it comes to Harrison Ford, I am an unabashed fan. So when I tell you that Harrison is re-teaming with Steven Spielberg to make a fifth Indiana Jones movie, imagine a high-pitched squeal. Yes, I saw Crystal Skull and yes, it sucked so bad it left hickeys on my eyeballs but none of that matters because Harrison Ford. The fact that Harrison will wrangle Indy's whip one more time comes on the heels of his triumphant return as Han Solo in The Force Awakens and the announcement that he will be reprising Rick Deckard in a Blade Runner sequel. The only original title Harrison has coming up on his IMDb page is Official Secrets with Natalie Dormer and Gillian Anderson.
Harrison Ford will dust off his fedora and crack out his bullwhip again at the age of 73 to reprise his role as Indiana Jones for a fifth time.

Defying age and possibly the public's enthusiasm for another installment, Disney announced the actor would return to big screens on July 19, 2019 – more than 35-years after he first careened onto screens chased by a runaway boulder.

Also returning to the helm of the as-yet untitled movie is Steven Spielberg, 69, who directed all four previous films in the franchise, beginning with Raiders of the Lost Ark, back in 1981.

Indeed, should the film be released on schedule, Ford will be 77-years-old and Spielberg will be 72 at the premiere.

The last movie in the series was 2008's poorly received Indiana Jones and the Kingdom of the Crystal Skull', which co-starred Shia LaBeouf as Indiana's son and was released when Ford was 66.

The movie included a much derided scene in which Dr. Jones escaped a nuclear blast by hiding in a fridge.

That installment followed a near 20-year gap in the franchise after 1989's Indiana Jones and the Last Crusade – which introduced Sean Connery as Indiana's father, Henry Jones.

The actor's return as the snake-fearing archaeologist comes shortly after reprising the other great role which cinema goers inextricably link him with – that of Han Solo in Star Wars: The Force Awakens.

Franchise producers Kathleen Kennedy and Frank Marshall will produce.

'Indiana Jones is one of the greatest heroes in cinematic history, and we can't wait to bring him back to the screen in 2019,' Disney chairman, Alan Horn, said in a statement released on Tuesday.

'It's rare to have such a perfect combination of director, producers, actor and role, and we couldn't be more excited to embark on this adventure with Harrison and Steven.'
In the case of Han Solo and Rick Deckard I really think it was a matter of someone throwing gobs of cash at Harrison to reprise those roles. When it comes to Indy, however, I think it's more. In 2008, he told Vanity Fair, "There's something about the character that I guess is a good fit for me because the minute I put the costume on, I recognize the tone that we need, and I feel confident and clear about the character." While promoting The Force Awakens this summer, Harrison reiterated his love for Indy. Spielberg expressed the same thoughts at the Britannia Awards last year. George Lucas wrote the stories (not the screenplays) for all four Indy films. Entertainment Weekly says it isn't known if Lucas is involved but most outlets say he isn't. No writer is attached yet but maybe Lawrence Kasdan, who wrote the first Indy and The Force Awakens, will want to return.
Last year, there was talk of Chris Pratt taking over the role of Indiana. Producer Frank Marshall confirmed that they are,"not doing the Bond thing where we're going to call somebody else Indiana Jones." However they didn't say anything about replacing Mutt, Indy and Marion's son. Maybe Shia LaBeouf is being shoved aside so Pratt can take over as Indy's heir. Whoever gets cast, whoever writes it, I will be there opening day 2019 with "LOVE YOU" written on my eyelids.
Photo credit: WENN Photos and Getty Images