My TV just happened to be tuned to Wendy Williams, I swear that I wasn't deliberately watching it or anything, and I happened to get distracted by Jenny McCarthy's too-long hair extensions and frozen Botox face. Holy crap she needs to lay off the 'tox, only her mouth moved. I couldn't tell who looked more alien, Jenny or Wendy.
Anyway Jenny and Donnie were promoting their reality show, which will likely hasten the end of their relationship, but they seem to still be in the honeymoon phase now. They have matching tattoos, I took a poor-quality pic of that below. Jenny announced that she officially changed her last name to Wahlberg so we'll have to see how that works out for her long term. I'm really surprised that Jenny found a guy willing to expose their whole relationship to the press so I guess Donnie is kind of perfect for her in that way. Their interview was fun, I have to admit. I don't want to oversell this, but these people are insane. They also played a St. Patrick's game called "Getting Lucky Tonight" in which they were asked the conditions under which they would have sex. They pretty much said they would have sex anytime, like with the dog watching, if other people were in the house, etc. except they don't do makeup sex.
Jenny's reasoning for why she changed her name to Wahlberg
"In my first marriage I was so miss independent I was like I worked for this name, I'm not changing it [ed note: she did anyway] As time went on, it's like I was tired of being like the man and the woman. I was a single mom for so long and I fell in love with him. I wanted to be the girl, I wanted to be the wife."

They have matchings tattoos for each other
They have hearts with their initials as part of the design on their wrists and Jenny has "Love Donnie" written on the insides of her fingers. (See photos below) She said it hurt more than her c-section.

Donnie's bawdy explanation for Jenny's "Love Donnie" finger tattoos
"She says she did it so she could see it on my face but she was hoping it would lead to like some Amber Rose Kanye business. Like she wanted to see that finger go in just a little. [Jenny laughs] She did! I said 'If you want to do that you should have tattooed the pinky.'"

Donnie cries while watching The Bachelor
"I cry when the guys propose to the girl, I always get emotional. I cried for a couple of girls this year. When that girl Olivia got kicked off. They left her alone on the beach in a storm and then Jubilee got kicked off and everyone was backstabbing her. I cried when he turned down the other girl, she should have won. I always have been into like sentimental TV shows. I've been crying at TV my whole life."

On if they would have makeup sex
Donnie: "If we have an argument or a fight which doesn't happen often no makeup sex. We do not allow makeup sex."
Jenny: "I think you become addicted to it and that's where people get in trouble with their roller coaster."
[From The Wendy Williams show, aired March 17, 2016, explanations are mine]
I guess this is nothing new for them and that Jenny talks about all this stuff on her radio show, but I can only pay so much attention to her. Jenny Wahlberg (nee McCarthy) is powerfully stupid so I shouldn't read too much into her dumb quotes about being the man and the woman. As a single mom I find that idiotic. I just work harder without support, it's not about taking on gender roles to me, it's about having a partner to share the workload. I don't think Donnie is much brighter than she is. They were talking about how they had to retake their driving tests when they moved to Illinois and Jenny passed it on the first try while Donnie failed it three times. He was sweet about Jenny changing her name for him though and admitted that he was surprised she did that because she worked really hard in her career for name recognition. And now she's on a reality show and he's her entire identity.
Here's the video of their interview:

Their tattoos: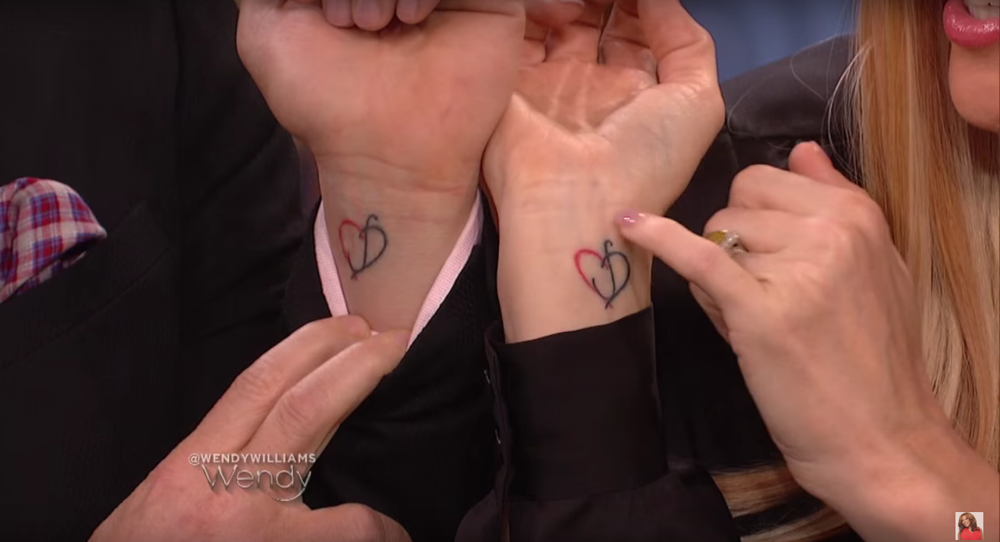 Jenny showing off her "Love Donnie" finger tattoos:

Donnie explaining how he cries at The Bachelor: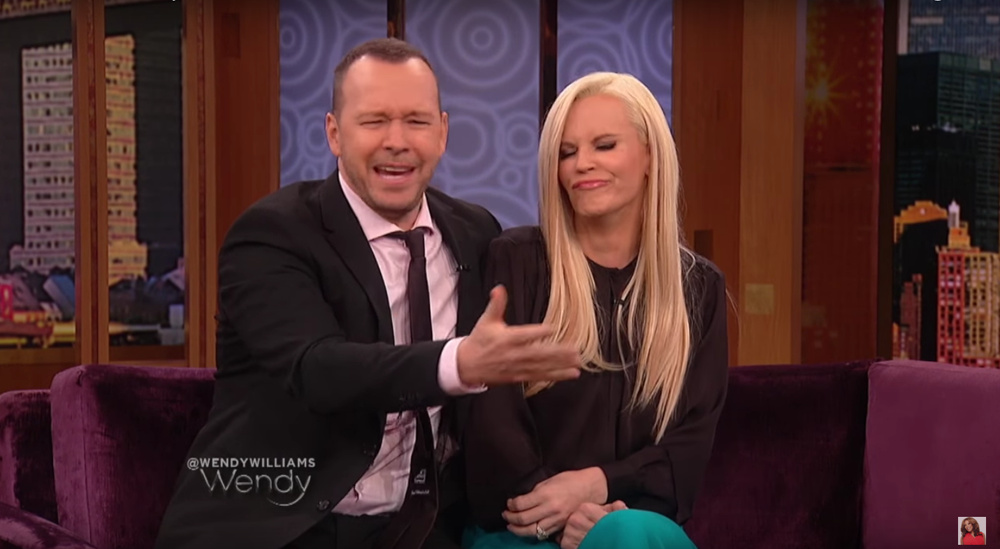 photos credit: Getty, Youtube Screenshots