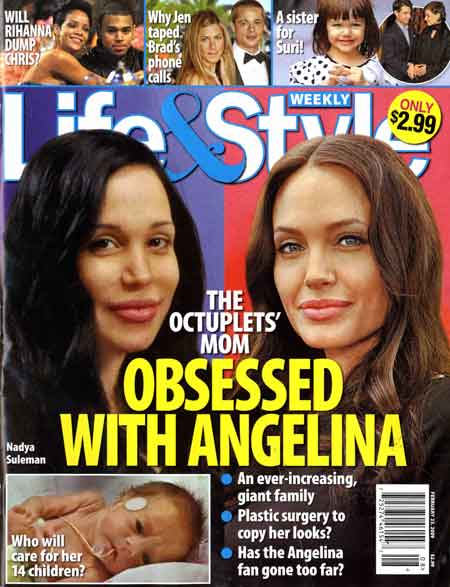 After Octomom Nadya Suleman admitted she'd been a stripper (claiming it was just for "one night" – very believable), it was only a matter of time until someone tracked down other strippers who knew her back in the day. And thankfully, In Touch has done it.
It turns out Nadya wasn't a stripper for just one night, or for a silly contest. She did it for a whole freaking year. Back when Nadya's unclothed past was first revealed, I predicted we'd soon find out it was a lot more than a few misspent hours. Mostly because of Nadya's slippery relationship with the truth, and penchant for minimizing her indiscretions. According to one of In Touch's sources, not only was Nadya a stripper, but she was much more "worldly" than she claims.
The best part was that she used to go by "Angelina." Pretty strange coincidence for a woman who looks just like a (cosmetic) version of the famous actress. And who's always claimed not to be obsessed with her.
Although Nadya Suleman told a radio announcer she was only a stripper for one night, it appears that the Octomom may have been stretching the truth about her past. After talking to numerous sources, In Touch can exclusively reveal that the Octomom was a stripper, who used the alias "Angelina," for at least a year in her early 20s. Sage, an exotic dancer who doesn't want to reveal her real name, tells In Touch she performed at several amateur stripping contests and bachelor parties with Nadya from 1999 to 2000. "I met her at an amateur contest, and we wound up doing parties together," she explains.

Luis Ceballos, a limo driver who used to take the strippers to parties, has similar memories of Nadya, and shares that rather than being embarrassed about her job, the Octomom "was full of herself." According to Luis, Nadya "always said she wanted to be really famous" and believed that someday, she would be. What's more, Nadya wasn't as innocent back then as she lets on. While she reportedly insists she had "never even kissed a boy" when she entered the stripping contest, Luis tells In Touch that Nadya was actually very worldly. And Sage adds, "She was overly flirty with the guys we performed for."
[From In Touch Weekly]
I am sooooooooo excited to hear the rational explanation Nadya's going to give us for all these lies. I'm sure "Angelina" was just a coincidence, as are the lips, the nose job, the hair, the sun glasses, and the obsession with billions of babies. It's like she took her image of Angelina and then multiplied it by three. But I'd really like to know how she confused "year" with "night." I'm guessing some sort of learning disability is going to be made up, in which she confuses words. At shockingly convenient times.
It's no surprise Nadya is a lot more worldly than she tries to let on. But I have to say – if she was overly flirty for a stripper… what must she have been doing? I mean she's already naked and probably sitting on a guy's lap. Think of how strippers behave. If she went above and beyond the norm… wow.
Here's Nadya on April 16th. Images thanks to Fame Pictures .