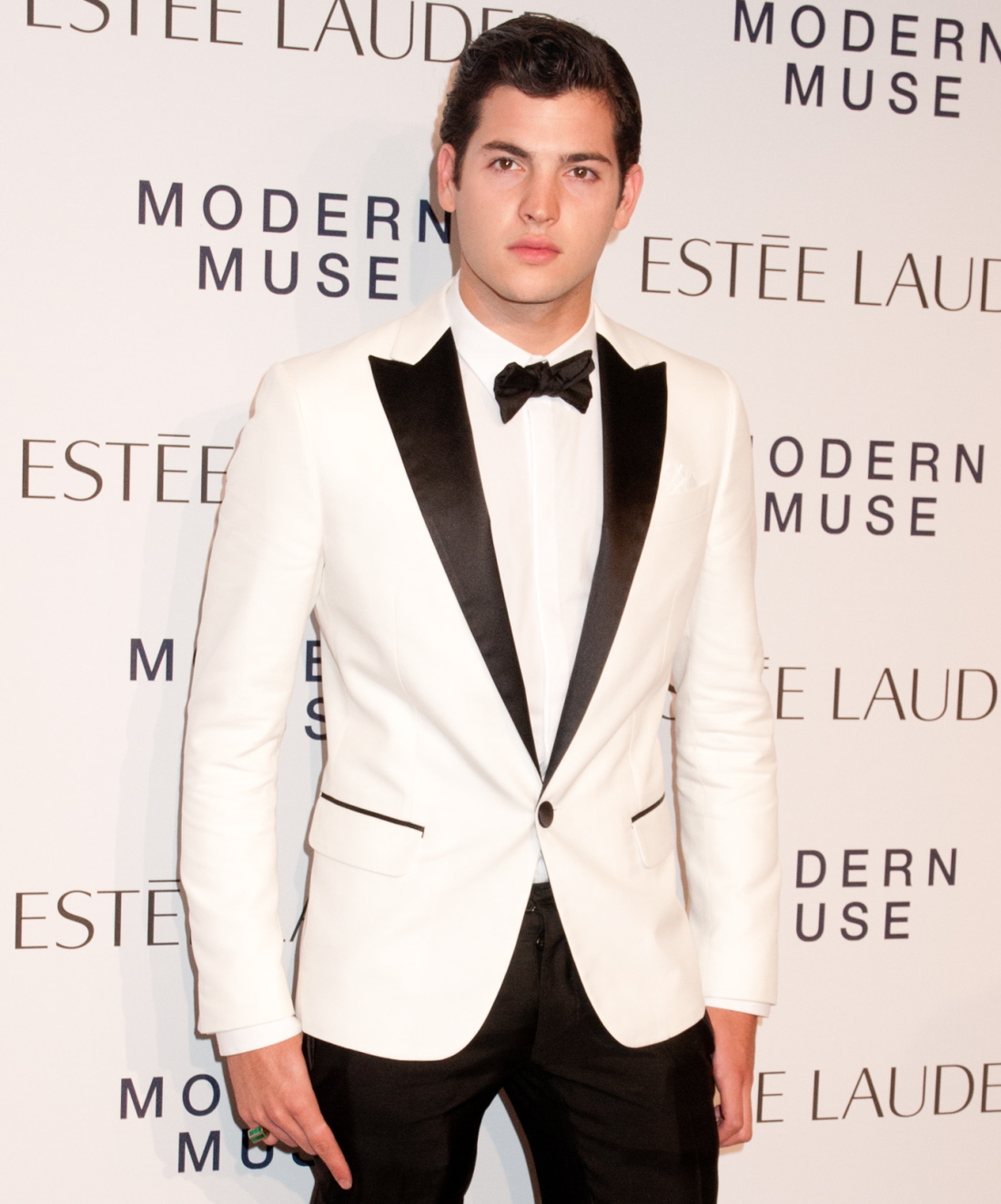 I'm somewhat familiar with Peter Brant Jr. and Harry Brant, in that I'm aware that they are famously rich, entitled New York kids. They are the sons of Stephanie Seymour and billionaire Peter Brant Sr. Peter and Harry run in an elite crowd of A-list models, artists, celebrities and sycophants. They are both big on social media too – you can see Peter Jr's Instagram here, which is just as eye-rolly as you would expect. Peter Jr. is 22 years old. And he was arrested last night after he caused a "drunken ruckus" and assaulted a cop. This reminds me so much of that story last year about Conrad Hilton going bonkers on a plane.
Peter Brant Jr., son of the billionaire Peter M. Brant and super­model Stephanie Seymour, was arrested Wednesday evening for allegedly creating a drunken ruckus and roughing up a Port Authority cop at Kennedy Airport. Brant Jr., a 22-year-old model, was waiting in the JetBlue terminal to board a flight for West Palm Beach, Fla., when he became disorderly, said PA spokesman Joe Pentangelo.

A source said Peter was acting "drunk and belligerent," which allegedly led to a fight with a JetBlue staffer. PA cops were summoned, but he refused to follow their instructions to sit down and lower his voice, and ended up assaulting one of them, the source said. He was taken to Jamaica Hospital to be treated for severe intoxication, police said, and will also undergo a psych evaluation.

Society child Peter was recently spotted cavorting with Princess Maria-Olympia of Greece in Soho. Brant's father, Peter Brant Sr., is a billionaire industrialist and childhood friend of Donald Trump. The elder Brant was waiting for his son in West Palm Beach Wednesday night. Peter's past run-ins with the law include a 2014 incident when he was ticketed for possession of marijuana while visiting Red Hook, Brooklyn, cops said.
Just like the Conrad Hilton incident, I have to wonder how this whole thing would have turned out if Peter Brant Jr. was actually Mohammed Brant or Jamal Brant. As in, only rich white kids get to throw drunken tantrums and assault cops and plane personnel and live to tell the tale. If he had darker skin, this probably would be a story about how a Port Authority cop killed a guy at a JetBlue terminal and it was all justified because the guy had assaulted the cop. Anyway, Peter Brant Jr sounds like he has issues. Hopefully this will be a wake-up call. But probably not.
Photos courtesy of Instagram, WENN.