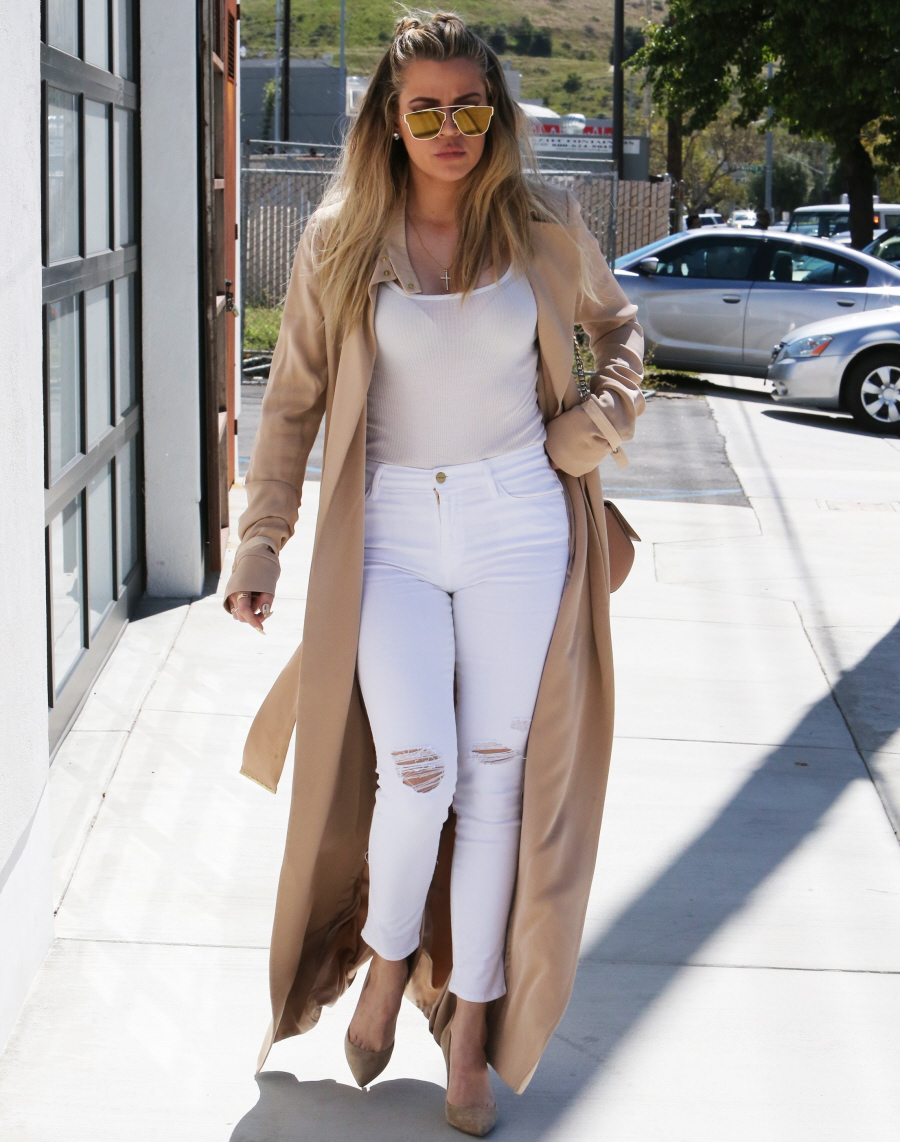 Here are some photos of Khloe Kardashian out with her mom and her mom's boyfriend on Wednesday. Controversial opinion: I cannot stand white jeans. I get that white jeans with a white t-shirt is a clean, beachy look and I can appreciate that. But to me, buying a pair of white jeans would be like literally tossing money out the window. Of course you're going to spill tomato sauce or chocolate on your white jeans the first day you wear them. Or maybe your dog will choose that day to barf on you, or maybe your period will surprise you a few days early. I'm just saying… white jeans are an invitation for bad-stain mojo. Plus, these particular jeans (that Khloe is wearing) look uncomfortable.
Meanwhile, I just read this recent interview Khloe did with The Cut, and I found it interesting for some reason. Khloe sat down with The Cut to discuss her latest contract, in which she's promoting the injectable Kybella, "which reduces under-chin fat." The sh-t? Some highlights:
How does she function with crazy-long nails? "Oh, my God, you sound like Kim! She's always like, "I feel so unclean." How do you function with shorter nails? They give me life, they give me everything…Kourtney always says, "That's how hoes type." I'm always like [taps her phone], "Yep, that's how hoes type, okay?"

Whether she'll be endorsing a presidential candidate: "I don't like saying that stuff because you get criticism no matter what. Kim is very open, but that's just Kim. It's probably the one thing I have opened my mouth about before and I'm just like, Why the f–k do I care to be in a fight with these other people, yelling at me about Republicans or Democrats? With politics I've learned to keep my opinions to myself, for once in my life. It's not that I would never talk about it, but it's that nobody cares about what I have to say about that. It's not going to sway anybody in any direction, and if so, they're probably young kids that should do their own research about who they want to vote for. I think voting is a very personal choice, just like religion. I get so annoyed when people say, "I want to vote for Hillary because she's a woman." Well, that's sad. So you're voting for Hillary just because she's a woman. There are a million other reasons why, but I want someone to give me something with more substance, rather than just a gender or race. That's what really infuriates me. Know what they stand behind.

Spray tan advice for Donald Trump: "I love a good spray tan. I believe in doing a scrub before to get everything off first. But also spray tanning, as great as it is, I kind of kick and scream doing it because I'm like, "God, now I smell for the whole night." It's a process. After your spray tan, a trick someone taught me is to put baby powder wherever you crease. Like I have a crease on my neck. I'll put baby powder under my arms and it makes you not get those weird lines. When you sleep sometimes you sweat, but baby powder … this is a silly little tip, but there you go.
Shock of all shocks, I actually think what she has to say about the presidential race is right on, and it's good advice for most celebrities, especially if those celebrities are active on social media. No one needs to see a celebrity getting into stupid political beefs on a daily basis. I also agree with the idea that it's "sad" that some women will just vote for Hillary Clinton because she's a woman, although… I have been thinking about it a lot, and just flat, base-line representation is important too. Like, even though I can't stand Sarah Palin, I liked the simple fact that I got to see the Republican party nominate a woman for VP. And I'm proud that I get to see a woman candidate get the Democratic presidential nomination too. Also, this happened in Khloe's interview:
The Cut: To change gears a little bit, we just had Super Tuesday …
Khloe: What's that?

The primary elections …
Okay, got it. [Khloe's publicist: I thought that was a sale!] Right that's what I thought! I was like, where are you going with this?
She literally didn't know what Super Tuesday was! Just check in on CNN every now and then, Khloe.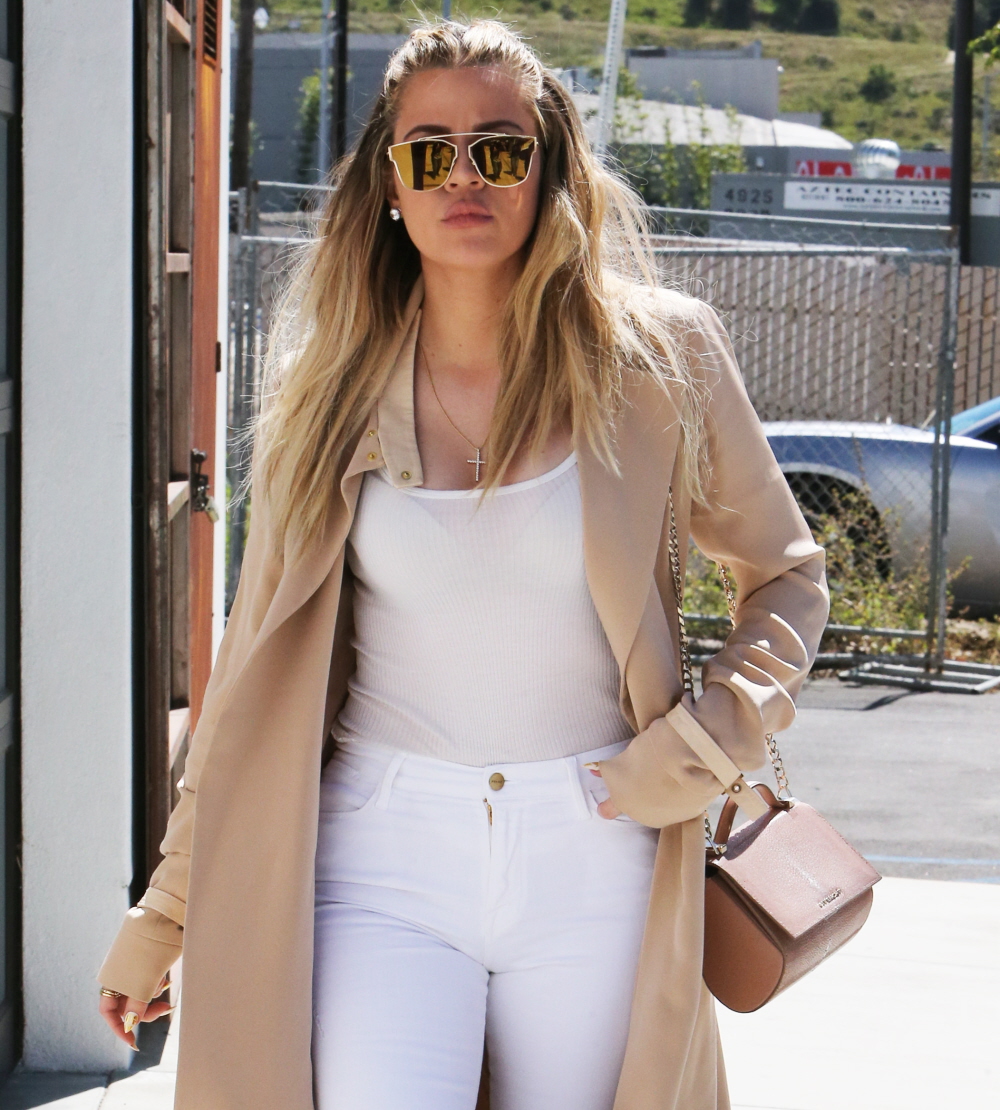 Photos courtesy of Fame/Flynet.