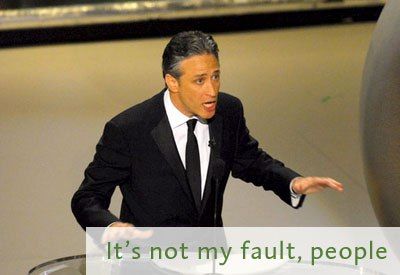 First of all, it's not Stewart's fault that the Oscars dragged this year. A sense of self-importance colored the event, with the Academy forgetting that if it wants to draw viewers it has to be entertaining and not too industry-focused. Telling the nominees that they can't thank too many people just isn't enough to save this sinking ship. Clip after clip followed countless insignificant awards.
It's easy to blame Stewart as the focal point, but he's not the problem. Sure his first few jokes were wooden and forced, but he was soon in his stride, making funny off the cuff comments that helped add levity to the too-long ceremony. Reviews are focusing too much on his first three scripted minutes. Expecting Stewart to save the over-produced show is like thinking good acting could have made "Deuce Bigelow" Oscar-worthy:
Stewart began the show drearily, loping through a monologue that lacked a single hilarious joke with the possible exception of "Bjork couldn't be here tonight. She was trying on her Oscar dress and Dick Cheney shot her."
When "It's Hard Out There for a Pimp" won for best original song, Stewart quipped that Scorsese had no Oscars but that Three 6 Mafia had one. He was relaxed and funny, mentioning that he still heard the band celebrating backstage. He also noted that he was surprised that "Cinderella Man" didn't win for best makeup, as it must be difficult to make Russell Crowe look beat up.
The only worthwhile clips were the hilarious Oscar political parodies narrated by Steven Colbert. A montage of old westerns with gay themes was also amusing.
The Academy tried to remain relevant by hiring Stewart and enlisting "Daily Show" writers, and they made the best possible choice for host. The affair was just too old and the content too self-congratulatory to be saved by Stewart.